Growing up, my sisters and I constantly begged our parents (Dad) to get a pool. He constantly told us they were too much work. We insisted that we would help but we never got our pool. Fortunately, times have changed and today's salt-water systems are easier to maintain.
A salt water pool actually does have chlorine in it: the system turns that good old bag of Windsor salt into chlorine. Of course, there are a few necessary chemicals to be added and proper water chemistry levels must be maintained. Michael Lachowskyj, pool consultant at Pioneer Family Pools in Burlington, says one of the biggest advantages of a salt-water pool is that it produces "natural" chlorine. "You don't need an additive in the water," he explains. "I only use chlorine in the pool when I open it to give it a wake up call and when I close it at the end of the season. Throughout the season I don't have a bucket (of pucks) or any chlorine on my property."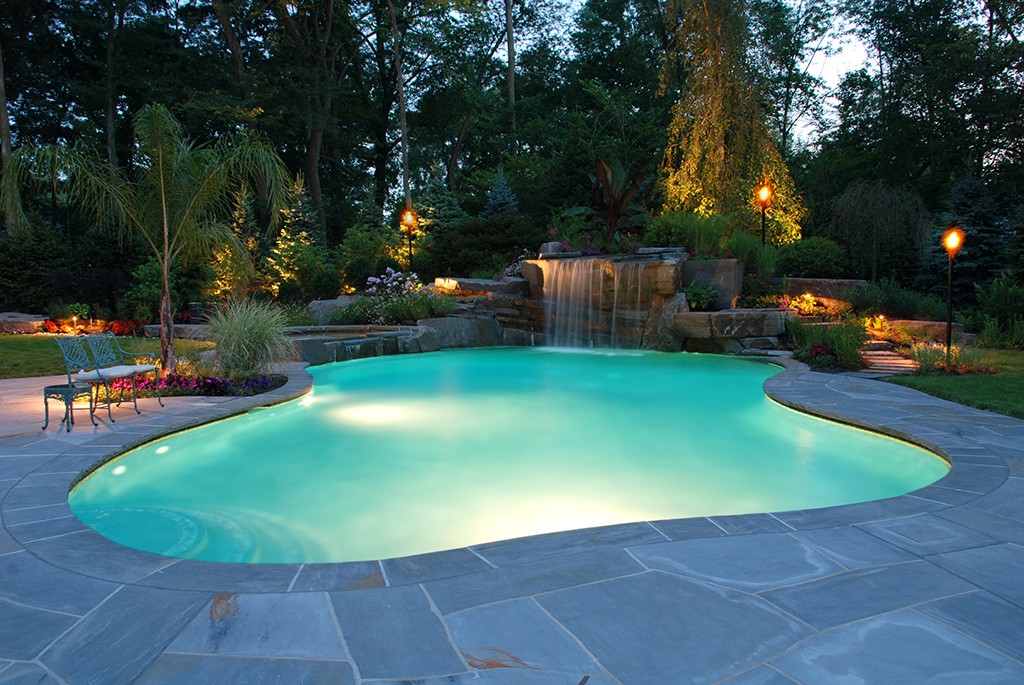 Salt-water pool systems have been around for almost 20 years, but the advancement of cartridge filtration systems versus sand filters means that there's no longer a need for backwashing (cleaning out the filter), which accelerated the reduction of salt in the pool. With a cartridge, salt is only lost from either not putting enough in when you open the pool, or splash out, which is less significant.
Salt-water pool owners can also benefit from new technology that has brought improved control systems. "Everybody's concerned with energy efficiency and convenience," says Lachowskyj. Control systems have evolved to the point where you can control and monitor your pool and backyard lighting with a remote control. Some companies also allow control from an app on your phone or other device. "You could be at the office and turn on your heater before you get home," explains Lachowskyj. Wouldn't it be nice to know that if you were itching to jump in the water after a long day at work, or getting ready to entertain last minute, that with a simple handheld device you could make sure the pool's heated, the water feature is running, and the garden or cabana lights are turned on? "Anything that's powered by electricity can be connected to the control system and added to the remote control," he says.
At one time you were the envy of your neighbours if you had a pool. These days, if you've got one that's surrounded by a garden oasis, you'll really be the talk of the neighbourhood. Water features are always popular, and today's pool designers work with the yard and what it can accommodate – not simply installing the biggest pool that will fit back there. "You want to establish your social area requirements first, then that should determine your pool size," explains Lachowskyj. "Even though we're a pool company, we recommend that your lifestyle should determine the size of the pool. We're seeing a huge movement to smaller pools, even to a point where they're almost just a water feature in the backyard," he says. Some installations have been as small as 10×18 feet because customers want room for landscaping, sitting areas, fire pits – "all towards the entertainment side of creating that place in your backyard where you want to entertain," notes Lachowskyj.
You have to do the work in order to enjoy it, but I've discovered even vacuuming the pool is soothing on a sunny, quiet morning – followed by a rewarding, leisurely dip of course.
Local Links

Pioneer Family Pools, Oakville & Burlington
pioneerfamilypools.ca
Jameson Pool & Spa, Oakville
jamesonpool.com
Gib-San Pools,
gibsanpools.com
Solda Pools,
soldapools.com
-By Becky Dumais