Oakville Festivals of Film & Art (OFFA) celebrated its second annual film festival in Oakville, kicking off Friday June 26th at the Oakville Centre for the Performing Arts with a near sold out GALA NORTH AMERICAN PREMIERE featuring the BBC blockbuster What We Did On Our Holiday, attended by British writer/director Guy Jenkin. The festival continued into the weekend at OFFA's premiere venue partner, film.ca, with seventeen feature screenings and twenty short films.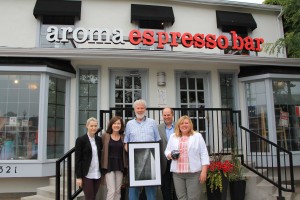 OFFA host and entertainment and film critic Rob Salem, commenced the evening with greetings from Oakville Mayor Rob Burton and OFFA founders Wendy Donnan and Judah Hernandez. The Mayor talked about his many years in the television business running such networks as YTV, and his passion for film, thanking OFFA founders for their vision of this novel event for the town. The Ontario Trillium Grant also sent a representative, Mark Emmanuel, who talked about the importance of arts and culture in communities such as Oakville and how OFFA supports this vision.
The sold out gala was a true testament that Oakville is hungry for a festival that promotes cultural and artistic diversity. What We Did on Our Holiday stars David Tenant, Rosamund Pike and Billy Connolly, brought this hilarious, crowd pleasing comedy to life, while the three adorable children stole the show.   This film for all ages features a disruptive family vacation in the Scottish islands. Following the gala, ticket holders enjoyed a panel discussion with director and writer Guy Jenkin, followed by an official OFFA After Party at O'Finns Irish Temper.
Film festival goers voted all weekend for the best short and best feature for the 2015 Audience Choice Awards, sponsored by the Oakville firm SMDA Design + Architecture. Executive Director Wendy Donnan was thrilled to announce the Awards for 2015, with Azra Rashid's A Woman's Story winning best feature, while director Mark Datuin won best short film for his riveting and dramatic White Lock.
A Woman's Story was shot on location in Canada, Rwanda, Bangladesh and Poland, and looks at genocide, survival and physical and cultural continuity through the eyes of three women who have experienced three different genocides of the 20th century. OFFA did a superb job at connecting with several cultural and women's groups in Oakville who attended the premiere and prompted the longest Q&A of the festival, with director Rashid. The screening left the audience in tears. Rashid had this to say: "We are truly delighted and humbled by the reception of A Woman's Story. The documentary is only a way to start the discussion about how women are impacted by genocide, to see connections, similarities and differences across the globe and support each other in our struggles to survive. We are grateful to the festival organizers for providing us the perfect venue to premiere this important project."
White Lock is a short film that follows members of a community tormented by injustice and personal tragedy, and the irrational decisions that bind them to their fate.   Datuin and his team of fourteen cast and crew were thrilled to win the award, and stayed for a Q&A following the screening. "I would like to thank all our supporters who came out to see the film. An Audience Choice Award is a great honour as the audience is the reason why we make movies. A special thanks to Wendy Donnan and the festival organizers for the invitation and opportunity to screen at this wonderful festival."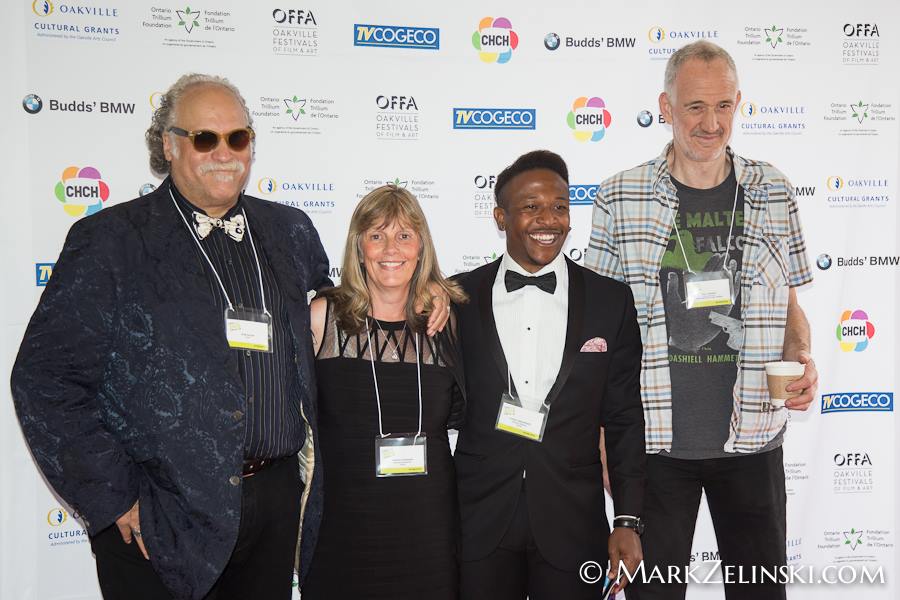 For a festival that grew from one day to a three-day festival featuring seventeen world-class screenings, OFFA has established a first class film festival for Oakville:
"This festival has established itself as a genuine community festival with an international appeal. We are so proud to have featured such a variety of genres, from serious social issues films such as A Woman's Story, to award-winning international fare such as '71, as well as local films such as Oakville resident Vlademir Kabelik's exceptional documentary, Stay Aubrey! We also featured a stellar lineup of Canadian films, such as the Eastern Canadian premiere of Mountain Men, and the regional premieres of Barn Wedding and The Anniversary, with directors present for Q&As following most screenings. We believe that this festival has had an impact on people's lives, and they will come back next year for more!"
In addition to the 17 screenings, Oakville Festivals of Film and Art also launched Art Fête 2015 which was held on Saturday June 27 evening at Aroma Espresso Bar, a premiere event featuring the works of eighteen photographers, music, live art, an auction with food and drink. Karen Mayer of SavvyArt Market and host of the event explained, "Art Fête was a great event for Oakville citizens to show their support for the arts, creating an environment here where artists can thrive. We look forward to more of these events."
Sponsor SMDA Design + Architecture and Karen Mayer presented the Best Photograph of Art Fête 2015 Award to Wayne Elliott of Oakville for his piece 'Apex'. As a true art advocate, Elliott stated "If you see some art and it starts talking to you…listen…your soul has been touched by it and maybe, just maybe, you need to find a home for it."
Alison Strickland and Rick Mateljan from SMDA Design + Architecture are thrilled with their sponsorship of the Audience Choice Awards: "As members of the design industry in Oakville, getting involved with OFFA and the Art Fête was a natural fit that aligned perfectly with our community and professional vision. It was such an exciting event to be a part of, and it gave us great pleasure to see the spotlight shining on Oakville for the duration of the festival. What a great success. We'd like to acknowledge the tireless team of organizers for the immense dedication it took to curate and market such a high quality cinematic collection and bring it to our doorstep. This event has done the Oakville community a great service, and we are very much looking forward to being involved again next year." —source: OFFA
LL's note: I enjoyed the movie so much and was excited to be able to see a the North American premier of What We Did On Our Holiday. It ran the gamut of emotions that occur within a family and delivered classic UK humour. It was almost tragic, sad, frightening at times and of course, funny. At the end what's most important takes over: love. ~Becky