Embracing the unique spirit of the neighborhood, Adi Development Group's Summer Block Party delivered uptown Burlington's biggest celebration of the summer on Thursday, August 27. Inviting local community to join in the festivities, the pop-up event also marked the highly-anticipated groundbreaking of LINK Condos + Towns, Adi's boutique residential community.
"We wanted to pay tribute to uptown Burlington's fantastic community and also celebrate the groundbreaking of one of the largest construction investments in the city," says Tariq Adi, CEO of Adi Development Group. "Burlington's a city with a rich culture and heritage surrounded by stunning natural landscape. It's one of the most desirable areas to live in the country. There was no better way to celebrate the success of this unique project than with a large-scale celebration of its vibrant neighborhood."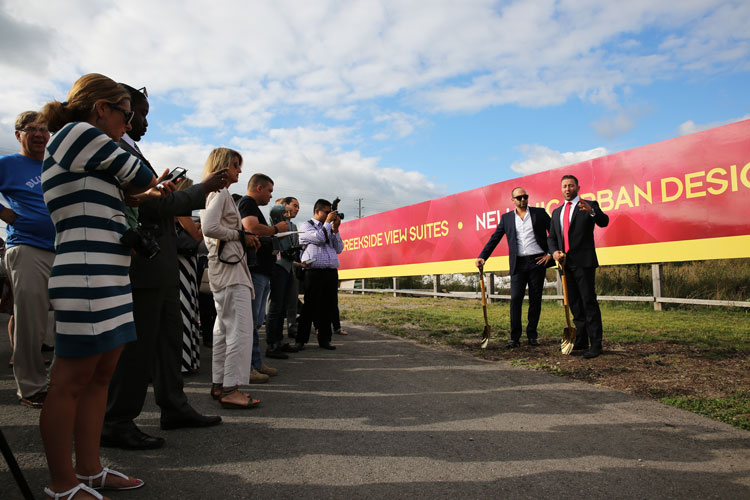 A playful take on LINK's contemporary contrast to traditional Burlington housing, the block party was both a nod to youthful pastimes and a look forward to the city's future. Festivities took everyone outdoors for games and live music from local band, Grand Line. Guests snacked on delicious urban fare catered by some of Burlington's best food trucks including Urban Express, Dirty South, and The Gelato Spot. The block party was a fantastic opportunity for local residents to socialize, celebrate their community, and embrace the final days of summer at this unique pop-up on the corner of Dundas and Sutton.
Adding to the evening, the highly-anticipated groundbreaking of LINK Condos + Towns marked an exciting shift in Burlington real estate. Meeting the demand gap for contemporary urban living in downtown Burlington, the boutique residence is leading the growth boom in one of the GTA's most sought-after postcodes. With its striking collection of urban lofts, garden villas and condominiums, LINK is bringing a sophisticated housing option to the city' hip uptown, an area facing high demand, yet increasingly limited land availability.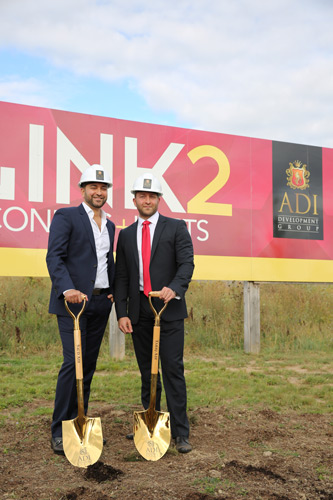 "In response to Burlington's surging demand and creeping housing prices, we noticed there was still a considerable lack of luxury Burlington real estate with a realistic price point," says Saud Adi, COO of Adi Development Group. "With LINK, we wanted to meet that demand gap, while also promoting a housing solution we believe can best support the city's growth. We're leading the movement right now. "
Nestled on the edge of Bronte Provincial Park, this award-winning community also has been recognized for bringing a clean, contemporary aesthetic to Burlington residential with its suites' soaring 9 and 19-foot ceilings and exclusive "IntelliSpace" design. Meanwhile its sophisticated two-storey amenity building encourages health living with a fully outfitted fitness studio and Scandinavian-inspired spa.
Steps away from the new Bus Rapid Transit service and nearby to all of the shopping, restaurants, schools and culture that Burlington is recognized for, LINK is situated just off of the 407 and minutes from the 403. All day GO train service makes getting into the heart of Toronto relaxing and convenient.
Located at the corner of Dundas and Sutton in Burlington, LINK features one to two-bedroom condo suites from 437 to 882 s.f. priced from $219,990; and one-bedroom plus den to four bedroom plus den towns, garden villas and lofts from 871 to 1,473 s.f. from $400,990; 
The presentation centre is located at 5210 Dundas Street West, Burlington,. For more information call 905-592-2028,email: link@bakersales.info or visit www.adidevelopments.com.