Springridge Farm is the ultimate place in Milton to make fall memories that last a lifetime. With activities for all ages, homemade seasonal baking and Farmer John's famous pumpkin crop, you'll want to show the whole world how much fun you're having down on the farm! When you share your Springridge Farm experience online, use the hashtag #HarvestFestival for all your friends to see!
Springridge Farm's annual Harvest Festival takes place every weekend (including Thanksgiving Monday) from Saturday, September 19 – Saturday, October 31, 2015. Activities include wagon rides, a giant corn trail, professional puppet show, spooky Boo Barn, the Fun Farm Yard and more! Admission to Harvest Festival is $12 per person (including HST) ages 2-92.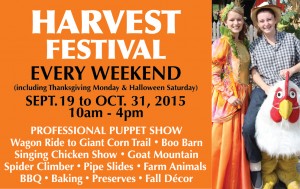 "Our visitors are always telling us stories about bringing their family to the farm," explains Laura Hughes, co-owner of Springridge Farm. "Many visitors have made Harvest Festival a tradition and come back to see us year after year."
Their customer testimonials indicate that everyone enjoys something different about the farm.
"I love being able to come back every year to get a picture with the 'How Tall this Fall' sign." – Lyndon
"I had my 5th birthday at Springridge Farm during Harvest Festival and the Boo Barn was so much fun!" – Sydney
"Harvest Festival was all about amazing photo ops with fall colours, pumpkins and my babies." – Kristi
"Everything smells like pumpkin pie!" – Isabel
"My family loves taking the wagon ride to the corn trail. It's the perfect fall activity." – Shania
On Sunday, September 20 at 10:30am, Chef Michael Smith will be back at Springridge Farm by popular demand! Celebrate the release of his new cookbook, Make Ahead Meals, with an exclusive meet and greet and book signing. RSVP required for this delicious event: events@springridgefarm.com.