If the giant carrots at the front entrance of TASTE Marketeria don't give you a hint that you're entering a special place, the interior surely will.  The shop opened in Bronte in September and is a gourmet food destination offering preserves, cheeses, truffles, rubs and marinades, porcini's, coffee, olive oil, and locally-sourced ingredients for freshly-prepared "to go" meals, breads, seafood, meats, produce and more.
The word "Marketeria" is a throwback from the old Lakeside Marketeria, run by Bill Hill, according to Doug Greco, owner and president of Catch Hospitality.  "It truly was a meeting place or hub for young and old to get together, shop and catch up with friends and run into neighbours", he recalls.
TASTE has local on lockdown.  "We aim to bring in as many local products as we can," he explains.  "We've been working with local farms and artisans to bring great products right from our own back yard."  Food, produce and flowers are hand selected at the food terminal with a focus on small batch items that customers won't be able to find in big box grocery stores.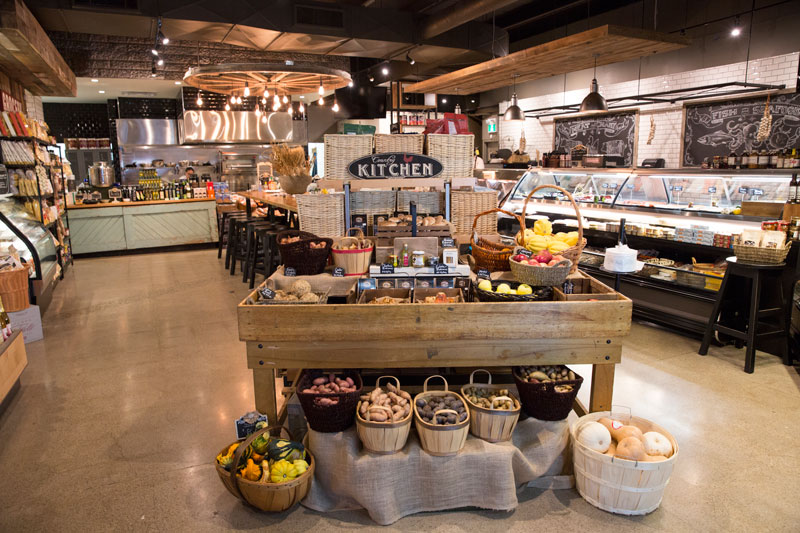 What's the most popular item in the store?  Greco says it's definitely the fresh prepared ready to go meals (prepared by Catch Hospitality chefs).  "Busy working families appreciate being able to grab dinner on their way home from work and being able to feed their family quickly and with healthy homemade meals rather than traditional 'fast food'," he notes.  If you're in charge of hosting the family holiday dinner or planning a party, TASTE's catering service gives guests a restaurant quality experience without all of the work.
What does the New Year hold?  Greco plans incorporating sampling of consignment wines and a chef's theatre.  Chefs from each Catch Hospitality's restaurants (Cucci, The Firehall, Plank and Tavolo) and other culinary experts will showcase their skills and offer cooking classes.  With that, perhaps learning to cook will be your New Year's resolution.
Local Link:
tastemarketeria.ca
By Becky Dumais