Remember that line from the intro to Cheers, "Where Everybody Knows Your Name?" and the camaraderie associated with that phrase? Well… not everyone knows your name when you walk through the doors of the apartment building at 155 Navy Street in Oakville, but some remarkable residents have created a similar welcoming and inclusive atmosphere that permeates the entire building.
And chances are… someone knows your name and greets you cheerfully!
Many of the tenants at 155 Navy are retirees who have sold their homes, left long established relationships with neighbours and friends, downsized or right-sized, and are appreciating a lifestyle free of the demands of home and property maintenance. They have chosen this apartment building due to its close proximity to the shopping, entertainment and lifestyle advantages of downtown Oakville, and because it is close to the waterfront on Lake Ontario with its parks and walkways.
The building Superintendent, Rose Dunne, a gregarious East Coaster who has a deep and abiding respect for community, wanted those same neighbourhood benefits of fellowship and sharing to blossom in the building. "I grew up in a close and warm community where people were important and treated with respect," she says.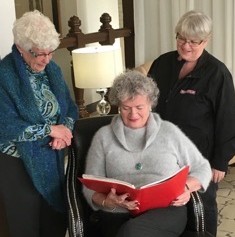 Rose started a resident "meet and greet" by inviting all tenants for coffee in the first floor lounge for a chance to chat, share experiences and update one another on what's happening in the area. Soon after, two extraordinary, warm-hearted, and fun-loving seniors, no strangers to lifetimes of volunteering and caring for vulnerable people, Marie Clancy and Lottie Grant, joined with Rose, forming a dynamic ad hoc committee of three making a positive impact on their fellow residents' lives.
The committee's goal was to change the paradigm that apartment living can be, and too-often is, a lifestyle of isolation and detachment, where people live for years without ever know their neighbours or enjoying any sort of companionship. The committee was extraordinarily successful in their efforts. They established a vibrant and welcoming environment of inclusion, caring and friendly interaction among residents. They also instituted a buddy system to monitor the safety of seniors in the building, checking in if they haven't been seen as expected.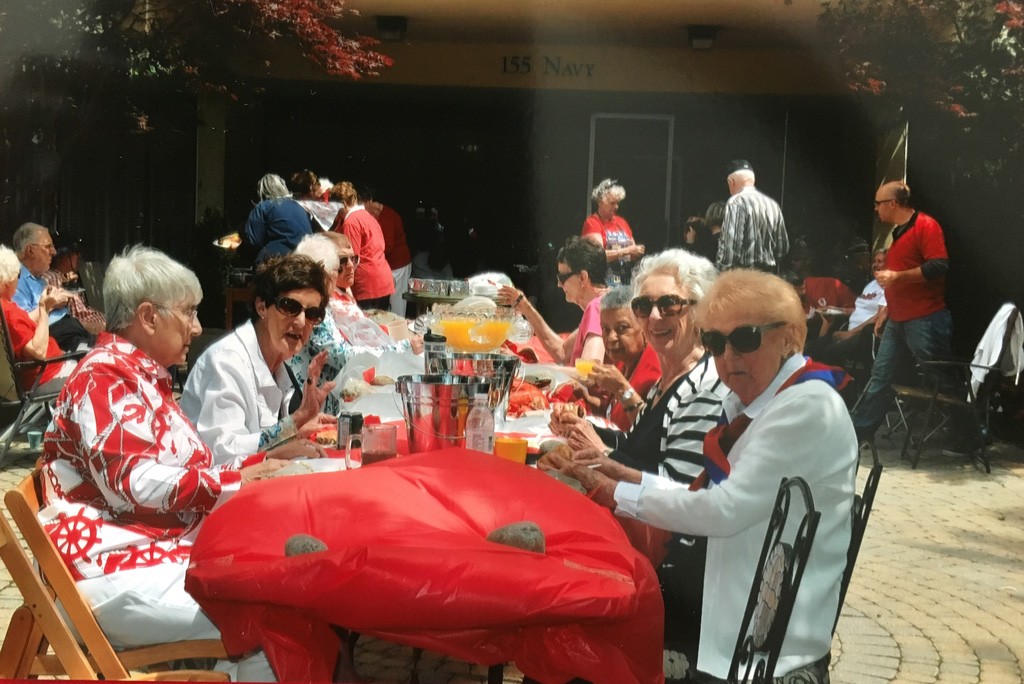 Now all residents are invited to share great conversations, laughter and companionship at Thanksgiving and Christmas pot luck dinners and sing-alongs, Christmas Tree decorating events, St. Patrick's Day and Valentine's Day parties, Canada Day lobster fests on the lawn, weekly mid-morning coffee klatches, birthday celebrations when momentous decades are reached, and the list goes on…. Invitations to experience neighbourhood restaurants and even casino days are posted in the lobby to get people out and to meet their neighbours.
These celebratory events also provide an opportunity for single residents, who may not have family or friends nearby, to mingle and enjoy a holiday meal with sociable companions instead of being alone in their apartments.
What these three passionate and caring women on Navy Street have created stands out as a model for Canada's aging population, as many seniors choose to live inexpensively but independently in rental apartment buildings. The fact that residents know and interact with their neighbours in the building adds a level of security and comfort, whether those residents are elderly, nearing retirement or actively working and raising a family.
As momentous as their changes have been, Rose, Marie and Lottie can't do it independently. A supportive apartment ownership/management team who willingly provide in-house access to space and avenues of communication is vital. And of course, so are Rose and Lottie's wonderfully supportive husbands, Rick and Dave.
Written By Carla Hackett
Local Links
Some of the ways in which Oakville offers opportunities for involvement in the community are:
Oakville Seniors Centre
oakville.ca/seniorservices
Oakville Public Library
opl.on.ca
Oakville Historical Society
oakvillehistory.org