A guy walks into a bar…
Actually, scratch that but hopefully a lot of people will be walking into one of two local bars that are the venues for Burlington's first annual Comedy Festival. Running from February 29 – March 2, 2016, the festival is a partnership between the Burlington Downtown Business Association and the Kitchener-Waterloo Comedy Festival.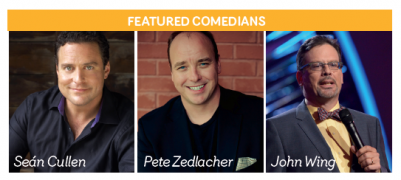 The Festival will consist of five stand-up comedy shows to be held at Joe Dog's Gasbar Grill and The Water Street Cooker in downtown Burlington. Seven amazing stand -up comics from Canada and the United States will perform, including Sean Cullen, Pete Zedlacher and John Wing. Check the festival's website for bios of each comedic act.
The Kitchener-Waterloo Comedy Festival started seven years ago and is now the second largest comedy festival in Ontario, with two sister festivals held in Port Credit and Burlington. This partnership arrangement means we can access some of the top comics from around the world who will be presented in intimate venues to ensure the best live comedy experience. Please check the website for full details, including dates and times.
This event will also be partnering and supporting a local charity: Partnership West Food Bank (PWFB). Last year PWFB provided food to over 7,500 Burlington residents – 3,400 were under the age of 16.  The organization also supports other food banks and community outreach programs in the area with food and financial resources.
An Irishman, a Scotsman and a Newfie walk into a bar…. On second thought, let's leave the comedy to the professionals.
By Becky Dumais
Local Links:
Burlington Downtown Business Association
burlingtondowntown.ca
Burlington Comedy Festival
burlingtoncomedy.com
Partnership West Food Bank
partnershipwest.org
Ontario Association of Food Banks
ofba.ca
Sean Cullen
seancullen.com
Pete Zedlacher
zedlacher.com
Chad Daniels
chaddaniels.com
Emily Galati
emilygalati.com
Dwayne Perkins
dwayneperkins.com