Have you ever found yourself rushing home to make dinner, or scrambling to the grocery store on the way home from work? Now you can take the stress out of meal times with DINNER AT HOME MEALS. For the past 3 years this Oakville based company has been producing quality made from scratch meals at their Wallace Road location to help busy families gain a sense of control over their meal planning and enjoyment. Started by local caterer, Nadine Hughes, Dinner At Home Meals was created based on her clients repeated requests for her to cook for their families each night! Seeing as that was impossible with her own family of 4 to feed, Nadine set out to craft frozen family meals that looked great and tasted sensational when baked or reheated from frozen. With a rotating seasonal menu and a continued practice of cooking each meal from scratch in small batches, Dinner At Home Meals has generated a strong following with busy families and the elderly who no longer want to cook for themselves.
With several ways to shop; online, in person at their 1414 Wallace Road location or at any one of their retailers, Dinner At Home Meals continues to show their customers home-style ready-to-heat and ready-to- bake meals can be a part of a balanced busy lifestyle.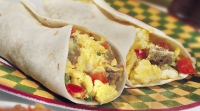 Try their famous Mild Indian Butter Chicken which is ready from frozen in 30 minutes or the sizeable Turkey & Egg Burritos which are bursting with great flavour and make a perfect meal for teenagers on the go!
A bit about Nadine…..
Nadine Hughes is a renaissance woman whose forte is making food fun again. Nadine has years of experience as a successful entrepreneur, business owner, food and entertaining expert, caterer, spokesperson and food writer. When she's not experimenting with her two kids' palettes on fish heads and kohlrabi, Nadine frequently appears as a television and radio guest discussing food, entertaining and how family fits into it all.  Nadine is also a proud spokesperson for such great Canadian brands as Minute Maid Canada and Dove.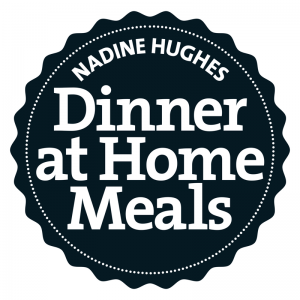 As a freelance food writer, Nadine's food columns can be found in online and print publications throughout North America and her first cookbook "The Groove Mamma Goes Gourmet: Easy Ways to Put the Fun Back into Entertaining" was awarded The Best Canadian Entertaining Cookbook at the 2009 Gourmand Cookbook Awards.
To keep her culinary creativity thriving, Nadine also runs a successful Oakville based catering company (www.nadinehughes.com) and specializes in private functions and creative corporate events with an extensive client list such as Telus, Wendy's Restaurants of Canada, Environics Communications, siProductions and ScotiaBank.
Website Links www.dinnerathomemeals.com www.nadinehughes.com
Social Media www.facebook.com/dinnerathomemeals www.twitter.com/nadinehughes www.instagram.com/nadinehughes1968