Oakville Festivals of Film and Art (OFFA), Oakville's first and only independent film and arts festival, is proud to announce a three-year title sponsorship partnership with Willson International, a 4th generation customs brokerage, serving exporters and importers in North America. Executive Director Wendy Donnan is thrilled with the partnership: "We are so pleased to be working with a company so committed to the overall betterment of their community. Peter Willson is an ardent supporter of the artistic community, and we are honored to be working with Willson International to deliver the best of local and international film and documentary in Oakville." Peter Willson, President and CEO of Willson International, Oakville resident and active community and arts supporter says of this new partnership: "The addition of the Oakville Film Festival to the list of grass roots partnerships that we currently support is an exciting opportunity for us to showcase our business and its heritage while delivering something really special and valuable to the Oakville community. We look forward to helping this event grow and thrive."
The Willson International Oakville Film Festival, produced by OFFA
June 24-26 2016, includes prizes for films in each category.
The Willson International Oakville Film Festival launches at Oakville Centre for the Performing Arts on Friday, 24 June, 2016, with the first of two gala premiere screenings, the second being held the following evening. The Willson International Oakville Film Festival is a
three-day immersive experience that continues into the weekend with 17 additional unique screenings at the film.ca theatres in Oakville.
SUBMISSIONS ARE OPEN!
OFFA welcomes submissions of many genres and we will be selecting films, documentaries, short films, and animation for screening. Filmmakers can submit films by following the submission guidelines at www.offa.ca/submissions. The submission deadline is 1 April, 2016. Visit www.offa.ca for more information, or email us at info@offa.ca, or call us at 905 302 9017. Tickets go on sale 1 April, 2016.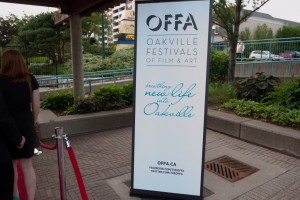 About Oakville Festivals of Film and Art
Oakville Festivals of Film and Art (OFFA) is a registered, not-for-profit organization headquartered in Oakville, Ontario. OFFA is committed to promoting cultural and artistic diversity in Oakville and surrounding communities with the cinematic arts as a focal point.
About Willson International
Willson International is a fourth-generation, family owned business with deep-rooted experience and expertise in the regulatory environment of international trade. Since 1918, Willson International has been an innovative force, simplifying North American cross-border trade with client-focused customs brokerage and logistics solutions. With service locations at major gateways along the Canada-U.S. border, including recent expansion to BC, Willson promises excellence in execution, helping clients optimize customs operations and customer service, while minimizing costs.
Media Contacts (OFFA):
Wendy Donnan, Executive Director, wendy@offa.ca, 647-557-2210 or cell: (905) 302 9017
Judah Hernandez, Artistic Director, judah@offa.ca, 647-557-2210 or cell: (416) 417 2570
Media Contact: (Willson International):
Gillian Elizabeth Wood, MBA, MA
Director of Marketing
Willson International Limited
E: gwood@willsonintl.com
T: 905-363-8239