When 53 year-old Amanda Bramall walked through the doors of the Wellspring Birmingham Gilgan House in Oakville, it felt like she was coming home. Six months earlier, Amanda had been diagnosed with breast cancer and endured a full double mastectomy along with a litany of tests and biopsies that uncovered more health issues.
As a healthy person who had done everything right, she was "gobsmacked" by the diagnosis. The surgeries and tests had drained her physically and mentally. She credits Wellspring with helping her get back on her feet. "Cancer is a journey and when you start the journey you're shell shocked," says Bramall. "Wellspring helped me travel that journey. Every program they have helps you travel that journey. You'll always find someone who's been there and done that. I can't say enough about it."
Wellspring is located in a lovely two-storey home on Sixth Line that's decorated in soothing earth tones to emphasize the "home away from home" philosophy. The centre was the brainchild of Anne Armstrong Gibson who found herself battling non-Hodgkins lymphoma and was feeling isolated and alone. That was in 1988 and the concept of psychosocial care in helping cancer patients was still a new concept.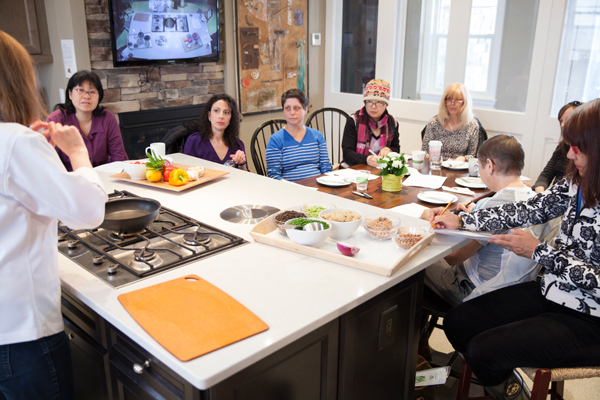 Gibson decided there was a need for an organization that could bring people together and provide a safe and confidential place for people with cancer and their loved ones to improve the quality of their lives. The first Wellspring home opened in Toronto in 1992. Although she passed away in 1995, her dream came to fruition with the opening of more homes. There are now seven homes in Southern Ontario and one in Calgary. Each one is community-based in a warm, homelike setting, including the Oakville centre, which opened in July 2000 and serves Halton and surrounding communities.
Thousands of people have taken advantage of the programs, which provide emotional, psychological, restorative and educational support for cancer patients and their families. They include creative art workshops, exercise classes, counselling, stress management, nutrition and rehabilitation, along with classes on transitioning back into the workforce and financial management.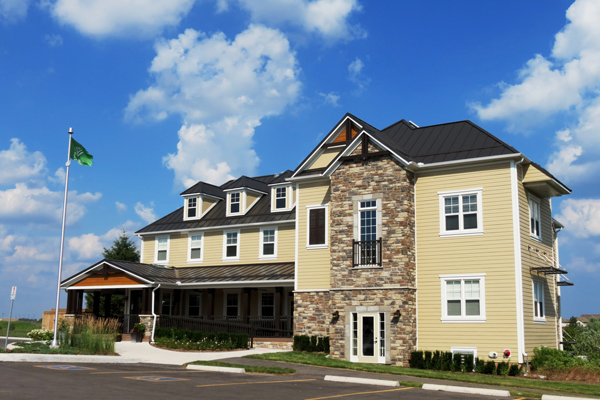 The range of programs are very much a recognition that cancer is more than a physical disease, but one that deeply impacts a person's emotional and mental health, notes Christina Smith, Chief Executive Officer, of the Wellspring Cancer Support Foundation. "The medical system does a wonderful job of dealing with the disease of cancer but at Wellspring we focus entirely on the person," she explains. "Ours is a culture of community support, from our staff to our program leaders and volunteers. Everyone plays an integral role in supporting the person living with cancer and their family and caregivers."
The more than 40 programs and services include workshops for men, women and children with any type of cancer and at any stage in their cancer journey. They are professionally lead by psychologists, physiotherapists, art therapists and dietitians. Smith says the programs are designed to complement a patient's medical treatment plan. "Wellspring has helped thousands of people take an active role in controlling their cancer experience to improve their quality of life."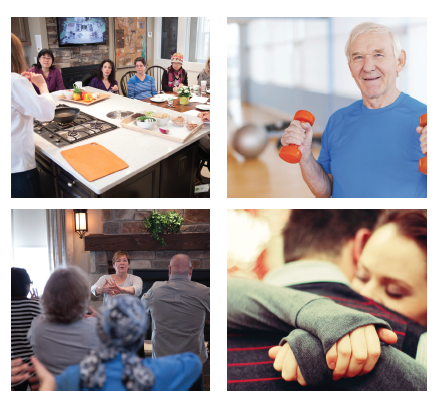 While Bramall has taken part in many of the programs, the sense of community at Wellspring has been one of her biggest sources of healing. "There are lots of times when you don't have good days… then you walk in and you meet the most incredible warriors. The days when you're having a bad day, there's always someone to talk to you there," she says. "The kind of support you need changes and that's why Wellspring is so great because they're there at every part of the journey."
Local Links:
Wellspring House, Oakville
wellspring.ca/birmingham
Canadian Cancer Society, Halton Branch
cancer.ca/Halton
By Denise Davy