Music takes over Burlington's Downtown and Waterfront from June 11-19, full day ticketed Kick-off Concert and free concerts for all ages over Father's Day Weekend.
Sound of Music Festival is pleased to announce the June 11-19 roster of performers and activities. The 9-day schedule kicks off on June 11 with a one day ticketed event, featuring performances by The Cult, Headstones, The Glorious Sons, Pop Evil, The Watchmen and more. The full weekend of free concerts taking place June 16-19 will feature artists Mother Mother, Soul Asylum, I Mother Earth, Jess Moskaluke, Lighthouse, Hawksley Workmen plus so many more.
"Our event continues to provide an unrivaled level of entertainment, brought to Burlington each year, none of which would be possible without the year-round efforts of our incredible volunteer group and generous sponsors," says Dave Miller, Executive Director. "Putting the stamp on programming for an amazing 9 days of music is so humbling. Teams make these things happen, and I think we've got the best in the business" says Rian Malloch, the Festival's Programming Chair.
Events and activities include Downtown Streetfest, Sound of Music Club Series, Silver Series and Kids Naturally Village. VIP upgrades are also available, see soundofmusic.ca/tickets for more information.
"We're proud to present an exciting and entertaining line-up that offers up new music discovery and a bit of nostalgia too," says Andy Porecki, President. "Sound of Music has something for everyone."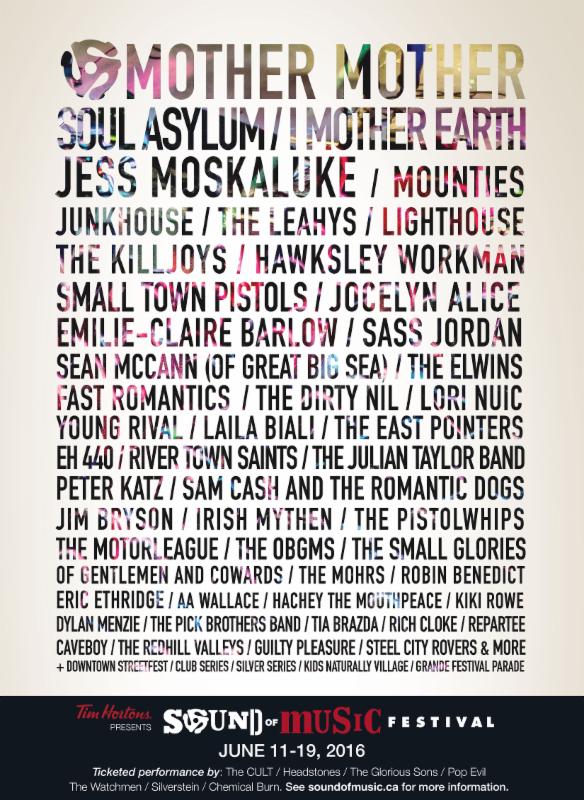 For the full line-up, show times, tickets and other information visit soundofmusic.ca