What's better than spending a day indulging in chocolate?
To celebrate, we suggest taking a drive down the 'chocolate trail' to sample some of the best treats Burlington has to offer. The best part is, you will also get the opportunity to learn about the origins of chocolate at one of many events!
Chocolate Month came about after the success of the annual Chocolate Trail.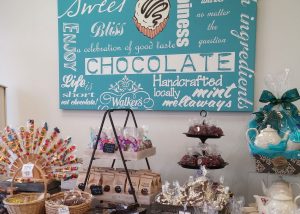 The Trail is a self-guided tour of a unique and passionate business community. "I think the chocolate trail has done a unique thing by identifying that for such a small city, compared to Toronto, we have [so many] unique businesses that specialize in high-quality chocolate," said Christy Mueller, Co-Owner of Christy's Gourmet Gifts. This community is all about high-quality and handmade. "I think that we have a lot of expertise in the area of chocolate making," said Pam Belgrade, Executive Director for Tourism Burlington. Belgrade said that following the success of the annual Chocolate Trail, Tourism Burlington decided to centre it during the month of May. "May is [usually] a slower month for chocolate makers," Belgrade said. "Now they have more time to interact with customers, to talk about their product." Head into Christy's and say "Hi" to Christy's husband Bernhard; he can tell you all you want to know about chocolate. He's even got a bar from Tuscany made with the rarest cacao in the world!
Chocolate Month doesn't stop with the trail. On May 2nd there will be a double feature at Central Library; starting at 6:30pm, you can catch Nothing like Chocolate and Bean to Bar. The latter movie teaches the origin of chocolate as well as the making process, while Nothing like Chocolate is a feature film.
"We're one of the few locally made chocolates in Burlington," said Jen Walker, co-owner of Walker's Chocolates. Walker's has been a neighbourhood staple for 33 years. They've expanded over the years but keep true to where it all started, here in Burlington. "We have very loyal customers who have been with us since we opened and now have passed the tradition onto their children and their children's children," Walker said.
The Chocolate Trail was originally inspired by an event at the Royal Botanical Gardens. Belgrade says "It all started a couple of years ago," Belgrade said. "The RBG had a winter exhibit about chocolate … So we thought we would ride that wave and see who was interested in creating a local experience." Walker says that the trail has definitely generated a lot of publicity for them and they're very grateful for it.
Click here to visit the website and download the self-guided tour brochure, or pick one up at the Tourism Burlington office. Check out one of these amazing local businesses along the trail:
* Molly Cake
Sample: Free THE COOKIE – A community creation owner Christine started making a few years ago.
* Christy's Gourmet Gifts
Sample: Christy's Crunch, Origin Chocolate and Cacao Nibs.
* JeSpa House of Beauty & Wellness will be offering an organic Hungarian Chocolate Facial
Sample: Milk Chocolate with every service and special price on chocolate services.
* LA Candy Bar
Sample: Chocolate Carmel Mocha & Chocolate Chip Cookie Saltwater Taffy Samples.
* Mrs. B's Gifthouse
Sample: 10% off in store purchases.
* Rocky Mountain Chocolate Factory
Sample: A chocolate dipped caramel apple.
* Tourism Burlington Visitor Centre
Sample: A chocolate Treat from Pane Fresco Bakery
* Walker's Chocolates
Sample: A famous Mint-Melt Away
submitted by: James Gike