Unless you've been in deep hibernation for the past few years, you've probably heard something about the serious and distressing decline of the world's bee population. Known as colony collapse disorder (CCD), the drastic disappearance of the western honeybee colonies has been well documented around the globe, although the root cause is not completely known. Most experts agree that a combination of factors including pesticides, malnutrition, starvation and mites are at least partly to blame.
Regardless of the reason, the economic and ecological impact is impossible to ignore. Our little buzzing friends are responsible for the pollination of a huge variety of crops such as apples, cucumbers, raspberries, watermelons and almonds, to name just a few. In short, bees are vital to human survival,  as they are responsible for nearly 75 percent of all plant species used for human food consumption. And that's not even counting the honey!
But all is not lost. There are several things we can all do to help save the bees, and in turn, ourselves. Starting at home, we can incorporate certain plants and flowers into our gardens that bees — and butterflies, too, also excellent pollinators — are especially attracted to. "Bees and butterflies both love full-sun flowers," says Emma Baker of Terra Burlington Garden Centre. "If the flowers are big and beautiful and look good and smell good to you, they're going to be attractive to bees and butterflies as well."
Whether you choose to plant annuals or perennials, flowers such as lavender, Echinacea purpurea or purple coneflower, coreopsis and the aptly named bee balm are all popular choices to help transform your yard into a bee and butterfly friendly party zone.
New this year, Terra Burlington offers a four-piece pollinator pack of flowers sure to attract bees, butterflies and other efficient pollinating insects.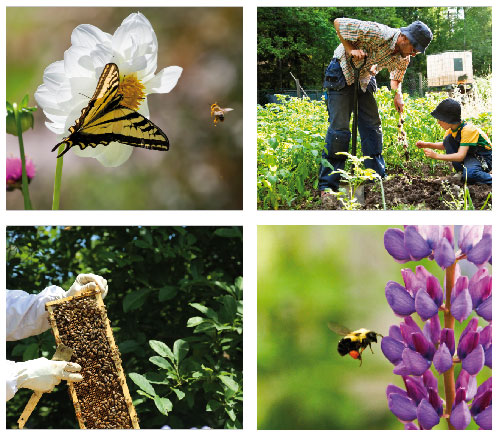 The more homes that plant bee-friendly flowers in their yards in a single neighbourhood the better, says Baker, as it gives the bees a fighting chance at colonizing in one area so they don't have to fly as far to pollinate and survive. Get your neighbours involved and have a flower-planting party as a weekend event. It's also a perfect chance to get kids involved, although Baker says schools are already jumping on board with ecological education. "Many schools are now sending kids home with wildflower seeds for them to plant in their yards, so kids are definitely well aware of the situation."
Apart from planting certain coloured flowers that bees like, there are several other tips to be picked up at your local garden centre, including one of the most important tips of all: "Avoid using any chemicals in your garden at all costs," says Jennifer Mark at Sheridan Nurseries, serving Oakville and Mississauga. "Bees and butterflies are very sensitive to chemicals. Also, try planting tubular and cone-shaped flowers in blue, purple and yellow hues. Foxglove and daisies are both good choices. And provide some water in a shallow bird bath if you can so they can have a drink on a hot day."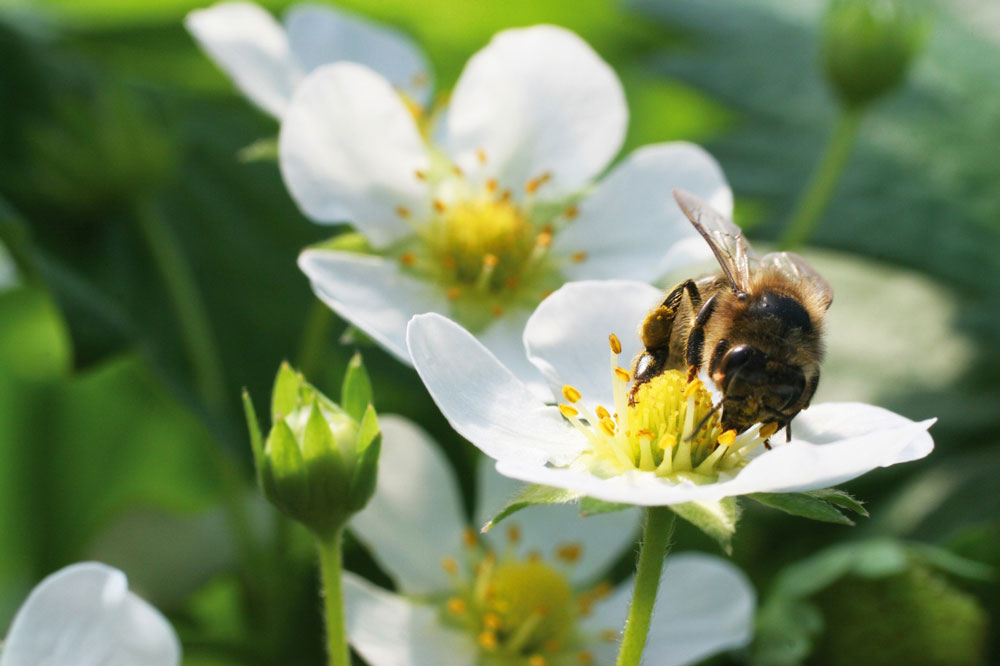 If you want to kick your support up a notch, consider stepping into the shoes of an urban beekeeper by installing a beehive on your property. Though it may not be suitable for all living spaces, urban beekeeping is growing in popularity as citizens try to do their part to keep these vital insects thriving. Humble Bee in Hamilton has all the tools and tips necessary. They also offer lessons on beekeeping.
"So many people come in to the garden centre asking how they can help the bees survive," says Baker. "And that's awesome."
We think it's bee-utiful.
Local Links:
Terra Greenhouses, Burlington
terragreenhouses.com
Sheridan Nurseries, Oakville
sheridannurseries.com
Humble Bee, Hamilton
humblebee.buzz
Written by Allison Dempsey