Moving to a new country can be an adventure for some, a temporary stopover for others, or a necessary transition for survivors of economic, social or violent challenges in their home countries. Regardless of the situation, the Halton Multicultural Council (HMC) makes settlement for newcomers to this area much more fluid.
The HMC was founded in 1979 in a church basement by a small group of faith-based newcomers to the area who felt there was a lack of newcomer services in Oakville. "(They were) people who were interested in making sure others had opportunities when they were coming in to be supported," says Kim Jenkins, Executive Director. The Council was incorporated in 1980. What began with just a few services delivered by volunteers has grown considerably – especially over the last eight years. "The Canadian Government started investing in settlement services," explains Jenkins. "Starting in 2008, our budget went from $400,000 to over $3 million in a  couple of years. It was concluded that it was an economic benefit to Canada to have people settle quickly when they come here."
Core services offered include everything a newcomer would
benefit from to settle into their community, including: counseling, settlement, community connections, employment support, English language courses, housing, entrepreneur groups and refugee support.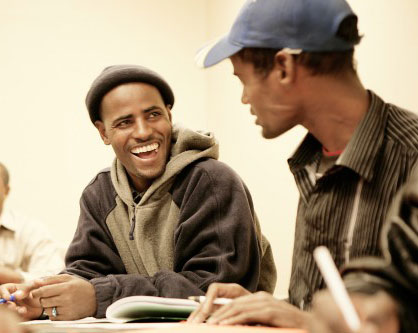 Socially, HMC hosts a huge family event each year: the multicultural picnic. It started as a small family picnic and has grown to draw over 2,000 people. This year's event is on June 24, from 4 – 8pm, at the Oakville Soccer Club. There will be some food available, however families are encouraged to bring their own water (bottles) and picnic foods. Activities for kids such as face painting, soccer, and a bouncy castle will keep them entertained, and the live entertainment will be something everyone will enjoy.
If you know of a family that could benefit from the services and support at HMC, encourage them to visit one of their offices in Burlington, Oakville or Milton.
"I want to thank you for your continuous support and help for me and family as well. Please consider the following as a confirmation of my deep and honest thanks to you and your team, I wish you the best.

I had touched down in Canada last August and I've been guided by some relatives to contact HMC as I heard they are providing all kind of supports, and helps for new comers, and for people who is seriously looking for job.  And I was impressed by the quality of people working there, they are so qualified, and helpful. After they study my file carefully, they offered to me many tools, and guide me successfully to get my first job, which perfectly meet my expectation and satisfaction. I worked in the same field of experience (chemical engineering / water treatment), and this was a dream for me before reaching Canada. I owe my success to HMC people and I want to thank them for helping us settled in Canada peacefully."
– HMC Client
Local Links:
Halton Multicultural Council
hmcconnections.com
Written by Becky Dumais