"The play's the thing," as William Shakespeare wrote when he penned one of his most famous tragedies, Hamlet. At the Shaw Festival this summer, the play that's on everyone's mind is not a tragedy but the classic children's story Alice in Wonderland, written by Lewis Carroll in 1865. The spectacular production has been in the works at the Shaw for over three years and brings the story to life through modern technology and old-fashioned theatre magic.
With more than 100 costumes and 19 songs written specifically for the show, it's little wonder that Shaw's artistic director, Jackie Maxwell said the festival's best ride this summer is the one down the rabbit hole. It's the spectacular production quality evident in Alice in Wonderland that has kept audiences coming back to the Shaw Festival every year. Last year's line up drew more than 232,000 people.
The festival has come a long way since its origins in 1962 when lawyer and playwright Brian Doherty wanted to stimulate interest in George Bernard Shaw and advance the development of theatre arts. The Shaw Festival is now the second largest repertory theatre company in North America and works in four theatres, the largest being the Festival Theatre with 856 seats. Along with Alice in Wonderland, this summer's lineup includes A Woman of No Importance by Oscar Wilde which offers a mix of comedy and social comme
ntary; Dr. Warren's Profession by George Bernard Shaw, in which a feminist daughter learns the truth about her mother's profession; Engaged, a comedy on love, marriage and money by W. S. Gilbert of Gilbert and Sullivan fame; and Our Town by Thornton Wilder, which takes a nostalgic look at small-town life in America and examines the greater meaning in everyday life.
We're lucky to live in Halton where we're only about an hour's drive from not one, but two great theatre companies; the second being, of course, the Stratford Festival, which has an equally impressive lineup this summer. Their family production is The Lion, the Witch and the Wardrobe, which is about four children who travel through a wardrobe to the land of Narnia to fulfill their destiny. The play is already so popular that it's being extended into October.  Stratford's publicity director, Ann Swerdfager says you don't have to be a child to enjoy it. "It is 100 per cent delightful. I had a grin on my face from start to finish."
From the magic to the romantic, the other hit play at Stratford this season is Shakespeare in Love, about Shakespeare's struggle with writer's block and the muse who cures it. This is the North American premiere of the play. "It's really fun and audiences are loving it," Swerdfager says. "There have been howls of laughter."
Anyone who has seen a play knows that set and costume design are as important as the actors and that is certainly the case with the plays at both Shaw and Stratford. The set for Shakespeare in Love is a spectacular three-storeys high and slides back and forth from the front of the stage to the back, as the play unfolds. Combined with gorgeo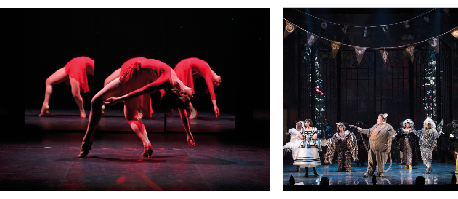 us chandeliers and stunning period costumes, it's an exquisite replica of Shakespeare's theatre in England.
Stratford's big musical number this summer is A Chorus Line, which is about a group of Broadway dancers who audition for spots on a chorus line. The role of Cassie is played by Dayna Tietzen, who recently appeared in War Horse. Cynthia Dale will mark her 13th season at Stratford with her role as Countess Charlotte Malcolm in the dazzling musical A Little Night Music.
All in all, it will be a good summer for plays.
Local Links 
Shaw Festival
shawfest.com
Stratford Festival
stratfordfestival.ca
Written by Denise Davy
Photography by Don Nixon & David Cooper