Spa time! If you're interested in learning how to make your own 100% natural and spa-quality skincare, then these Nuworld Botanical workshops are for you!
In these workshops, you will explore:
Natural botanical ingredients, essential oils and carrier oils and their wide range of benefits to the skin and body
How to create your own signature skincare products from the ingredients provided and your chosen aromatic scents
You will take home the products you make on the day
What's included?
Raw materials and packaging
Information and Recipe book for the products you make on the day
All the handmade natural products you make on the day
Limited places available. To reserve your spot call 905.338.3259 or emailadmin@nuworldbotanicals.com.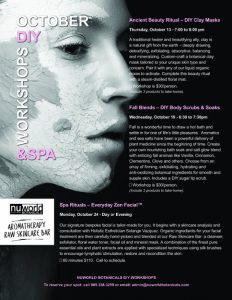 Ancient Beauty Ritual – DIY Clay Masks Thursday, October 13 – 7:00 to 8:00 pm
A traditional healer and beautifying ally, clay is a natural gift from the earth – deeply drawing, detoxifying, exfoliating, absorptive, balancing and mineralizing. Custom-craft a botanical clay mask tailored to your unique skin type and concern. Pair it with any of our liquid organic mixes to activate. Complete this beauty ritual with a steam-distilled floral mist.
Workshop is $30/person. (Include 3 products to take-home).
Fall Blends – DIY Body Scrubs & Soaks Wednesday, October 19 – 6:30 to 7:30pm
Fall is a wonderful time to draw a hot bath and settle in for one of life's little pleasures. Aromatics and sea salts have been a powerful delivery of plant medicine since the beginning of time. Create your own nourishing bath soak and salt glow blend with enticing fall aromas like Vanilla, Cinnamon, Clementine, Clove and others. Choose from an array of firming, exfoliating, hydrating and anti-oxidizing botanical ingredients for smooth and supple skin. Includes a DIY sugar lip scrub.
Workshop is $30/person. (Include 3 products to take-home).
Spa Rituals – Everyday Zen Facial™ Monday, October 24 – Day or Evening
Our signature bespoke facial is tailor-made for you. It begins with a skincare analysis and consultation with Holistic Esthetician Solange Vazquez. Organic ingredients for your facial treatment are then carefully hand-picked and blended right at our Raw Skincare Bar: an organic cleanser, exfoliator, floral water toner, facial oil and mineral mask. A combination of the finest pure essential oils and plant extracts are applied with specialized techniques using silk brushes to encourage lymphatic stimulation, restore and recondition the skin.
60 minutes $110. Call to schedule.
To reserve your spot: call 905.338.3259 or email: admin@nuworldbotanicals.com