The mantel is a focal point in your home that allows your creativity to take flight for the holidays (or at any time of the year).  It may not take up as large a footprint as the Christmas tree, but putting together a special décor theme on and around the mantle is always a fun way to embrace the holidays. Two local stores, Winterberry Lane (Oakville) and Fairhome (Burlington) illustrate how to put together the perfect mantel this season using Traditonal and Comtemporary themes.
Ideas for dressing your mantel this season
Layer It's a narrow (but long) space, but you can still create depth by using layers. Use different textures, colours and shapes in varying heights.
K.I.S.S. Keep it Simple, Santa! When in doubt, go with a "green" design. Gather some evergreen branches, green apples, pine cones and arrange them across the mantel. Natural beauty looks simple and smells simply wonderful!
White for It Always Frosty's favourite colour scheme. Go with a winter wonderland and keep everything on the mantel white, including candles, holiday figurines, polar bears, white foxes, angels, a white garland, white picture frames, and decorative balls.
Red Green Tradition speaks to the original holiday colour combination. Using various items in each colour, blend together Pointsettia, roses, vases with decorative balls, candles, berry branches and festive figurines.
Handmade Merry Let the kids take control this year. Suggest to them things they could make and see where their creativity takes them. Chain link garlands made from construction paper, letters to Santa, extra scarves and mittens from the bin in the front hall. Of course they also have final say when it comes to what kind of cookies (and how many) Santa should be served.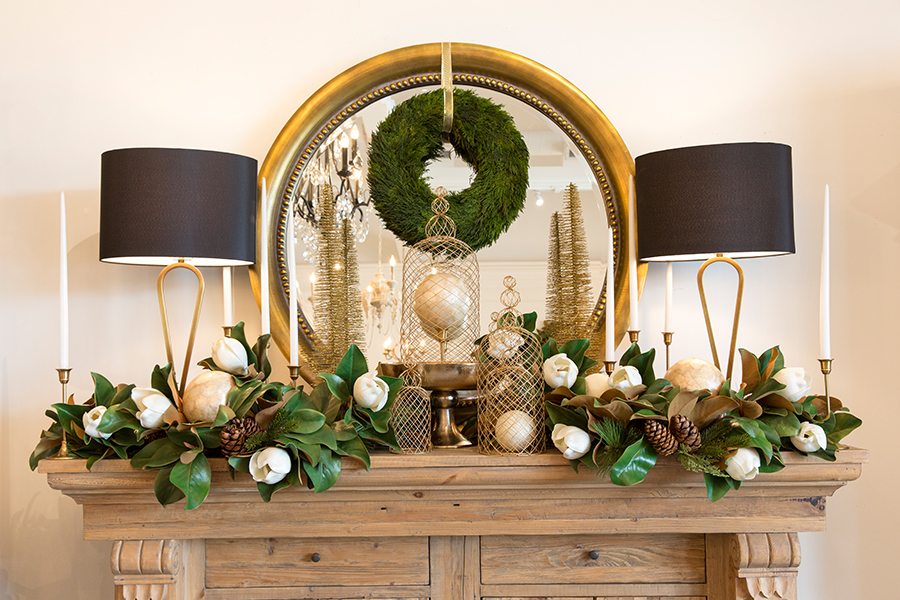 Green, Gold & Opulence
Designed by: Sarah Cistrone, Winterberry Lane, Oakville
"We started with lush greenery, added a subtle opulence with gold accents, and introduced purity and contrast with the white magnolia flower stems. Our overall vision was lush and natural, and a simple snowy white feeling was achieved with the magnolia flowers and taper candlesticks.  We strived for a clean aesthetic with simplified white florals, an old world feel with the white taper candles of various heights, and warm gold accent."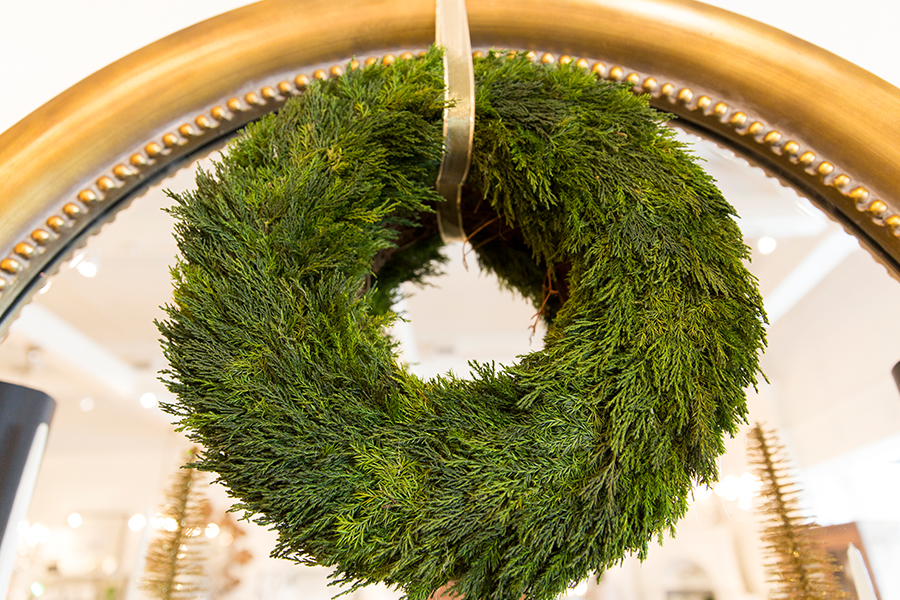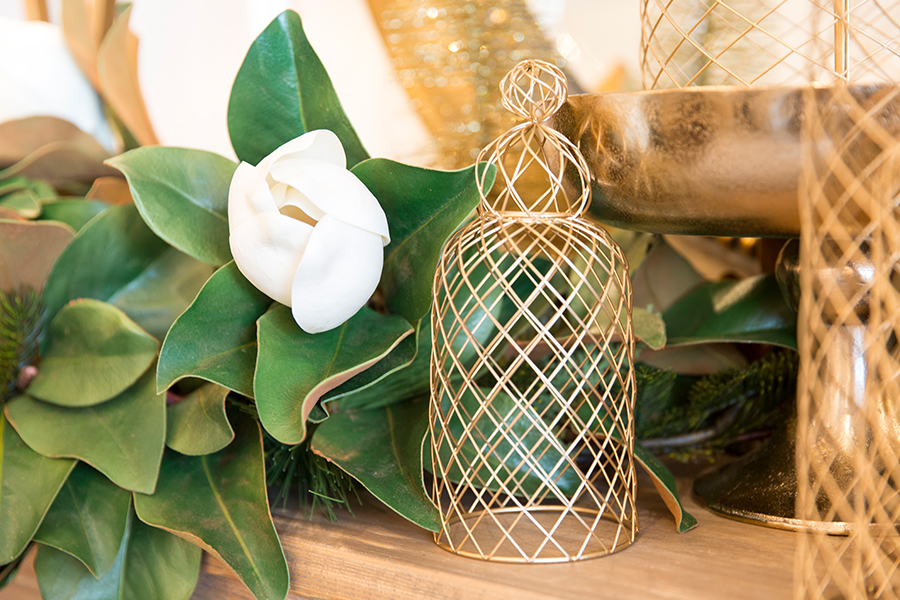 Sarah's Tips:
As an alternative to a pine branch garland, try faux magnolia leaf swags to lay the ground work, layer white magnolia stems throughout, and add brass candlesticks to tie the mirror and golden wood of the mantle together.
---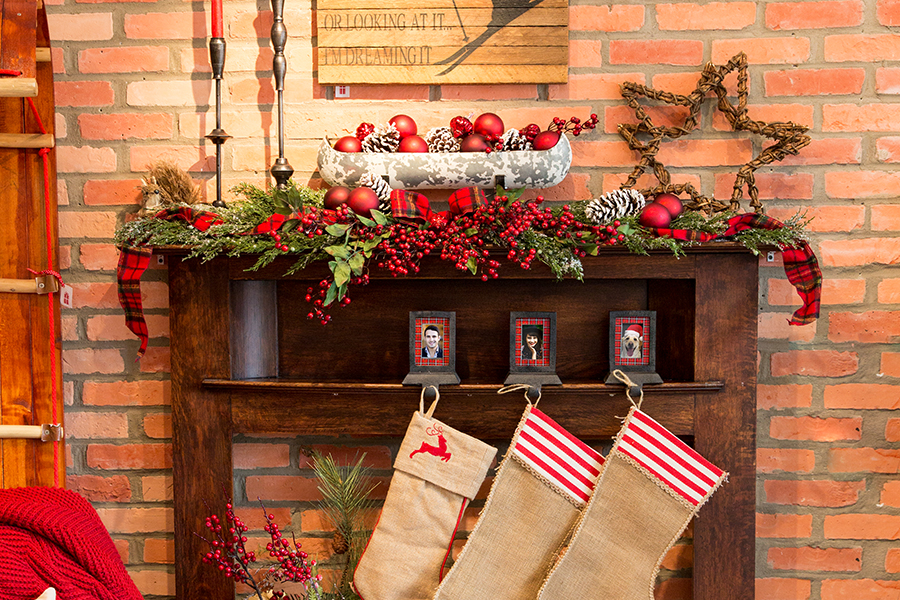 Cottage Christmas
Designed by: Tina Ringler, Fairhome, Burlington
" The theme is Cottage Christmas, pulling from the traditional holiday colours of red and green and incorporating natural elements: the pine cones, the wood artwork, the wooden stars. The burlap stockings are again natural, organic. Plaid is big this year so there's reference to it in the ribbon used on the mantel."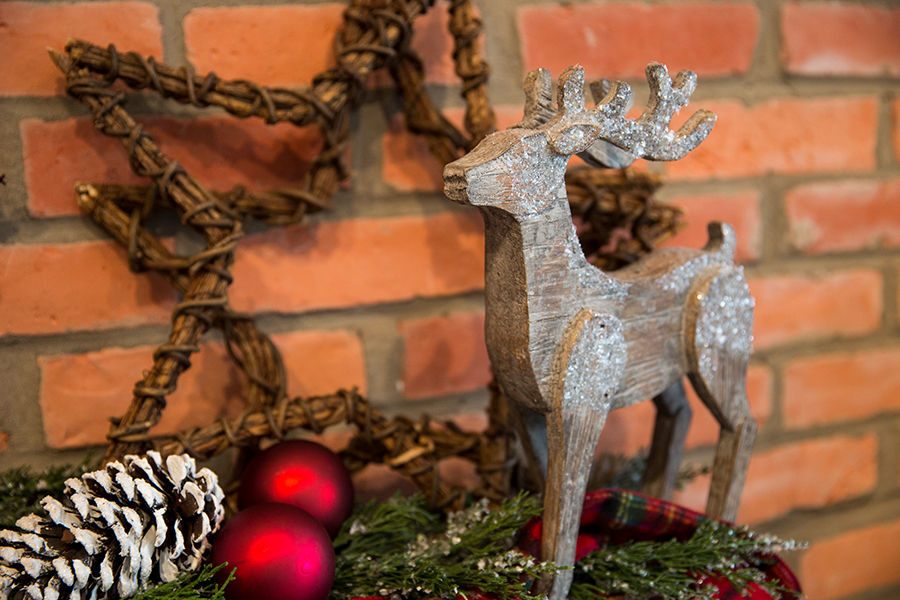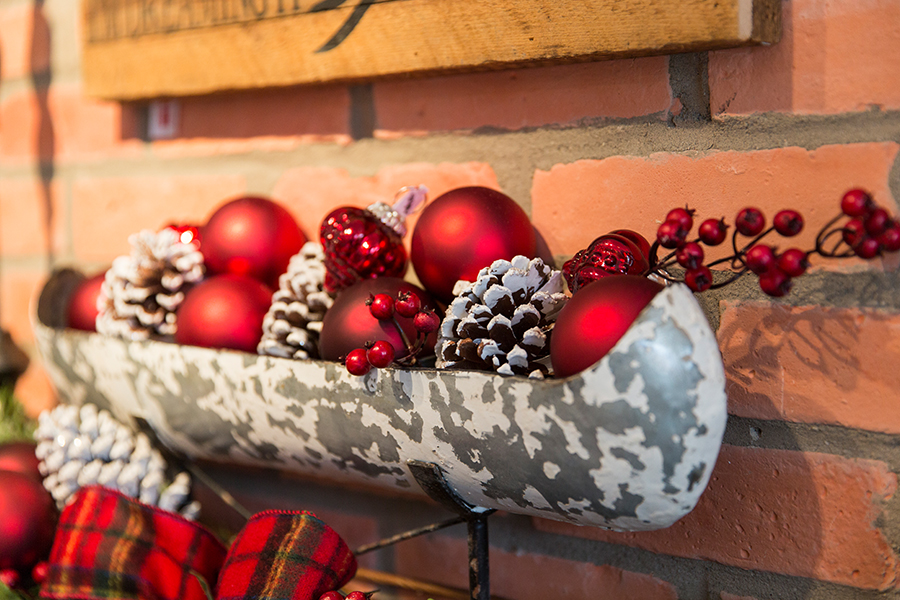 Tina's Tips: Displaying items in threes is visually appealing, and they don't have to be identical. For example, Tina chose two red ornament balls grouped with a large pinecone on one side and two tall candlesticks with a woodland-theme squirrel on the other.
by  Becky Dumais