Traditionally when you think of the word 'therapy' your mind might automatically envision psychology or physical therapy but there are other ways heal oneself simply by going to a spa. Rather than seeing it as an indulgent experience (even though it truly is) there are definite benefits for your physical and mental well being.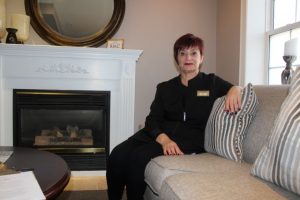 Admittedly it's not something I've been able to enjoy as often as I'd like (the last time I went for even just a pedi was for a friend's wedding and they've already passed their 8th anniversary). After being invited to Magnolia House Spa downtown Oakville and spending a glorious day there, I was reminded at how much benefit there is to whisking yourself away for a few healing treatments – for your skin and your mind.
I received the Tranquil Moments package, which over the course of 3¾ hours I received the Timeless Tranquility Facial (and also a back exfoliation and massage), a light lunch, followed by a Luxury Pedicure and Luxury Manicure.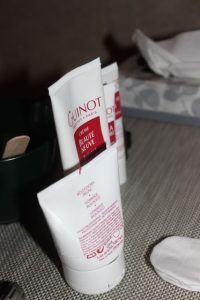 Being mindful –I was able to relax and unwind during each treatment. As I lay on the table my treatment began with Raya instructing me to do a few deep breaths complimented by relaxing aromatherapy oils that she held under the headrest. Being mindful can involve different things but I know that I'm truly relaxed when my mind is totally clear – not one thought of a chore or responsibility entered my head. In fact, I actually dozed off during my treatment and was woken up when it was over! It was time for lunch. My clear mindfulness continued as I enjoyed simply sitting quietly in the sitting room to eat lunch.
Keep Calm & Spa On– Many spa treatments incorporate touch, whether it's a massage, a facial or applying products to the skin, which can all be quite calming. A massage or facial treatment can calm the body down, reducing stress and bolstering your overall wellness.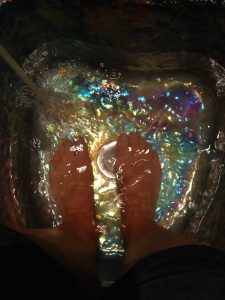 Once I finished my lunch and lingered quietly in the room for a bit, I was taken downstairs for my mani and pedi. Amale sat me in the chair and I placed my feet into the bowl that was filling with hot water. We chatted about Oakville, our careers, current events and what plans we each had for the weekend. Magnolia House has its own line of products, including the delicious butter used as part of treatment.
Spa treatments can give you a boost and maybe even banish bad habits – I have always struggled with keeping my fingernails and cuticles presentable: the constant picking has left my cuticles red, shredded and irritated looking (ugly). Since my visit I was so proud of the way my nails looked I've been able to maintain them pretty well. I look forward to returning very soon. The only thing that would be different is the colour of nail polish I'd pick – there are so many colours you'll want try as many as you can.

Visit Magnolia House Spa at their Oakville or Waterdown locations to indulge in your own tranquil moments…
Save