The Lighthouse for Grieving Children celebrated the move to its new home at 2522 Rebecca Street, Oakville, with a joyous opening event on November 20th. Many supporting donors and friends cheered on, while Lighthouse co-founder, Jo Fallon, conducted the ceremonious ribbon cutting. "I am so honored to have worked with so many incredible people over the last 17 years who have made our vision a reality," said Fallon. "We have always looked forward, hoping for this day. We have come a long way. We are the little engine that could…and we did".
The Lighthouse provides a forum for children and families who have experienced a life–altering death.  "The Lighthouse signals hope, encouragement and a community that welcomes you," said Britta Martini-Miles, Executive Director of Lighthouse. "With the move to our new home we will be able to double the number of families we support and establish Lighthouse as a grief and training resource centre in the region."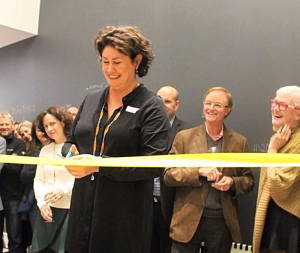 Each room in the new home provides a place to play, to process or simply to just 'be'; be a child, be with others who understand.  The new Lighthouse will have an entire floor for teenagers, as well as a pillow talking circle, a hospital play room, arts and crafts and a volcano room to express the physicality of their grief. "The Lighthouse launched its Legacy Campaign in early 2015, with the goal of raising $4 million to buy a permanent home and we did it! It is said that it takes a village to raise a child. It also takes a community to hold hope and bring about change.
The Lighthouse Legacy Campaign has been a tremendous success because many kind and generous families, organizations and corporations stepped forward, wrapped their arms around our community, and elevated the Lighthouse to the next level" said Martini-Miles.  The Lighthouse would like to acknowledge the following lead sponsors who generously supported the renovation project with gifts in kind: Top Notch cabinetry, Kenaidan/CETA, Cambria, Reliance/Goodman, Goemans Appliances and the Carpet Warehouse.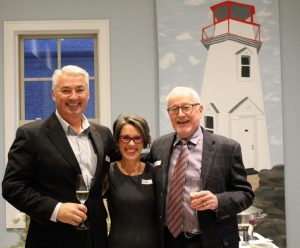 The Lighthouse has a lot to celebrate, as they just received accreditation from Imagine Canada under The Standards Program. The accreditation shows that Lighthouse is operating at the highest standards in board governance, financial accountability and transparency, fundraising, staff management and volunteer involvement.
"Receiving accreditation from Imagine Canada assures our participants, donors, volunteers and community partners of our commitment to excellence and the high standards to which we hold ourselves," said Martini-Miles. "We are proud to display the Imagine Canada Standards trustmark."
For more information about the special work of the Lighthouse, visit grievingchildrenlighthouse.org or contact Britta Martini-Miles, Executive Director at 905 337 2333 or info@grievingchildrenlighthouse.org.
Save
Save