Pusateri's in Oakville Place held a Family Day event on February 18th, celebrating their love of family, food and tradition with the Oakville community.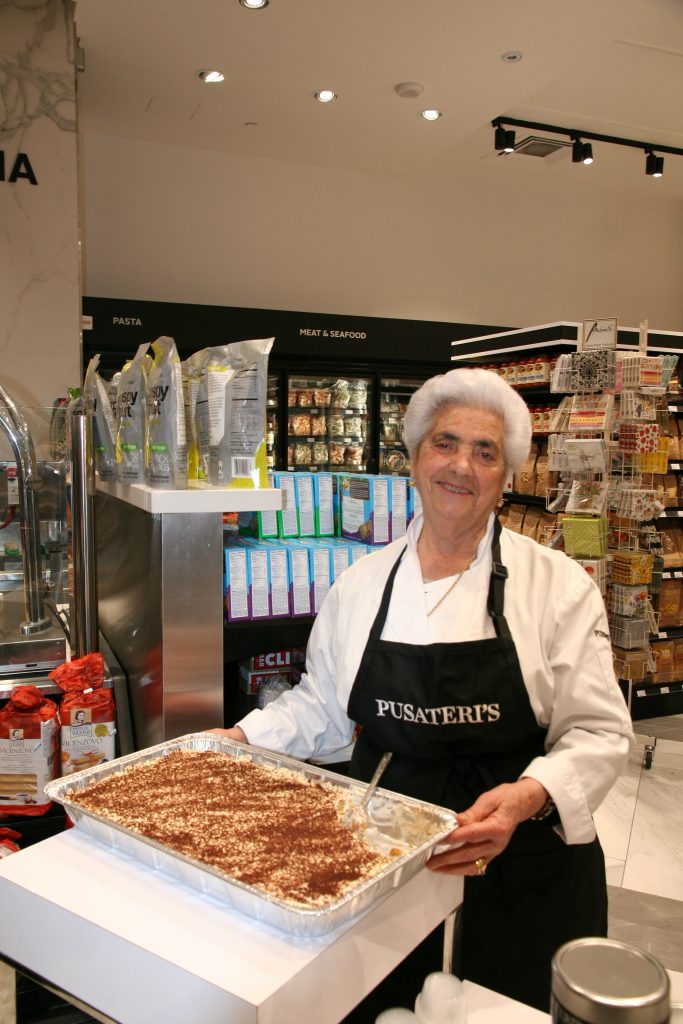 Ida Pusateri was on hand to do a cooking demonstration of how she prepares her delicious Orecchiette Pasta with Sausage, Chickpeas & Rapini. Prepare this easy and nutritious recipe at home (below).
Ida's mother, Dina Luchetta (Nonna Dina, pictured here on the right), was also in the store sharing her legendary Tiramisu, which she had personally prepared from a time honoured family recipe.
The original chef and operator of Pusateri's kitchen, Nonna Dina's recipes have been in the family for generations and are the inspiration behind Pusateri's many authentic Italian prepared foods. Family-owned and operated for more than 50 years, Pusateri's is proud to share their family's traditions.
IDA PUSATERI'S ORECCHIETTE PASTA WITH SAUSAGE, RAPINI & CHICKPEAS
Ingredients (serves 4 to 6)
10 oz hot sausage, no casings
1 bunch rapini, trimmed and chopped
1 clove garlic, pureed
½ small white onion, diced
1 box orecchiette pasta
5 oz pre-cooked chickpeas, drained & rinsed
2 oz grated Grana Padano
1 oz olive oil
1tbsp salt
Cooking instructions
In a medium sized pot, fill with water and bring to the boil. Salt the water accordingly.
Using a shallow and wide saucepan, place on medium heat and add oil.
Once hot, add onion and saute until cooked through. Do not brown. Add garlic and then add broken up sausage.
Boil rapini for 1 – 2 minutes in the boiling salted water, then strain it into the cooked sausage and onion mixture. Add chick peas in to the pan at this point.
Add 1 cup of the boiling salted water to the sausage mix. Simmer on low for 8 – 10 minutes. Add more water to rehydrate the sauce. Add salt and pepper to taste.
Add orecchiette pasta to the boiling water and cook through.
Transfer pasta to a strainer and then add to the saucepan.
Stir pasta into the rapini sausage mixture and add grated Grana Padano cheese. Toss and serve.
PUSATERI'S FINE FOODS
240 Leighland Ave, Oakville, ON
Save
Save
Save
Save