This year the Willson Oakville Film Festival returns with a stellar line up of independent films from across Canada and North America.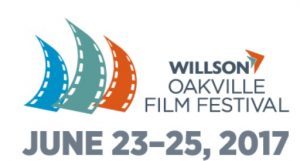 This summer there are more films, more exclusive events and more opportunities to meet directors, actors and filmmakers! Beginning on Friday, June 23rd to Sunday, June 25th the Oakville Festivals of Film and Art presents three days of excellence in independent film making -including feature length films, limited release films, documentaries and shorts – and includes special screenings of Sheridan College student films.
The selected films represent multiple genres, styles and tones – each presenting different perspectives on life and the human condition that connects each of us. The Willson Oakville Film Festival is committed to engaging, enriching and inspiring the community through film, and we strive to deliver interesting, thought-provoking features to a discerning, critical audience for whom emerging film artists from Canada and North America can present their work.
View the full show time schedule here.
19 Feature Films and Documentaries
OFFICIAL VENUES:
1. The Oakville Centre for the Performing Arts – ALL GALA SCREENINGS
2. The Film.ca Theatres – Oakville
World Premieres
To the Mountain (Canadian Drama)
Synopsis: The story of five hikers who define themselves through their adventures in the Canadian Rockies.
Starring: Daniel Braun, Peter Morton, Joan Miles
Event Details: Director Eric Pauls will be present for a Q&A following the screening.
FILM FACT: Debut feature from writer/director Eric Pauls.
SATURDAY NIGHT SPECIAL EVENT GALA
The Meaning of Life (Canadian Drama)
Synopsis: This Toronto-shot film follows a struggling musician as he learns about life from a terminally ill nine year old girl he has been hired to entertain.
Starring: Tyler Shaw, Sadie Munroe, Sergio Di Zio
Event Details: Lead actor Tyler Shaw to perform before the screening. Full cast and crew present for Q&A following screening. Includes Director Cat Hoskins, Actors Tyler Shaw, Sadie Munroe and Sergio Di Zio, and North Film Co. DOP Russ De Jong. FILM FACT: Lead actor Tyler Shaw was the winner of the "Much Music Coca-Cola Covers" contest in 2012.
North American Premieres
Broke (Australian Sports Drama)
Synopsis: A disgraced sports star and gambling addict attempts to turn his life around with the support of his number one fan.
Starring: Steve Bastoni, Max Cullen, Brendan Cowell, Pippa Grandison
FILM FACT: Broke won a Film Jury Award at the 2016 SENE Film, Music and Art Festival.
Canadian Premieres
FRIDAY NIGHT OPENING GALA
A Ghost Story (US Drama/Fantasy)
Synopsis: In this exploration of love, loss, and the enormity of existence, a recently deceased, white-sheeted ghost returns to his suburban home to try and reconnect with his bereft wife.
Starring: Casey Affleck, Rooney Mara
FILM FACT: This film was kept secret, and was only announced after the filming had wrapped.
Gear (Canadian/US Drama/Thriller)
Synopsis: In this gritty thriller, a Russian drug runner must prove his loyalty by taking on an unexpected assignment.
Starring: Tyler Blake Smith, Nicola Posener, Gregory Hlady
Event Details: Full cast and crew will be here for the screening, including Award-winning director/producer, Ant Horasanli.
FILM FACT: Described as Sons of Anarchy meets The Fast & the Furious Franchise
Treasure Hound (Canadian Family)
Synopsis: This fun family film follows a talking dog who helps his owner find treasure buried in their house.
Starring: Norm MacDonald, Jessie Fraser, Helen Colliander
FILM FACT: Star Norm MacDonald was born in Quebec City and rose to fame through his work on Saturday Night Live.
The Time of their Lives (British Comedy)
Synopsis: A former Hollywood sex symbol escapes a seniors' home in England to travel to France for the funeral of an ex-lover, and takes a friend along on her adventures.
Starring: Joan Collins, Pauline Collins, Franco Nero
Event Details: Director Roger Goldby will be in attendance for the screening.
FILM FACT: Dame Joan Collins has over 125 acting credits to her name.
Eastern Canadian Premieres
From the Land of the Moon (French Historical)
Synopsis: In 1950's France, a passionate, free-spirited woman who is in a loveless marriage falls for another man when she is sent away to the Alps to treat her kidney stones.
Starring: Marion Cotillard, Louis Garrel, Alex Brendemühl
FILM FACT: This film received a 7-minute standing ovation when it screened at the Cannes Film Festival.
The Death (and Life) of Carl Naardlinger (Canadian Comedy/Drama)
Synopsis: Through the misadventures of a mild-mannered IT consultant, this comedy deals with the desire to believe in something and the alternative notion that all is meaningless.
Starring: Matt Baram, Grace Lynn Kung, Mark Forward
Event Details: Director Katherine Schlemmer and Producer Carl Lauden and full cast and crew to be present for Q&A following the screening.
FILM FACT: Lead actor Matt Baram, an alumnus of Second City, has won several Canadian Comedy Awards and has been nominated for several Dora Moore awards.
Victor Walk (Canadian Documentary)
Synopsis: This eye opening documentary follows Theo Fleury on his 10 day Victor Walk from Toronto to Ottawa, to bring awareness about child sexual abuse and promote healing to survivors.
Starring: Theo Fleury
Event Details: Director Michael Lynch will be here for a Q&A following the screening. We will also have a panel discussion on issues related to child sexual abuse.
FILM FACT: Although filmed in Ontario, Victor Walk has never been publicly screened in the province.
Regional Premieres
Heroes Manufactured (Canadian Documentary)
Synopsis: This documentary follows Canadian artists and their struggles to break into the comic book industry while dealing with fandom and the craze of comic book conventions.
Starring: Alfonso Espinos, Shane Kirshenblatt, Mark Shainblum
Event Details: Director Yaron Betany will be present for a Q&A. As well, Kitchener comic book artist and main focus of the story of the film Alfonso Espinos will be present for the screening and Q and A. There will also be a comic book art display and comic characters present.
FILM FACT: Heroes Manufactured holds a rating of 8.9/10 on IMBD
Where the Universe Sings: The Spiritual Journey of Lawren Harris (Canadian Documentary)
Synopsis: An intimate portrait of the life and art of Lawren Harris, a founding member of the legendary Group of Seven, and the expansive landscapes that inspired him.
Starring: Colm Feore, Diane D'Aquila, Phyllis Ellis, Steve Martin
Event Details: Director Nancy Lang will be present for Q&A following the screening, as well as potentially a representative from the McMichael Gallery.
FILM FACT: Comedic actor Steve Martin is a long-time Lawren Harris admirer and helped to curate a recent show on Harris' works.
Broken Mile (Canadian Drama/Thriller)
Synopsis: A drug addict awakens to find the girl he is with is dead, and must rush to escape the consequences.
Starring: Francesco Filice, Caleigh Le Grand, Patrick McFadden
Event Details: Director Justin McConnell and other cast and crew will be present for a Q&A following the screening.
FILM FACT: This real-time thriller was created in a single, unbroken take.
Personal Shopper (French Drama/Thriller)
Synopsis: A personal shopper for a famous star in Paris refuses to leave the city until she makes contact with the spirit of her twin brother, who previously died there.
Starring: Kristen Stewart, Lars Eidinger, Sigrid Bouaziz
FILM FACT: Olivier Assayas won the Best Director Award at Cannes for his effort on this film.
13 Minutes (German/Historical Drama)
Synopsis: Based on the real life story of Georg Elser's 1939 attempt to assassinate Adolph Hitler, this drama recalls the events leading up to his plot and his reasons for taking such actions.
Starring: Christian Friedel, Katharina Schüttler, Burghart Klaußner
FILM FACT: There are at least 60 streets and places named after Georg Elser in Germany today.
Get Happy! (US Comedy/Drama)
Synopsis: This film focuses on a perpetually miserable man who finds happiness when he starts dating a manic, pixie dream girl.
Starring: Chris Riggi, Adam LaVorgna
FILM FACT: The script for Get Happy! won the Hollywoodscript.com award in 2008.
SATURDAY AFTERNOON FAMILY SPECIAL EVENT
Red Dog, True Blue (Australian Family)
Synopsis: An iconic Australian story of family, friendship and adventure, between a young boy and a scrappy one-of-a-kind dog that would grow up to become an Australian legend.
Starring: Levi Miller, Jason Isaacs, Hanna Mangan Lawrence
FILM FACT: Showed at both the Sundance and Berlin Film Festivals.
Willson Oakville Film Festival Special Presentations
Milton's Secret (Canadian Drama)
Synopsis: A young boy, bullied and in crisis learns from his grandfather how to manage his anxiety and work towards finding happiness.
Starring: Donald Sutherland, Graham Abbey, William Ainscough. Ella Ballentyne
Event Details: The screening will be followed by a panel on bullying.
FILM FACT: Canadian actor Donald Sutherlands' legendary contributions to cinema include almost 200 appearances in various shows and films.
Lovesick (Canadian Romance)
Synopsis: A neurotic, immature, hopeless romantic is trapped in a perpetual state of unrequited love. Finally he is forced to make a decision that will change his life forever.
Starring: Jay Baruchel, Jessica Pare, Adam Brooks, Sarah Constible
Event Details: Director Tyler Carson will be present for a Q&A following the screening plus cast and crew from the film including Jay Baruchel.
FILM FACT: Filmed in Winnipeg Manitoba.