Whether you're nursing a hangover or needing some super fuel for the day. Here is our list of the best local breakfast & brunch spots in Burlington 2020 – Sure to cure your craving for coffee, pancakes, bacon, waffles or the classic eggs benny! #nomnomnomnom
Saving Thyme Catering & Patisserie
All-Day Menu: Croissant, Quiche, Eggs Benedict, Crepes and more savingthyme.ca | 450 Appleby Line, Burlington | 905-929-9955
Pop in any time for a coffee, tea or latte and something from their all day menu. Perhaps a croissant with house preserve, ham and gruyere, a breakfast sandwich with egg, bacon, aged cheddar and cayenne aioli or a healthy bowl of house granola? Everything is made in house using fresh ingredients with a touch of French tradition. (PS. they just launched a dinner menu too!)
The Water St. Cooker
Cooker Sunday Brunch 10am-3pm | waterstreetcooker.ca | 905-634-2084 | 2084 Old Lakeshore Rd, Burlington
Welcome to Sunday brunch, along with a view to make sure you got up on the right side of bed that morning. Enjoy your favourites (Eggs Benedict, Home Fries, Sausage, Bacon, Made to order Omelettes, fresh waffles, and more. A salad station, fruit and desserts round out your meal.
Spencer's at the Waterfront
Champagne Brunch – Sunday 9:30am-2:30pm | spencers.ca | 905-633-7494 | 1340 Lakeshore Rd, Burlington
Over-easy eggs served with a side of panache and a panoramic view of Burlington's lakefront. This is a marché style Sunday brunch that includes a variety of cocktails and interactive food stations.
Russell Williams
All Day Breakfast Daily | russellwilliamsrestaurant.com | 905-634-2929 | 20 Plains Rd E, Burlington
One of Burlington's oldest diners that's still running strong and serving a strong cuppa joe. A few changes have taken place over the years with renovations here and there but RW continues to serve big portions of tasty breakfasts. It's pristine without being pretentious, friendly without being fake, and delicious without being expensive. It's a lively place; be prepared to wait for a table on weekends.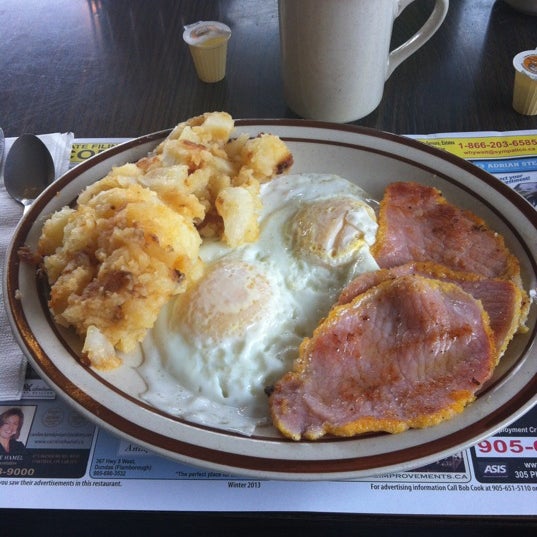 Lettuce Love Cafe
Weekend Brunch 10am-2pm| lettucelovecafe.com | 399 John St, Burlington | 905-637-2700
Good healthy food is what's on the menu every day. Everything served is completely 100% gluten-free plant-based created from organic, local, farm-to-table, sustainable, fair-trade ingredients. After enjoying pancakes, a classic breakfast, or one of the signature Bowls, your tummy will feel super clean (and full).
The Coop Wicked Chicken
Brunch – Every Saturday and Sunday 10am-2pm | thecoop.ca | 370 Brant St, Burlington | 289-815-2667
There's wicked chicken to be had here – not to mention waffles, eggs and sandwiches. The WTF Waffles If you're not afraid of a bit of spice in your maple syrup. Sustenance is also offered in liquid form on the Boozy Brunch menu.
Wundeba
Breakfast Served Daily Monday: Closed | wundeba.ca | 4448 Guelph Line, Burlington | 905-336-8881
A plethora of healthy and homemade breakfasts. You'll find a clean twist on all of your favourites, from Benedicts to the classic brekkie. They know how to blend an amazing smoothie and we love the Sunnyside Baked Avocado. Take your meal outdoors on a nice day and enjoy their back-yard patio and tiered deck.
Rust Bistro Bar
More than just cupcakes: Muffins, Scones, Donuts, Coffee & more! rustbistrobar.ca | 1801 Walkers Line #7, Burlington | 905-336-3555
Free of the usual convention, Rust Bistrobar is an intimate, casual cool dining destination open for dinner six nights a week and for brunch every Sunday. Sunday Specials include: Join us for $5 mimosas, caesars, and harvey wallbangers or for a Slow Roast Special.
Jacksons Landing
Sunday Brunch 10am-3pm | thelandinggroup.ca | 905-632-5302 | 5000 New St, Burlington
Jackson's is a bright, open and modern space with a menu that goes to great lengths to serve weekend brunch. It will take more than a quick glance at this large menu to decide what you want to eat. There are Benedicts, burgers and sandwiches, salads, share plates and pizzas – truly something for everyone.
Pepperwood Bistro
Weekend Brunch Saturday & Sunday 10:30am-2pm | pepperwood.on.ca | 905-333-6999 | 1455 Lakeshore Rd, Burlington
Not only does Pepperwood brew its own craft beers, they're also open for weekend fixes of Eggs Benedict, Rise 'n Shine Tacos, or a Brunch Patter for Two. Early – or late risers can enjoy their morning meal inside or outside on the patio (with a view of Lake Ontario for free).
Jake's Grill & Oyster House
Weekend Brunch Saturdays & Sundays 11:30am-3pm |jakesgrill.ca | 289-815-2667 | 950 Walkers Line, Burlington
What would brunch at Jake's be without a bit of seafood in your Benedict? Menu items include a Breakfast Flatbread, Brunch Burger and Crabcakes Benedict. Breakfast Flatbread or Brunch Burger? Add a refreshing Mimosa or Bloody Caesar/Mary and your meal's complete.
Cora's
Serving Breakfast Daily 6am-3pm | chezcora.com |3455 Fairview St, Burlington | 905-333-0100 2455 Appleby Line | 905 335-8300
This Canadian franchise began serving breakfast in Montreal in 1987. Now with more than 130 locations across Canada, Burlington's location is open for breakfast seven days a week with all of the options you'd expect from a breakfast chain – including lots of healthy options. Coras is also a Breakfast Club of Canada charitable partner.
Tucker's Marketplace
No Rules Sunday Brunch – 10:30am–2pm |tuckersmarketplace.ca | 905-634-1815 | 3110 S Service Rd, Burlington
Fluffy waffles, warm from the oven croissants, muffins and sticky cinnamon buns, made-to-order omelettes and crepes as well as non-breakfasty options like Tuckers' signature salads and soups, hand-carved roast beef, sugar-glazed ham, oven roasted chicken, and more. Since it's a buffet and there's so much to choose from, you can't not also have the creme brule.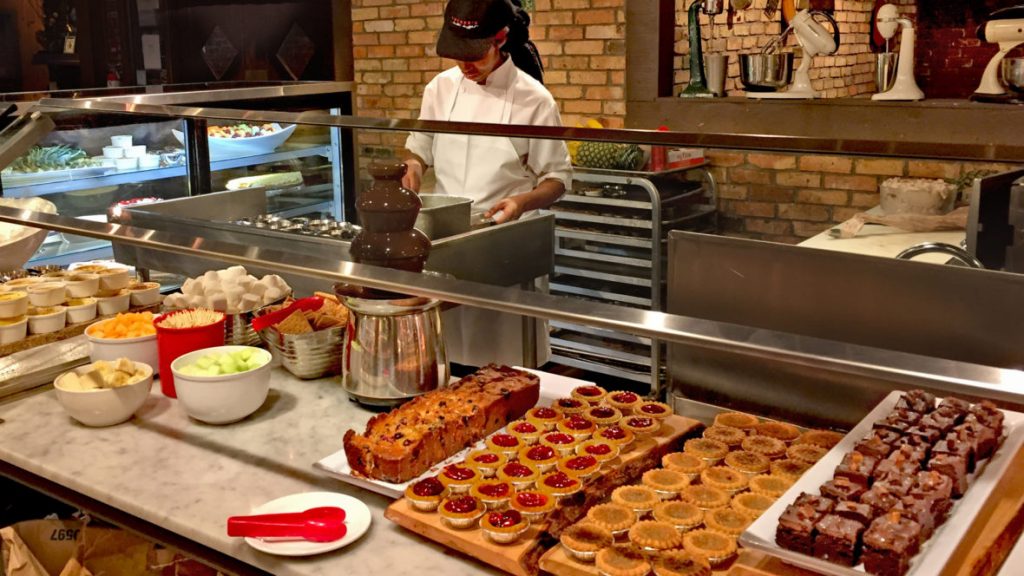 The Judge and Jury
Breakfast – Saturdays & Sundays 11am-1pm | thejudgeandjury.ca | 905-319-1655 | 1222 Walkers Line, Burlington
All of the classics served in a relaxing pub atmosphere: sausage and eggs, BLTs, Benedicts and the Judge's French Toast.
Squires Public House
Breakfast – Saturdays & Sundays 10am-2pm | squirespublichouse.com | 905-333-6627 | 3537 Fairview St, Burlington
So what if the Sticky Toffee Pudding isn't on the breakfast menu, it's still one of our favourites. If you're visiting on the weekend, why not order a Full English Breakfast, a Breakfast Burrito, Chef's Omelette or good ol' pancakes? Depending on the time of day you're there (after lunch perhaps) ask for the Up Yer Kilt (coffee with Drambuie and Kahlúa).
Lakeshore Coffee House
Open Tuesday to Sunday 9am-5pm | lakeshorecoffeehouse.com | 905-631-1622 | 2007 Lakeshore Rd, Burlington
But first…coffee. Freshly ground beans are turned into hot cups of Americano, Espresso, Latte or Cappucino. If it's tea you require, they make a wide range of blends like the London Fog, Chai Latte, or a White Chocolate Mocha. Try their waffles, a soup and sandwich combo, quiche, grilled cheese or one of the sweet treats.
Sunset Grill
Open Daily 7am-3:30pm | sunsetgrill.ca | 905-633-6868 | 1235 Fairview St, Burlington
Open early for people who like to rise with the sun, Sunset knows eggs, Grade A, served Scrambled, Sunny Side Up or Over Easy. Lots of other options and protein fare like chicken, AAA steak, corned beef or salmon. You'll find lots of simple and lighter fare too, including organic yogurt and fruit or smoked salmon plate. Pancakes too!
Loondocks
Sunday Brunch Only from 10am-3:30pm | loondocks.ca | (905) 633-8337 | 5111 New Street, Burlington
Everything at this fine dining establishment is made fresh! A special bunch hosted on Sundays only has a limited menu of classic favourites: steak and eggs, eggs benedict, and blueberry pancakes to name a few. Everything is made with fresh, seasonal ingredients. Not to mention, their sunny rooftop patio is the perfect place to sip a cup of coffee.
JC Hot Bagels
Monday-Friday 6am-6pm, Saturday 6am-5pm, Sunday 7am-3pm (905) 631-6258 | 3011 New Street, Burlington
Simply put, this place does bagels and they do them well. From handcrafted breakfast sandwiches to their in-house cream cheese, you can't go wrong at JCs. A large selection of bagels makes it hard to choose but if you have your eye on more than one, you can always bring some home.
Black Swan Pub and Grill
Weekend Brunch – Saturday & Sunday 11am-2pm | blackswanburlington.ca | 905-336-1200 | 4040 Palladium Way, Burlington
Located in North Burlington's Alton Village community, look out for their traditional British breakfast and of course there's kid-friendly options too.
Skyway Diner
Open daily 7am-9pm (905) 592-1077 | 645 Plains Road East, Burlington
Eggs, sandwiches, bennies – oh my! This family-owned diner is one of Burlington's breakfast hot spots. It's become a popular choice for home-style meals that really hit the spot, plus service that is fast and friendly.
Rose Garden Family Restaurant
Breakfast Served Daily 7am-9:30pm | rosegardenfamily.weebly.com | 905-777-1880 | 1124 Plains Rd W, Burlington
A few minutes away from Burlington's Botanical Gardens, the Rose Garden Family Restaurant is another Burlington gem. They offer a great selection of classic breakfasts, including french toast and pancakes – and also have a menu for kids under 12. Get there early (weekdays before 11am) for early bird specials!
Harvest Table Family Restaurant
Breakfast – Monday 7am-3pm, Tuesday, Wednesday and Saturday 7am-8pm, Sunday 7am-5pm | Closed Fridays (905) 632-5911 | 3350 Fairview Street, Burlington
For large portions, classic options, and a bottomless cup of coffee, visit Harvest Table. Great for large groups and families with young children. They even offer a buffet brunch on Sundays!
Windmill Restaurant
Monday to Friday 6am-3pm, Saturday 6am-2pm, Sunday Closed (905) 336-3954 | 2238 Mountainside Drive, Burlington
This diner-style mom and pop shop makes you feel at home. Homestyle fried potatos, eggs and bacon the way you like it. There's just nothing that can beat a good ole fashioned traditional breakfast.
Don't see your favourite Brunch spot? Contact us and we'll add it to our list!