For those of us who love to shop, sorting through racks of clothing to find those perfect pieces is never a chore – it's a hobby. The thrill of locating your newest must-have item feels the same no matter what store you're in – including consignment shops. Whether you think of them as thrift, upcycled, second hand or consignment stores, there are many in Oakville and Burlington that sell those high-end brands you love, but at a more affordable price.
The definition of a consignment shop is simple: you bring your unwanted items to the shop and they sell them for you on your behalf – and you can earn a little money too. Think of them as the stylish middleman between your unwanted clothing and the consumer. As a consumer, the list of benefits goes on. At a lower price than what you'd pay for new, it's easy to update your wardrobe with your favourite brands. Just like any retail store, the selection will vary from season to season, and from day to day, depending on how often new inventory comes in. That's all the more reason to visit consignment shops frequently to see what's in stock. The consignment shops in Oakville and Burlington will gladly accept your clothes, handbags and shoes that just sit in your closet because you don't wear them anymore – with a few conditions.
Most shops request that you make an appointment and bring in your items for inspection. Most consignment shops generally prefer items that are trendy, higher end name brands and designer items  (it's best to check with each store first). Make sure your items are in 'new' condition and dry cleaned or washed and ironed (and on hangers). Also check that each piece has its clothing label, zippers work, buttons are all accounted for and there are no holes, stains or pet hair. Also note that if clothing smells of cigarette smoke, it won't be accepted.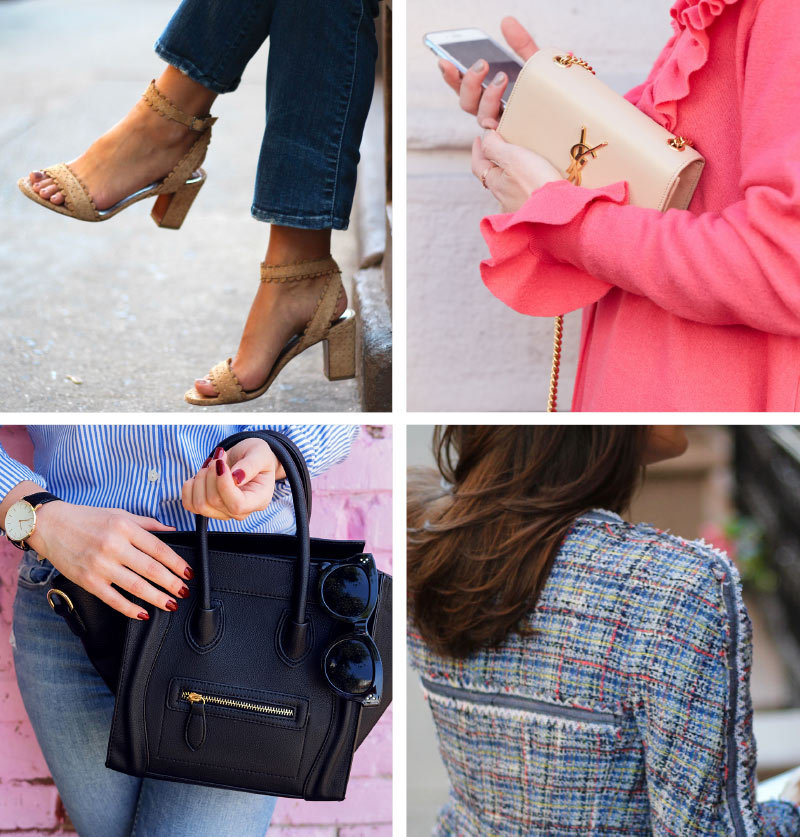 Each shop has its own pricing policy and will select items to sell based on their own customer's preferences, as well as supply and demand. Usually items will be kept in stock for a designated amount of time (each store may vary), and any unsold pieces will be returned to you (or donated after a certain amount of time if they're not picked up at the end of the contract). You'll receive a predetermined percentage for any items that have been sold.   
Stores are usually looking for a wide range of brands, such as: Coach, Chanel, Michael Kors, Kate Spade, Banana Republic, Diane Von Furstenberg, Elie Tahari, Burberry, BCBG, JCrew, Lululemon, Theory, Tory Burch, Stuart Weitzman, Seven for all Mankind, Olsen, Lida Baday, Marc Cain, Save the Queen, Desigual, Ralph Lauren, Hermes, Prada, Pink Tartan, Dior, and Gucci.
Did we also mention that this is an environmentally friendly way to recycle and feel fashionable? Bringing your items in to sell is rewarding, knowing they'll be able to call someone else's closet home – and a bit of extra cash in your pocket never hurts. Shopping consignment is a fun way to build your wardrobe since you never know what you'll find on the rack. Something just may instantly stand out as your newest must-have.
by Becky Dumias
Local Links
By Consignment, Oakville
byconsignment.ca
Closet 112, Oakville
closet112.ca
My Girlfriend's Closet, Bronte
mygirlfriendsclosetburlington.ca
Treasures and Trends, Burlington
treasuresandtrends.ca
Nearly New Shop, Oakville
maycourt.ca
Second Chance, Oakville
secondchanceoakville.ca
Twice The Fun, Burlington
revolverclothing.ca
A Rennaissance Woman, Burlington
arenaissancewoman.ca
Plato's Closet, Oakville & Burlington
platosclosetoakville.com
platosclosetburlington.com
Style Encore Oakville & Burlington
style-encoreburlington.com
style-encoreoakville.com