Summer's here, and it's time to fire up the grill—but don't stop there. From smokers to pizza ovens and everything in between, there are plenty of great options for drool-worthy outdoor cooking all summer long.
Where there's smoke, there's fire
Everyone who's ever turned on the Food Network knows that smokers are popular at the moment, and just about any homeowner with a backyard has had the perennial "gas or charcoal" debate about barbeques. So, where do you begin if you're new to outdoor cooking?
We feel that the best backyard cooking method is the one you enjoy most — try a few options, figure out what you like best and get ready for some incredible dinners on the deck or patio.
"This summer, we're seeing a lot of people venture out of the traditional gas barbeque," explains Ashley Côté of BBQs Galore.  "They want an authentic smokey flavour, so they're looking at getting charcoal barbeques. These are available in many sizes, from table-top to very, very large."
And if old school isn't your thing, or a large charcoal grill feels too intimidating? Start with baby steps. "Charcoal has a bit of a learning curve, so some people have also taken an interest in Pellet Smokers. Pellet Smokers have been a trending category in the barbeque world for a few years now," says Côté. "They're basically a 'set it and forget it' solution—until you need to refill your pellets or take your food out — and many connect with apps where you can monitor your grill from your phone."
Other in-demand products include pizza ovens (BBQs Galore carries the Alfa One Wood Fired Pizza Oven, among other options) and high-end backyard smokers like the Big Green Egg.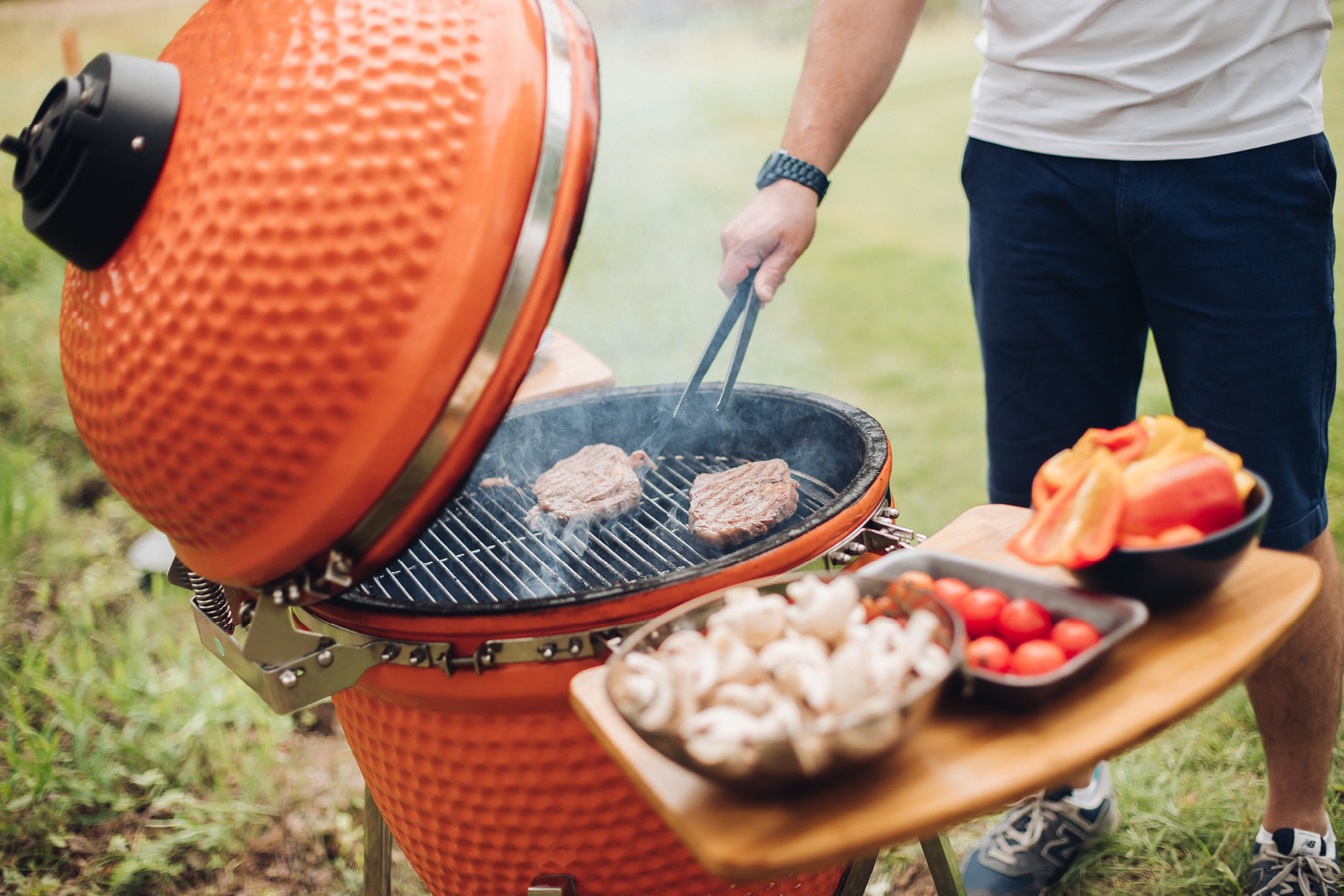 Create an outdoor dining space
Once you've set up your grill area or outdoor kitchen, it's time to create a comfortable, relaxing outdoor dining space that everyone can enjoy. BBQs Galore has high-quality patio heaters, fireplaces, and more, and Oakville Home Leisure has an amazing selection of patio furniture and accessories.
When setting up your dining space, consider things like multiple seating options (for example, a table and chairs plus a conversation area, Muskoka  chairs, or a hammock) and items that provide privacy and shade. You'll also want to consider various lighting options (built-in, patio, or string lights) as well as a heat source such as a fire pit or patio heater. You may also want a small fridge or even an outdoor bar for all those fancy summer cocktails. Finally, add both functional and decorative touches like colourful textiles, outdoor glassware and serving dishes, stylish planters, and more. Make it your own — your yard is an extension of your home, after all!
Cheers to summer
At the end of the day, it doesn't matter if you're flipping burgers on a classic charcoal grill or experimenting with something trendy and new — the point is to make the most of every beautiful, sunny day. As Côté notes, anything goes when you cook outdoors — just have fun. "We honestly are a fan of both classic grilling and new techniques and encourage people to get experimental when it comes to the grill!"