I still remember my childhood home – a red brick, closed-concept, four-bedroom in the heart of River Oaks. I was ten when we moved a few neighbourhoods over – but that home, in particular, holds a very special place in my heart. It was our family home. The home where my grandparents would gather for special occasions and where I made some of my earliest (and most cherished) memories. Since then, I've lived in a number of homes. There was the frat-house-esq university home, the move-backin- with-my-parents home, the I-think-I-want-to-marry-this-guy rental home, and all the homes that have followed. Including the family home I live in with my very own babies now. My point: home means something different to everyone…because the place you call home varies throughout each stage of your life.
While I've been moving homes as I've moved through each stage of my life (bringing along the second-hand furniture that comes with it), my parents have been adapting their home life to the changes they've experienced, too. From our family home to their current downsized home to what comes next, there has been a home-sweet home that accommodates each stage of life's journey. But as we've learned through my grandparents and now my parents, finding a home accommodating a senior's needs can be challenging.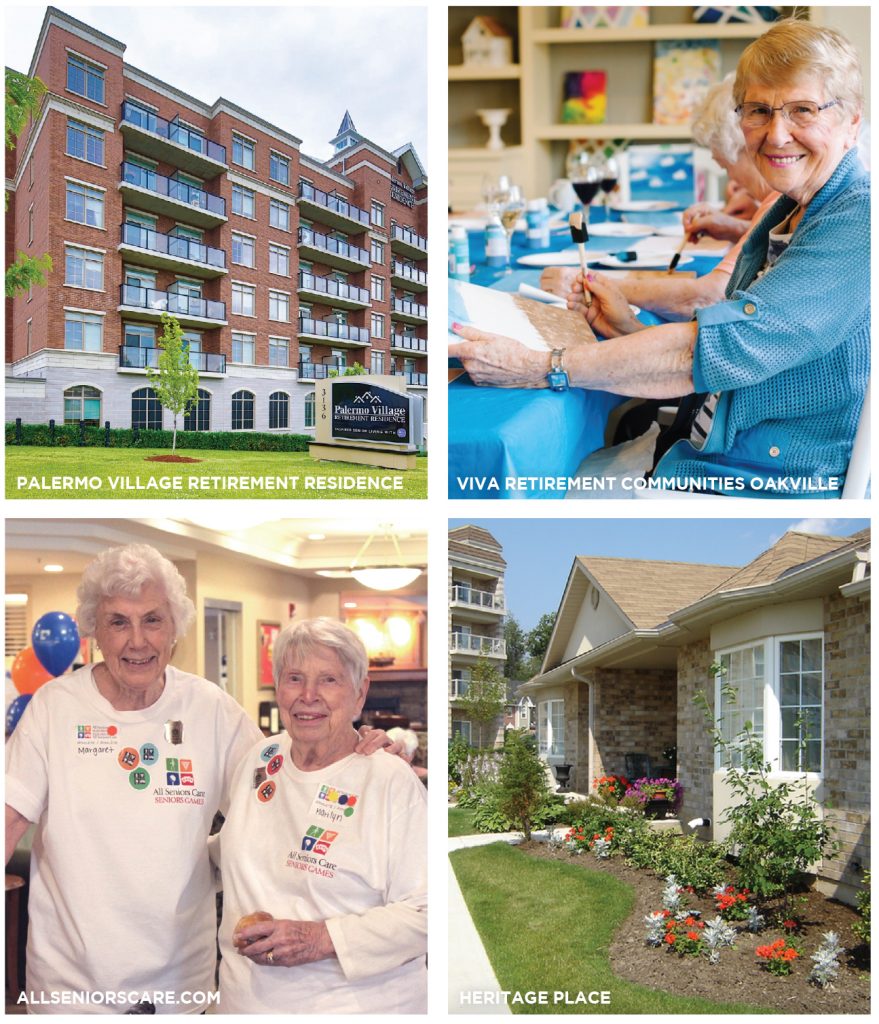 Danny Gehchan, the marketing coordinator of V!VA Retirement Communities, says, "While independence and age-in-place can be desirable, delaying your move to a retirement community should be based on a simpler question, will you be happier in your home or a retirement community?" At the root of it, a retirement community is a lifestyle change that can offer resources, opportunities, and social outlets specifically catered to seniors. Aging-in-place can become quickly lonely and overwhelming if you don't have access to support or the ability (or motivation) to take care of a household. Maintaining a lawn, shoveling snow, and navigating stairs can become increasingly difficult. Retirement communities often offer the best of both worlds.
With larger-than-average suites with full kitchens and full-size appliances, residents of Queens Avenue Retirement Residence in Oakville can cook and entertain in their suite or enjoy a meal with friends in the dining room. Residents can access many essential services without going off-site with an onsite beauty salon, laundry services, and pharmacy. And that's really the beauty of retirement communities – the cohesive experience of home life, social life, and medical support.
While some retirement communities only provide basic care, others like V!VA, Queens Avenue, and Oakville Estates Retirement Residence (located seconds from Oakville Hospital) offer full-scale support. "As an age-in-place residence, we provide care for IL and AL (independent living and assisted living) right up to palliative level, with a great mix of people ages 70-100+," says Janette West, executive director of Oakville Estates. With experienced staff supporting memory care and amenities, including an on-site theatre, restaurant, bistro, bar, fitness centre, billiards and games room, chapel, and more, residents will feel comforted with access to various lifestyles and needs.
Touring prospective retirement communities is one of the best ways to get a feel for their atmosphere. But as with any move – especially when downsizing – it can come with mixed emotions. Services are available to help make the transition as smooth as possible, and people like Mary Dilly, owner of Downsizing Solutions, can help you sort through every last spoon, post-it note, and picture (and prepare your home for sale). Mary and her team really take care of everything, from creating a floor plan for your new home to organizing documents and facilitating movein day.
Honouring your needs is one of the most important considerations as you move into this next stage of life. While every senior is motivated for different reasons, there's no doubt you or your loved one will find a deep appreciation for the lifestyle and hospitality that retirement communities offer.
By Anneliese Lawton
Local Links
Downsizing Solutions
downsizingsolutions.ca
V!VA RetirementCommunities
vivalife.ca
Oakville Estates Retirement Residence
allseniorscare.com
Queens Avenue Retirement Residence, Oakville
queensavenueretirement.com
Heritage Place, Burlington
heritage-place.ca
Palermo Village Retirement Residence, Oakville
verveseniorliving.com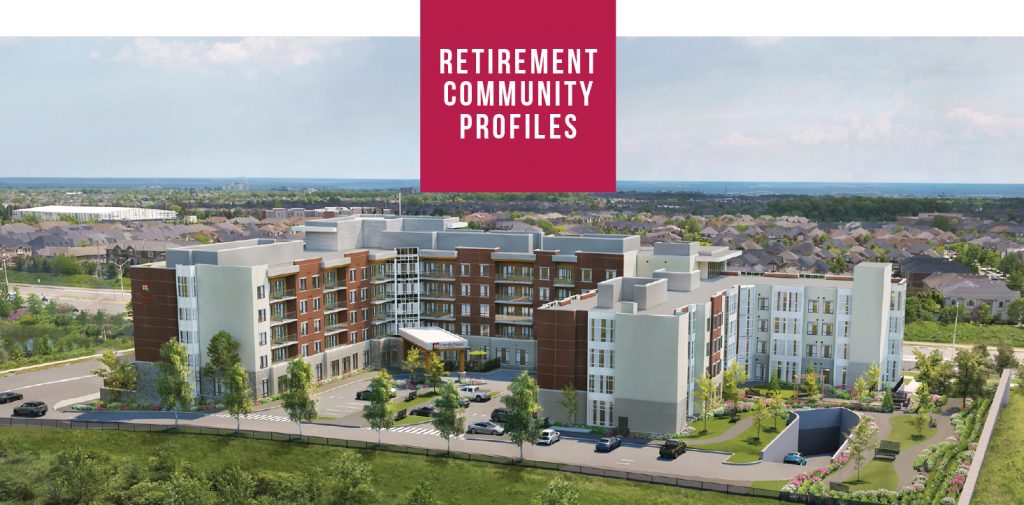 An Unwavering Commitment To Exceptional Care
Welcome to Oakville Estates, now under construction on Hospital Gate right beside the new Oakville hospital. Featuring a mix of lifestyle options ranging from independent condo-style to assisted living suites, this luxury community has been created to ensure that residents maintain ongoing quality of life throughout the years.
• Choose from a variety of beautifully designed 1 or 2 bedroom suites, each with a 4-piece bathroom, air conditioning, heating, and a kitchenette. Elegant and comfortable, all suites are equipped with the latest safety features to meet the needs of older adults.
• Take advantage of "age in place" living, with a true continuum of care options, from independent to assisted  living, and secure memory care.
• No shortage of wellness and exercise options, including an indoor pool, an indoor walking track, a fitness and yoga centre, and a billiard and games room.
• With 33 full kitchen suites, you can prepare your own meals in comfort, or visit the onsite restaurant, bistro or bar. All meals are prepared in-house by culinary teams led by Red Seal chefs. 
• Make new friends and indulge in memorable experiences and choose from an excellent range of activities to suit all interests. 
• There is even an onsite theatre, chapel, hair salon and pet washing station, plus underground parking! 
Oakville Estates is operated by All Seniors Care, one of the oldest, most respected and accomplished names in the retirement residence field.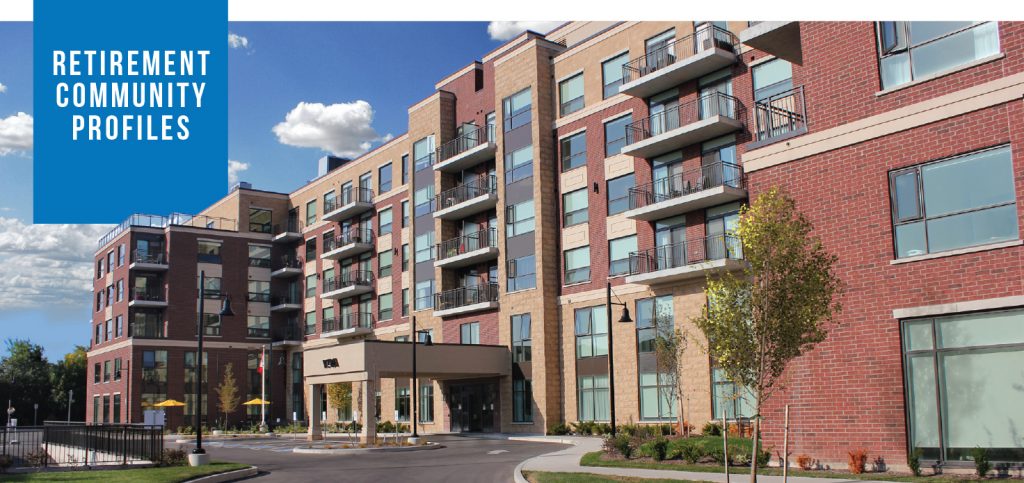 V!VA Retirement Communities Wants You To Be Happier Here™
Located on Sixth Line just north of Dundas, and nestled alongside a residential enclave, V!VA Oakville is close to convenient shopping, restaurants and the hospital. The 6-storey retirement community has 151 suites, with studio, 1 bedroom, 1 bedroom + den, and 2 bedroom suites available.
At V!VA Oakville, you are more than just a resident – you belong to a select group with a passion for active living and the finer things in life, such as sophisticated design, premium amenities, healthy dining, and unparalleled service.
• Enjoy 3 meals a day Anytime Dining with meals prepared fresh daily from a Red Seal certified Chef. And there's no need to eat alone with the friends you are sure to make. Plus, there's fresh coffee, delicious teas, and snacks in our café throughout the day.
• Participate in daily fitness activities in our gym and saltwater pool to keep you in good physical health. Plus, enjoy yearround golf in our V!VAlinks Golf Simulator. 
• Take part in a rich social life with plenty of activities in the Community and fun excursions to interesting events and places.
• There are wellness and medical services in-house with doctors, nursing staff, personal support workers, and regular visits by dentists, chiropodists, and more.
• The safety and security of our Retirement Communities with 24/7 staffing and emergency call buttons means help is seconds away. Having the discussion with elderly parents about the right time to enjoy the benefits of a retirement community should be easier when you simply ask, "Will you be happier here?".