Have you ever noticed that most of the vegetables we see at the farmers' market grow above ground?  It may not be something you think about when you look at the abundance of greens, squashes, melons and eggplant.  But fall is the season for roots and tubers that grow below the ground and offer what other vegetables cannot: savoury textures and natural sweetness.
As I walk through my farmers' market at this time of year, I look at the parsnips and carrots and my mouth waters at the thought of them caramelizing along with a joint of meat.  I can visualize parsley root to be made into breakfast fritters served with maple syrup, and onions roasted with figs and drizzled with balsamic vinegar.  I can imagine my sweet potatoes being puréed for pies and velvety custards, and beets diced into a warm beet and corn salad.
The best part of fall roots is that they keep for longer periods of time in cold cellars or "root cellars" as they were once called.  These little basement closets moderate temperatures for the sole purpose of extending the growing season, giving us the ability to eat local long after the first snowfall.  Because so many roots will keep, we think of them as winter foods but they're harvested in the fall making them an essential part of a great Thanksgiving meal.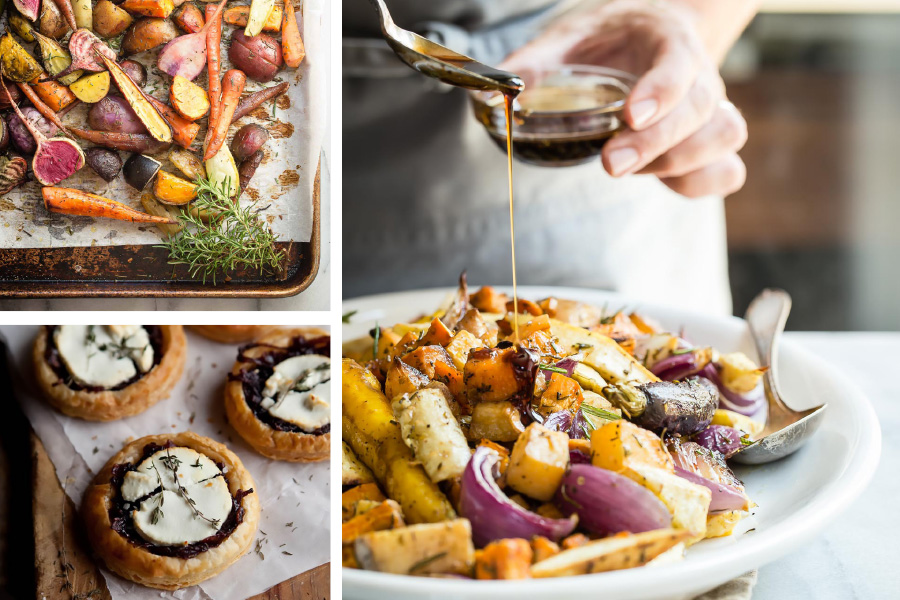 Thanksgiving is a true food holiday that isn't cluttered with the frenzy of buying presents, stringing lights or group singing.  Thanksgiving dinner is a celebration that marks the end of a season filled with bountiful harvests; it's about delicious food from the garden and good cooks.
Years ago my Thanksgiving dinner evolved into an affair of friends.  Our Thanksgiving dinners have also evolved from the traditional menu of my childhood to the wondrous offerings of the cooks who come together, each brining a different dish to form a collective feast. There are usually four cooks in the kitchen that have spent an entire week scheming and foraging neighbourhood farms purchasing the necessary roots.  Locally grown roots like turnips and beets, sweet potatoes and onions are in good supply and economical in this season.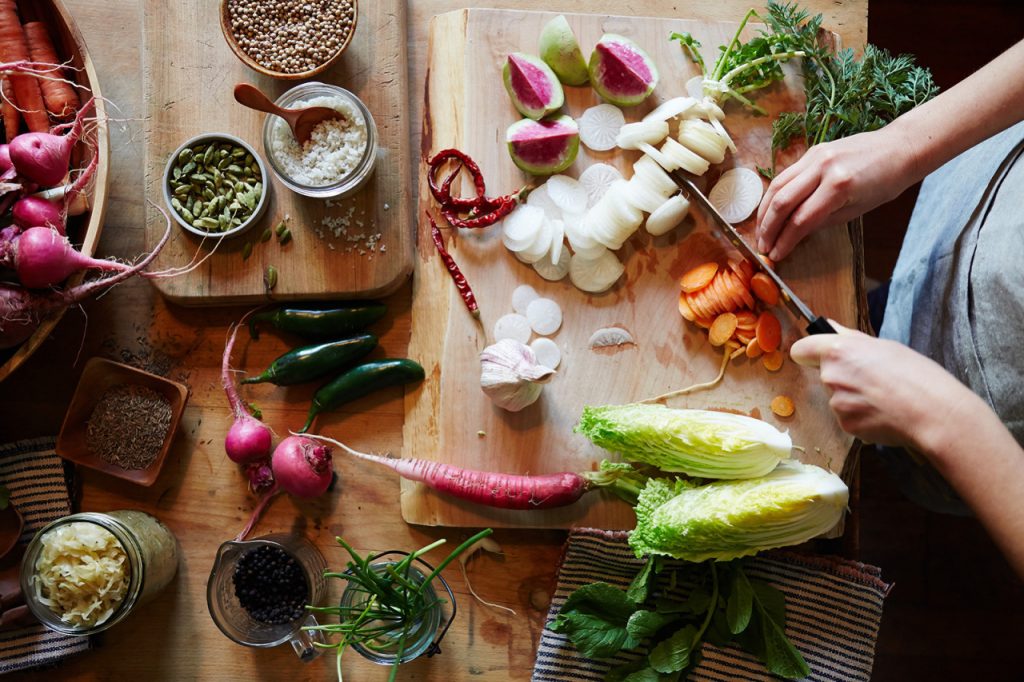 When the day arrives, the kitchen is humming as we take turns swapping recipes and commenting on each other's dishes.  Rutabaga is peeled, Jerusalem artichokes are shaved, carrots are sliced, onions are diced and beets are roasted.  On one workstation, thin layers of pasta are being stuffed with purée of yellow turnip and herbs; on the other side of the kitchen small, caramelized onion tarts are being topped with soft goat's cheese; meanwhile on the stove, pine nuts are being browned for the soup.
The table is set in the beautiful colours of fall and the aromas in the kitchen are full of roasted turkey and sweet roots.  The first course is served to the sounds of corks being pulled from bottles of wine.  A large steaming terrine of truffled cream of celery root soup dotted with toasted pine nuts sits in the middle of the table; on either side are smaller bowls of glistening baby beets and baskets of Parmesan crusted Jerusalem artichoke chips.
We all sit down and raise a glass to the farmers who labour long to bring us so much fresh and delicious food.  The conversation revolves around food, wine and more food. I hope your kitchen is deliciously bountiful this Thanksgiving.
Lynn Ogryzlo is a food, wine and travel writer, international award winning author and regular contributor to Look Local Magazine. She can be reached for questions or comments at www.lynnogryzlo.ca
Local Links
Halton Fresh Food Box, Burlington
haltonfreshfoodbox.com
Busy Liz's Farm Shop, Campbellville
busylizs.com
Halton Region Farms, Halton
halton.ca
Farmer Jacks, Burlington
farmerjacksmarket.com