Beloved in most societies and communities, chocolate has been enjoyed since the time of Mesoamerica in 1900 BC. Its preparation has changed over the years, but the feeling it brings to us is the same and chocolate products continue to have a huge following around the world, including here in Oakville and Burlington.
Casteleyn Belgian Chocolatiers launched their company in Burlington in 1990, as the only shop to make traditional Belgian chocolates, with a chocolatier who was born and trained in Belgium. The Casteleyn team utilizes exclusively milk, white and dark chocolate that has all been imported from Belgium. The creation of their products is quite a process that involves tempering, molding, and filling the chocolates with multiple cooling steps in between. They also make the fillings for their chocolates from scratch using butter, cream, liqueurs, coffee, chocolate, fruits and nuts. When we asked Casteleyn about their signature item, they stated "As for signature item… we strive to make every chocolate someone's favourite."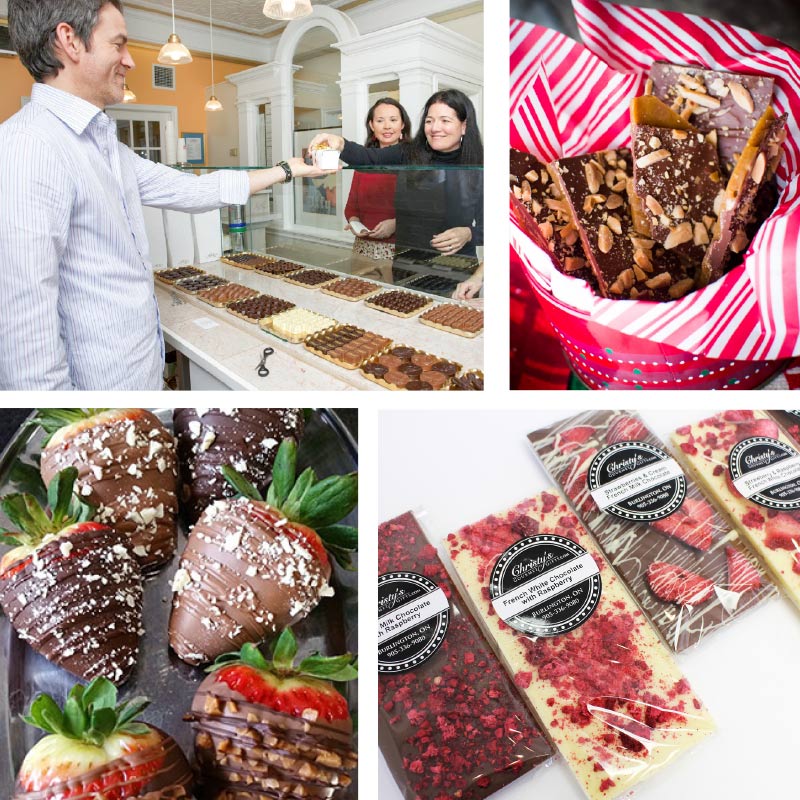 The Christy's Gourmet Gifts family, Christy and Bernhard Mueller, started small with their business in 2002 – doing craft shows. Since that time, they have slowly grown their business, focusing on creating high quality and unique gift items and expanding to a small retail outlet in Burlington, shipping their products worldwide. Using only high-quality Belgian and French chocolate (plus a few exotic chocolates from around the world), their products are made in small artisanal batches with attention to detail and high-quality ingredients like pure butter. Their signature item is definitely their Chocolate Buttercrunch. The recipe is from Christy's grandmother, Ethel, who happens to be turning 102 this year. The Chocolate Buttercrunch (available in milk, dark, white cranberry and seasonal flavours like peppermint) is the product that started the company, and fans still rave about it today.
The owner's of A Chocolate Lab – Handmade Chocolates, Nicky Lawson and Helena Thompson, originally met many years ago while fostering labrador puppies and fundraising for the Lions Foundation of Canada Dog Guide. Their paths continued to cross in the dog community, a friendship was fostered, and they decided to become business partners in a chocolate business. A Chocolate Lab was born in August 2016, running out of rental kitchens on a daily basis and moving to their own production kitchen in April 2017. All of the products Nicky and Helena create are   made by hand, with their Sticky Paws (raw almonds covered in a rich caramel, chilled, dipped in a hot chocolate, cooled and lightly dusted with Mediterranean sea salt) product becoming a customer favourite. Their passion lies in custom orders, as it gives them a chance to use a bit of their creative flair to meet customers' needs.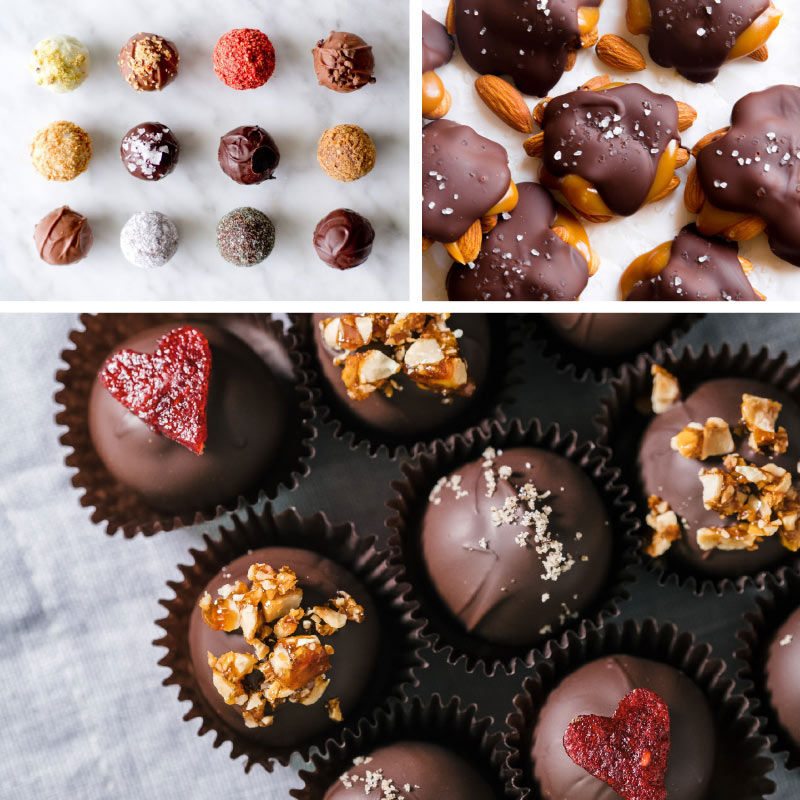 Schilling's Patisserie aux Chocolat is run by German-trained pastry chef and chocolatier, Susie Schilling. Her chocolate knowledge goes right back to the European source, as she trained in the chocolatier program in Switzerland for many years. The company started out in August 2017, opening slowly and in segments. They opened with ice cream and slowly launched into baked goods, chocolate, and are now a full-fledged café. Susie has a love for the old craft, making everything in-house in small batches. She believes in enjoying the traditional stuff – making classic recipes like her famous Stollen, and Pralines – out of high end chocolate from Belgium, or original beans.   
Walker's Chocolates has a long history. Co-owner Dave Walker's parents opened the chocolate shop in Burlington in 1983. Today they also operate a factory with an outlet on Harvester Road, and four additional stores across Hamilton, Burlington and Oakville. Dave has worked in the business for 10 years, his older sister for 15. In the making of their chocolate, they use a combination of two different chocolates and blend them together for a unique flavour. Using the finest ingredients they can source, they create over 50 chocolates and a huge range of moulded shapes. Though they have expanded to now have two enrobing lines and a candy kitchen in the factory, all of their chocolate centres are made the old-fashioned way: in small batches, hand-stirred in copper kettles. Their signature item: Mint Meltaways.
by Heather Peter
Local Links
Casteleyn Belgian Chocolatiers
368 Brant St, Burlington
casteleyn.ca
Christy's Gourmet Gifts
3530 Mainway, Burlington
christysgourmetgifts.com
A Chocolate Lab
511 Pinegrove Rd., Oakville
achocolatelab.com
Schilling's Patisserie aux Chocolat
109 Thomas St, Oakville
Facebook: schillingsexclusive
 Walker's Chocolates
Burlington: 3350 Fairview Street
Oakville: 1011 Upper Middle Road
walkerschocolates.ca