The evolution of the coffee industry has been one of steady growth since the 1960's when brands like Sanka, Folgers and Maxwell House became a recognized household names. The first wave brought increased popularity. The second wave introduced us to the readily available big-name cup of coffee, such as Starbucks and Tim Hortons.
Today's third wave coffee culture is flying high with an ethical and progressive movement towards better control over the process of sourcing, testing, roasting, and brewing. Untraceable coffee is no longer acceptable practice and mass-produced over-roasted beans are being cast aside in favour of high-quality, small batch specialty coffee. 
With a much-needed resurgence of quality over quantity, coffee enthusiasts can now enjoy individually crafted brews, made fresh to order. Artisanal coffee roasters are passionate, and as with any other artistry, they believe in the delicate quality of their product, and hope the true flavour of their coffee beans can be fully experienced.
Our local roasters are working to provide consumers with some truly delectable choices in coffee and cuisine.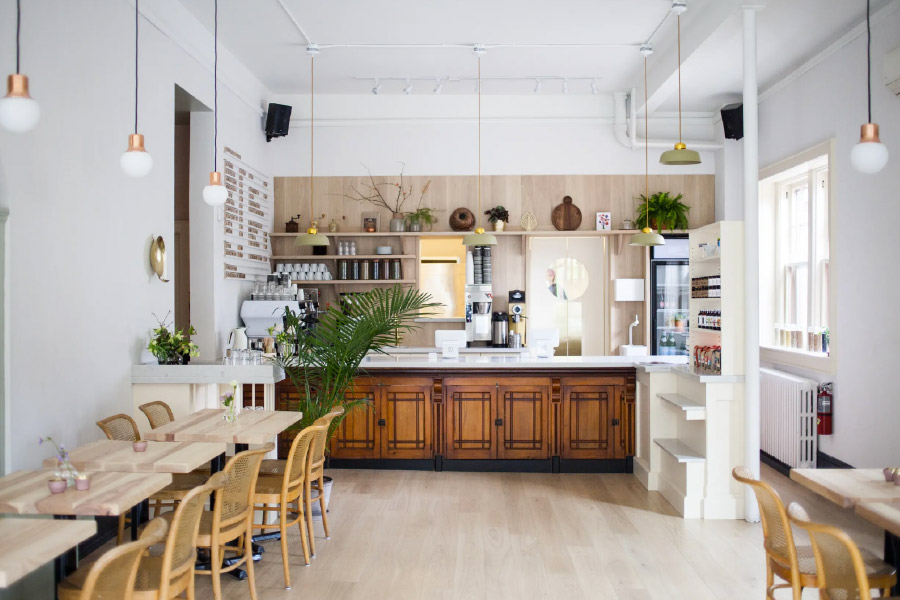 Detour Coffee
2234 Harold Road, #2, Burlington  |  Café at 41 King Street West, Dundas
905.331.7800  |  detourcoffee.com
Detour Coffee Roasters believe in reducing their environmental footprint while simultaneously creating an enhanced community experience. They view the customer as an integral part of the creation chain, and readily admit to obsessing over the art of getting their roasting perfected, "to the point of mild insanity."
They recently travelled to Rwanda to enable social changes by supporting procurement from women-owned coffee farms. Detour is equally as serious about their Loring Kestrel roaster, the masterpiece of the operation, and clearly the Ferrari of the roasting world. It's self-contained and smokeless, reducing emissions by 80% compared to traditional machines. Their seasonal coffees are also complemented by a full-scale bakery and restaurant, Dear Grain, serving slow ferment artisan breads, jams, and pastries by Master Preserver Camilla Wynn.
The Detour Café in Dundas also serves a gluten-free brownie bar adorned with crunchy cocoa. Resistance is futile.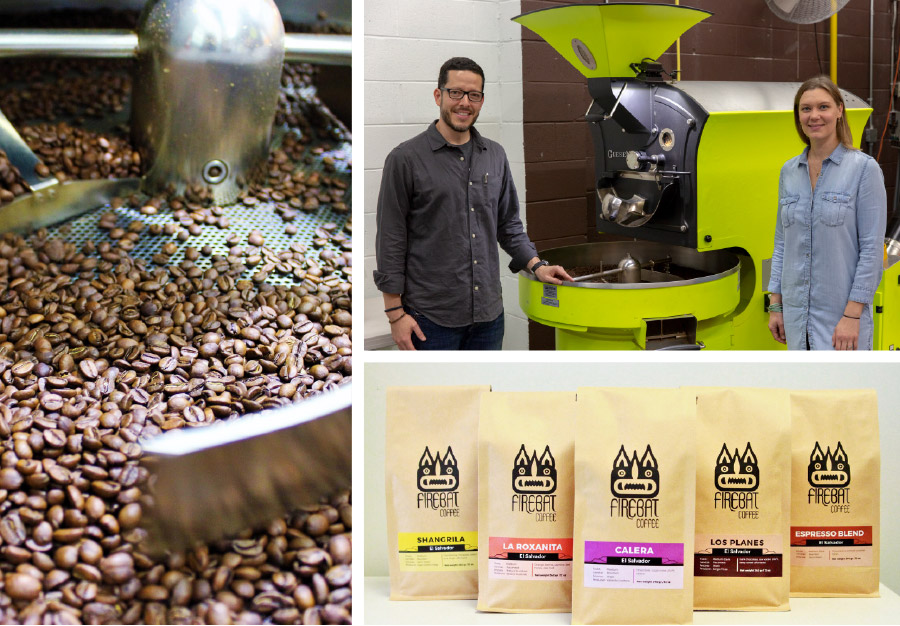 Firebat Coffee
407 Speers Road Back #7, Oakville
289.400.9551  |  firebatcoffee.com
Firebat Coffee is owned by husband and wife team Gustavo and Leena. They describe their coffee as a "unique transfer of energy and flavour from source to cup", made possible through meticulous micro farming, clean production methods, and a focus on fostering respect for the environment.
In Mayan mythology, the bat, or Sotz, was a guardian figure of protection, spreading seeds and furthering growth.  Firebat similarly strives to guard the quality of their coffee forests. Gustavo and Leena's dedication and fiery passion for honest craftsmanship culminates in their impressive flavor-based portfolio of coffee that originates solely from El Salvador.  Working with producers to ensure direct trade and fair prices, Firebat always pays farmers far above commercial prices for their delicate shade-grown Arabica varietals. They stand by three main principles: flavour, transparency, and sustainability. Firebat's slow-roasting techniques extract subtle notes from their beans, and successfully deliver coffees rich in both history and flavour. Buy beans directly from their roastery on Speers road in Oakville.
Brothers Coffee Roasters
2172 Wycroft Road, #6, Oakville |  298 Kerr Street, Oakville
289.837.1535  |  @brotherscoffeeroasters
Shaun Waitzer opened Kerr St. Café with his partner Alex Flye in 2010 which was then followed by Brothers Roasters in 2014. The "small batches, good vibes" mantra has been a lucky one for them; business has blossomed into a popular full-service event company where quality coffee, clean eating, and environmentally sustainable practices are a way of life.
Shaun furthered his roasting knowledge at Vermont's Coffee Lab and is currently planning trips of origin to increase direct trade partnerships with farmers.  
Brothers recently switched to 100% biodegradable take-out cups and compostable packaging.  You can easily find information online about their selection of specialty coffees from Brazil, Ethiopia, and Costa Rica, with the added bonus of reading uniquely diverse information about altitudes, varieties, and specific producers. Word has it that they serve a delicious medium dark roast espresso, made from a complex four-origin blend, and tasty single-origin coffees that are rotated regularly. Stop by Kerr Street Cafe and try one for yourself!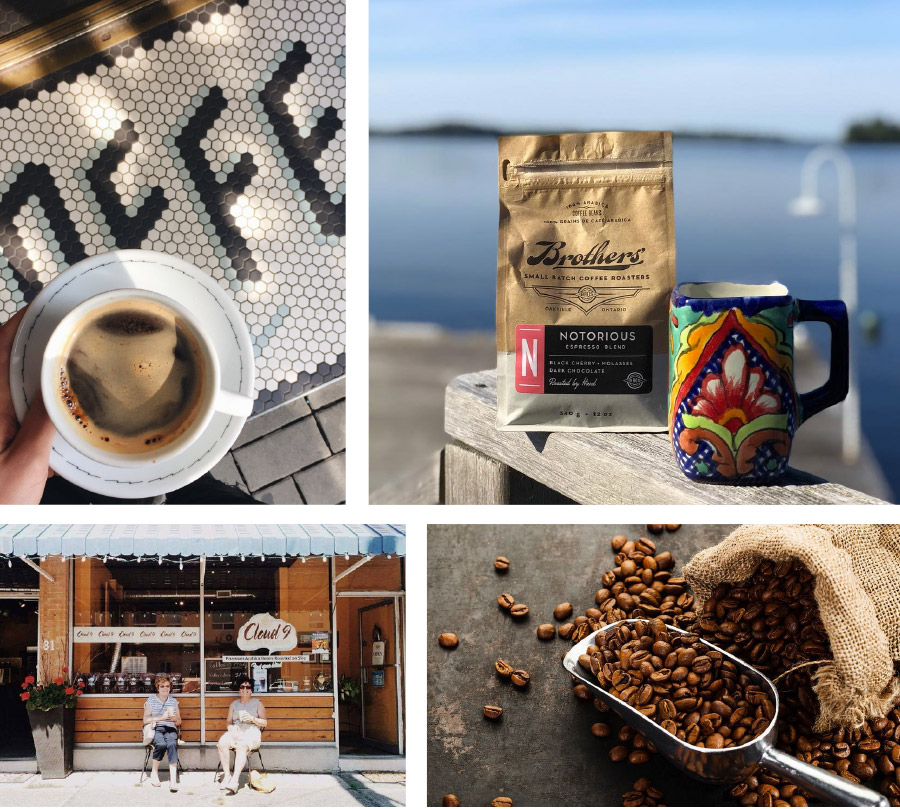 Cloud 9 Coffee
81 Florence Dr, Oakville
905.510.0509   |  cloud9coffeeroaster.ca
Located in Kerr Village, Cloud 9 Coffee Roastery was born from the passion Lynn Roberts held for drinking coffee made from the freshest beans possible. Beginning as a hobby, she began roasting green beans at home and experimenting with both time and temperature, as well as different varieties. That hobby soon turned into passion, as she discovered the amazing flavours that could be obtained by roasting the same bean to a light, medium, medium-dark and dark level. She opened Cloud 9 Coffee Roastery in March of 2013, and encourages people to drop by on Saturdays or Sundays to taste the various beans she has sourced, and find their personal preference.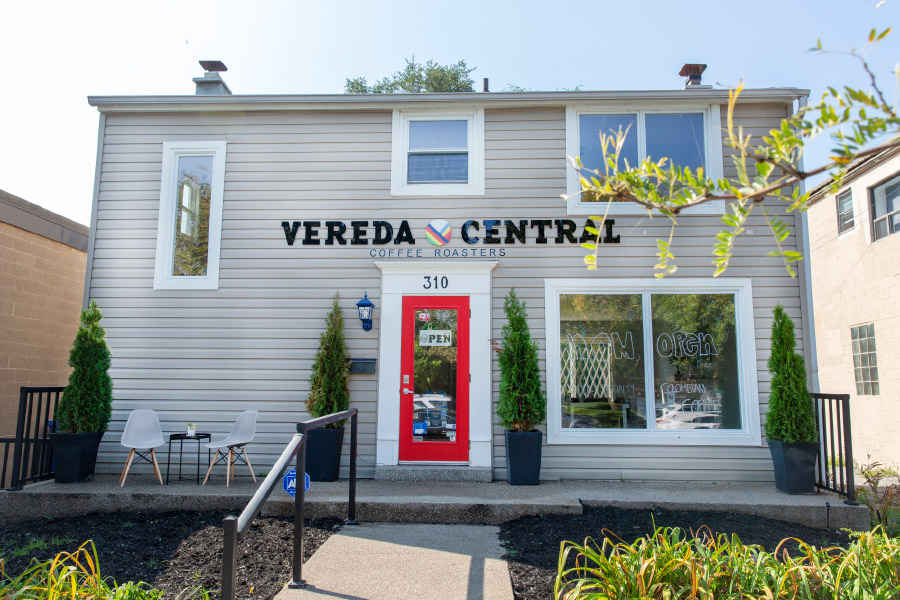 Vereda Central
310 Kerr Street, Oakville
905 842 0887  |  veredacentral.com
Vereda Central's mandate it to find the best possible coffee beans from a variety of Colombian veredas, or small villages. Their coffee is personally sourced, and all processes of milling, roasting, and packing are done themselves.
Their attention to detail is evident in the close relationships they build with their farmers. Through honest connections with growers, complete traceability, and a focus on direct trade, they work to improve crops with training and feedback to achieve the best quality harvests.
Vereda believes in better control over their hand-picked beans, following the standards outlined by The Specialty Coffee Association of America. They use smaller roasters for their 5 kg batches, compared to some of the bigger 60 kg machines that roast much larger amounts. The owners Juan and Laura Sarmiento believe large batches can often result in defects.
Vereda's coffee is 100% natural with no additives.  Juan understands the importance of indulging individual tastes, as each customer is unique, and he experiments with brewing techniques to find just the right blend for his clients. Vereda is available online, in coffee shops, and wholesale in restaurants and bakeries. Visit their cafe on Kerr Street in Oakville.
by Adrienne Roman