There's this girl I know. She has strawberry blonde hair that flows down her back and sandy coloured freckles on a peachy complexion. She is beautiful and she reminds me of a beautiful strawberry. Her name is Anna and she is the daughter of Niagara's largest strawberry farmer, Tigchelaar's Berry Farm.
Tigchelaar's supplies Ontario's wholesale market with ever-bearing strawberries throughout the spring and summer. Chances are if you see local strawberries in your grocery store, they're Tigchelaar's. In the spring, they also run one of the few remaining pick-your-own strawberry operations on Jordan Road, right next to their farm market appropriately called, The Red Barn Farm Market.
You can recognize a strawberry field by the lush, green, corduroy rows dotted with little, glistening spots of ruby red. For those who appreciate the seduction of the first sweet bite of the season, it signifies not just the return of our beloved strawberries, but the start of a 6-month long bounty of local food that begins right here among the straw-covered
berry patch.
Tigchelaar's pick-your-own season is much shorter than their summer-long wholesale business. They select the most delicious, choicest of strawberry varieties (which are also the most perishable and not easily transported to stores) to plant for their pick-your-own field and the season lasts approximately six weeks.
Strawberry picking is definitely a long-standing tradition, explains Fran Tigchelaar. "The best part of strawberry season for me is to see my regular customers again. We're like a seasonal community, they come back year after year and they pick tons of strawberries in minutes flat for themselves, their friends and family and I love them all." Traditional strawberry pickers are largely from an aging demographic. And with the changing demographics, comes change for Ontario farmers and their operations.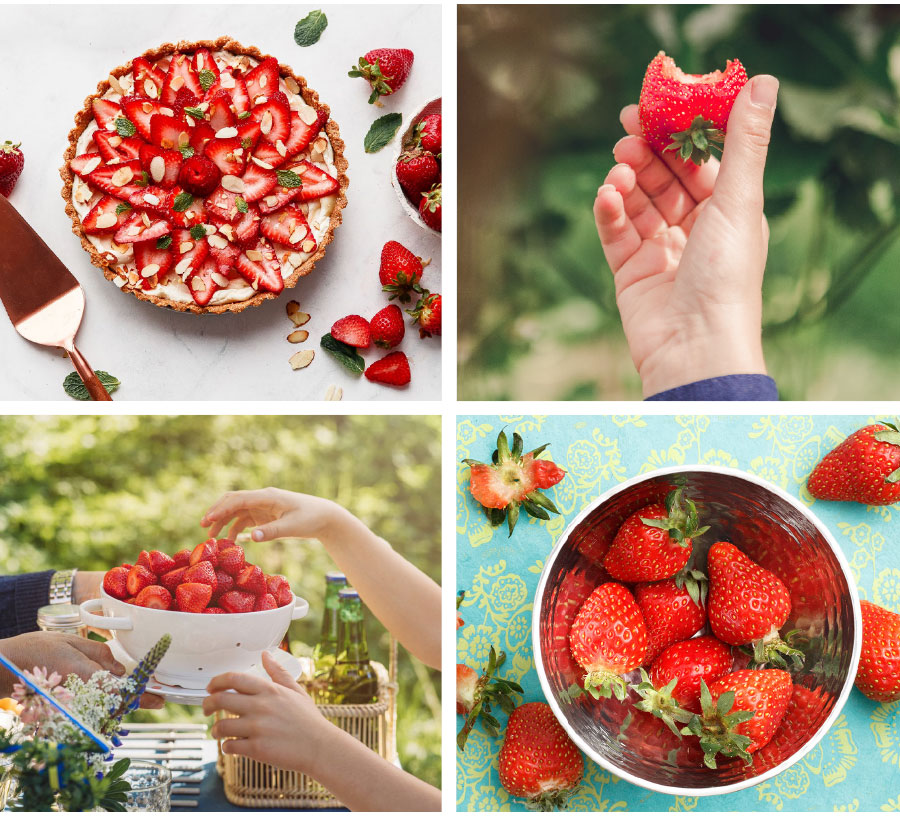 Springridge Farm in Milton is Ontario's iconic pick-your-own strawberry operation, or at least they were until a few years ago. "We went from 90% pick-your-own and 10% value added activity to 10% pick-your-own and 90% value added," explains Jessie Lauzon, Director of Food for Springridge Farm in Milton. "The market was sending us a message. We still get to be strawberry farmers and now we can value add to our crop – we're loving the evolution!"
In Springridge's giant farm market, you'll find fresh strawberries picked that day as well as cooked into pies and tarts, grilled into brie cheese sandwiches and simmered into some of their award-winning jams and sauces. Like Springridge, Tigchelaar's also value adds with their crop. In the Red Barn Farm Market, you'll find fresh strawberries baked into pies and tarts, delicious jams and you won't want to miss their famous strawberry scones.
The little, ruby red berries with more than enough juice to stain your fingers are dependent on sun, warm days and rich soil. We should see berry harvests begin in early June. However, the season varies depending not just on the weather, but also on location. For instance, strawberry fields in Niagara and Simcoe traditionally harvest first, around the end of May or the first part of June, while the fields in the Milton and Burlington area will harvest about mid-June. This is because the weather is warmer along the lake, coaxing them to ripen earlier.
Strawberries are one of life's little luxuries and to get the most from them you need to find your own farmer who can supply you with strawberries so sweet they make you swoon. Ontario berries are more than just strawberries; they've become symbolic of local food – food that is more than what it appears.
Always pick up local Ontario strawberries in the produce section of your grocery store, but if you can, plan on a full strawberry experience at any of the following farms:
Andrews Scenic Acres
9365 10 Side Rd, Milton
Opens April 19, 7 days a week.
andrewsscenicacres.com
Downey's Farm Market
13682 Heart Lake Rd., Caledon,
Open April 13,
7 days a week, 9 am – 5 pm.
Pick-your-own: 7:30 am – 2 pm, weekends until 3:30 pm
905-838-2990
downeysfarm.com
Springridge Farm
7256 Bell School Line, Milton,
Opens April 12, 6 days a week
in season, 9 am – 5 pm
springridgefarm.com
Tigchelaar Berry Farm
and Red Barn Farm Market
4157 Jordan Rd, Jordan Station
Open soon, 6 days a week during the season. Closed Sundays
Call 905-658-2265 for daily strawberry picking updates
tigchelaarberries.com
by Lynn Ogryzlo
Lynn Ogryzlo is a food writer, culinary nutritionist and founder of FOOD 101, offering food education classes in Niagara and Toronto. (www.FOOD101.ca)