There are moments of joy to be found during the holidays. From Christmas carols and Christmas trees to sparkling decorations and pretty lights (not to mention delicious foods), magic is all around.
When it comes to these moments of joy, many of us find them in special traditions that have been passed down for generations.
I recently spoke with my neighbours about their plans for this holiday season – specifically, when it comes to traditional desserts – and it took me on an enlightened culinary journey.
British friends of mine will be enjoying Sticky Toffee Pudding (which happens to be a favourite of Harry Potter). Some indulge in a more exotic recipe known as Sticky Date Pudding. Both, however, pair perfectly with either cream or custard and will often be served alongside a Port or Sauternes, a dessert wine from Bordeaux.  See the recipe for Sticky Toffee Pudding from MollyCake in Burlington at this link here.
For a more traditional British dessert, a classic trifle does the trick: a layered dessert with sponge cake, fruit, custard, jelly, and cream.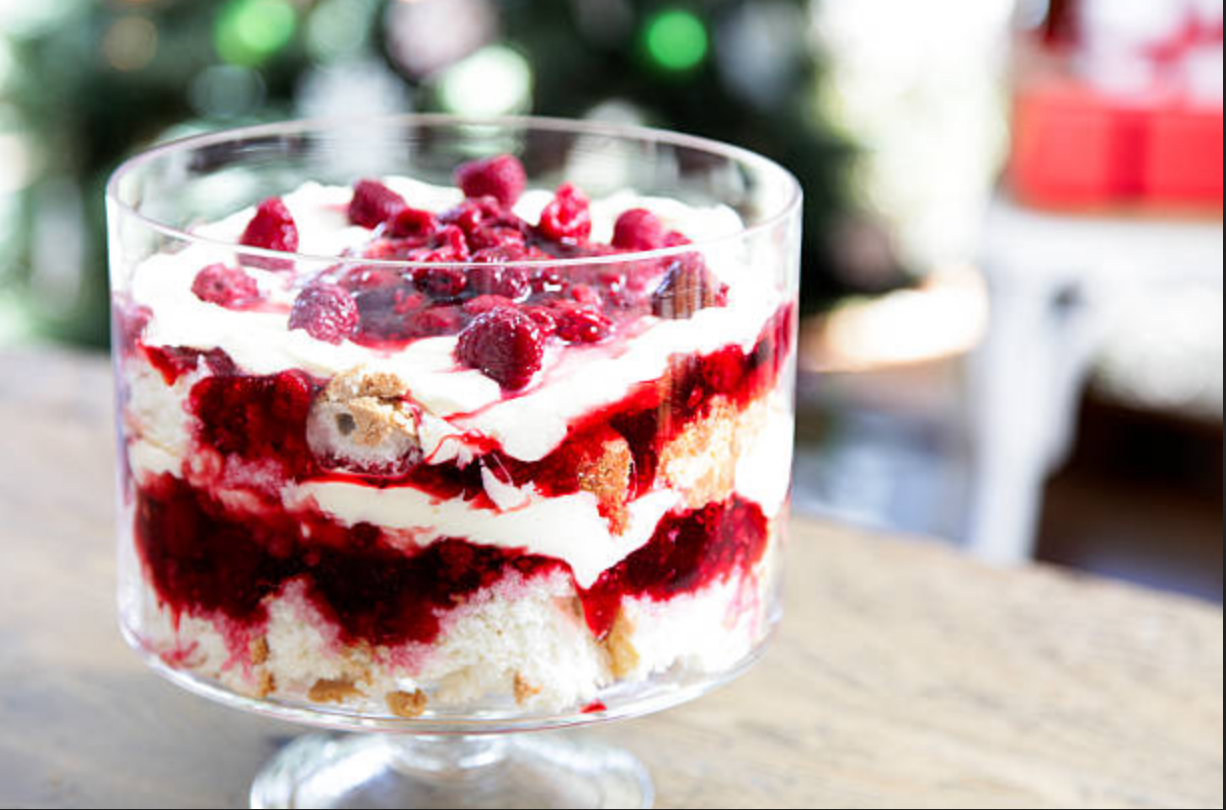 South Africans have a favourite dessert called Malva Pudding, which contains apricot jam and has a spongy caramelized texture, finished off with a cream and sugar sauce. There are many theories as to the origin of the name, the most popular is that it's derived from the Afrikaans word malvalekker meaning 'marshmallow' because of the pudding's light texture.
The Dutch often have butter cake or puff pastry log filled with an almond paste called Banketstaaf. Sometimes the dessert is rolled into the initials of family members.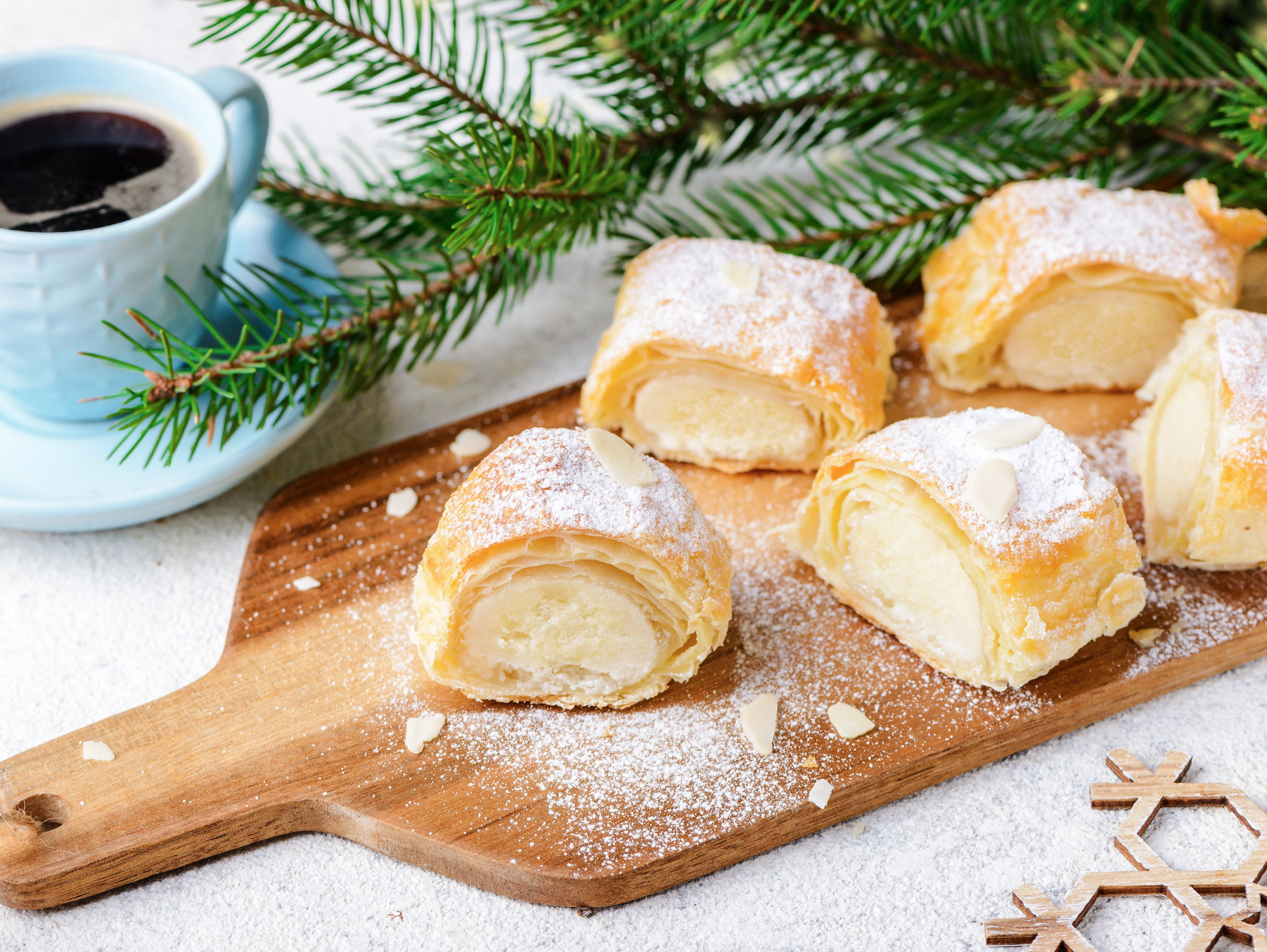 A traditional and popular Mexican dessert could include Tres Leches Cakes, or Milk Cake which has 3 layers and 4 types of milk: whole milk, condensed milk, evaporated milk and heavy cream.  In spite of all these heavy ingredients, it is actually quite light and is best served with fresh berries.  Another popular Mexican dessert is Flan, made with eggs and cream and it is like a baked caramel custard.
Then there are Peladillas, toasted almonds coated with hard sugar. They can also be made with pine nuts. My Mexican neighbour also includes Marzipan on her holiday menu. While it's not traditionally a Mexican food, it is a globally popular holiday dessert made from sugar, honey, and almond meal, augmented with almond oil. It can also be made into sweets like chocolate-covered Marzipan.
A delicious Indian holiday dessert from Goa is a sweet potato Bebinca (also known as bibik or bebinka). It was traditionally an Indo-Portuguese layered dessert including flour, sugar, ghee, egg, and coconut milk.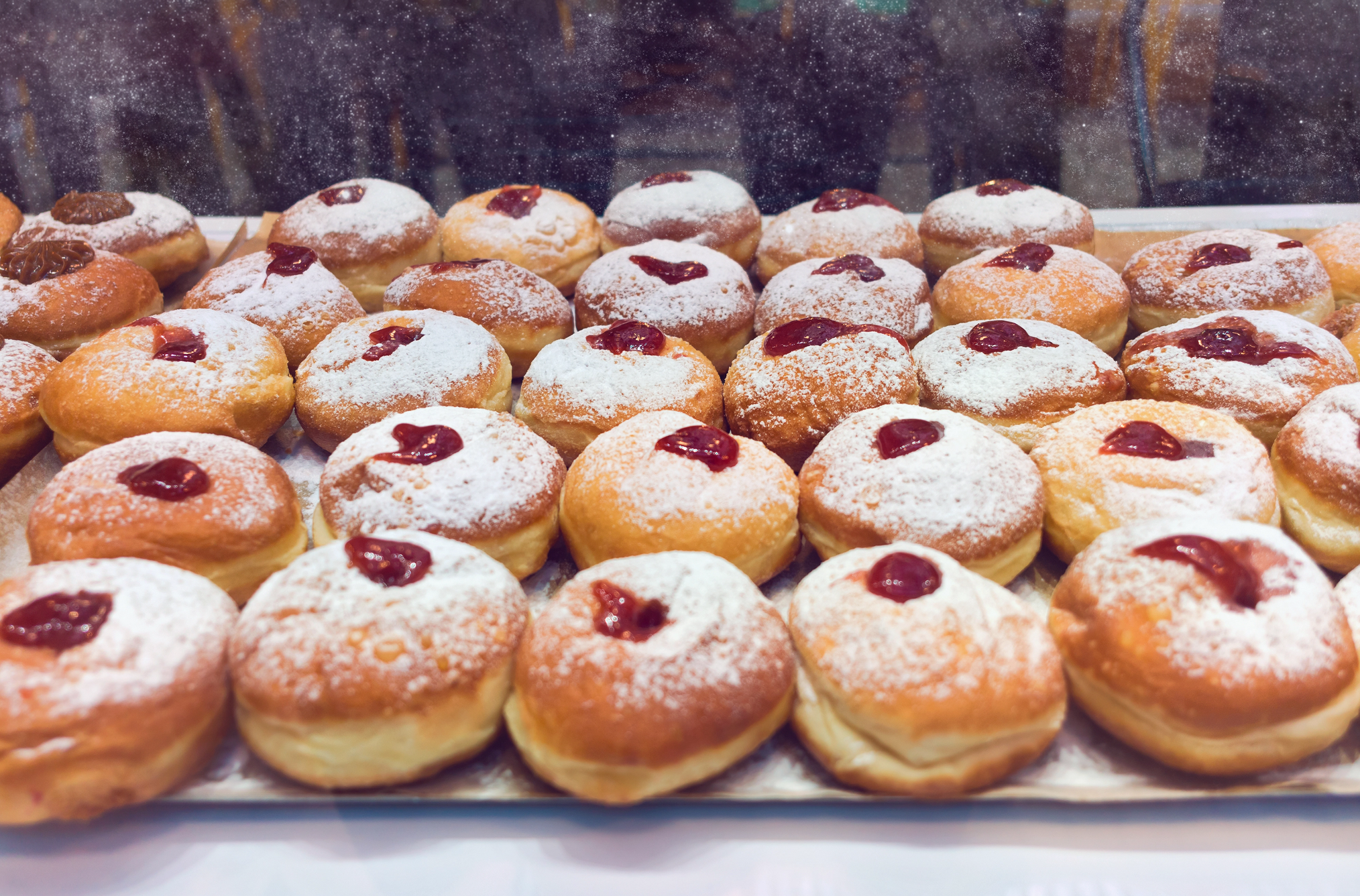 Sufganiyah is a round jelly doughnut eaten in Israel and around the world during the Jewish festival of Hanukkah. The doughnut is finished with powdered sugar. The word Safganiyot can be traced back to the Greek word Sufan meaning 'spongy' or 'fried'. It's also tied to the Arabic word for a smaller, deep-fried doughnut named Sfenj.
Panettone is a traditional Italian holiday treat, often given as a gift. It originates from Milan, where in the local dialect it is called Panneton. The long process involves curing the dough, similar to sourdough. The proofing process takes several days and gives the cake its fluffy characteristic.
Panettone often contains candied orange, lemon zest, and raisins. It is served in wedges with Italian sweet wine such as Moscato D'Asti or with Amaretto, almond liqueur.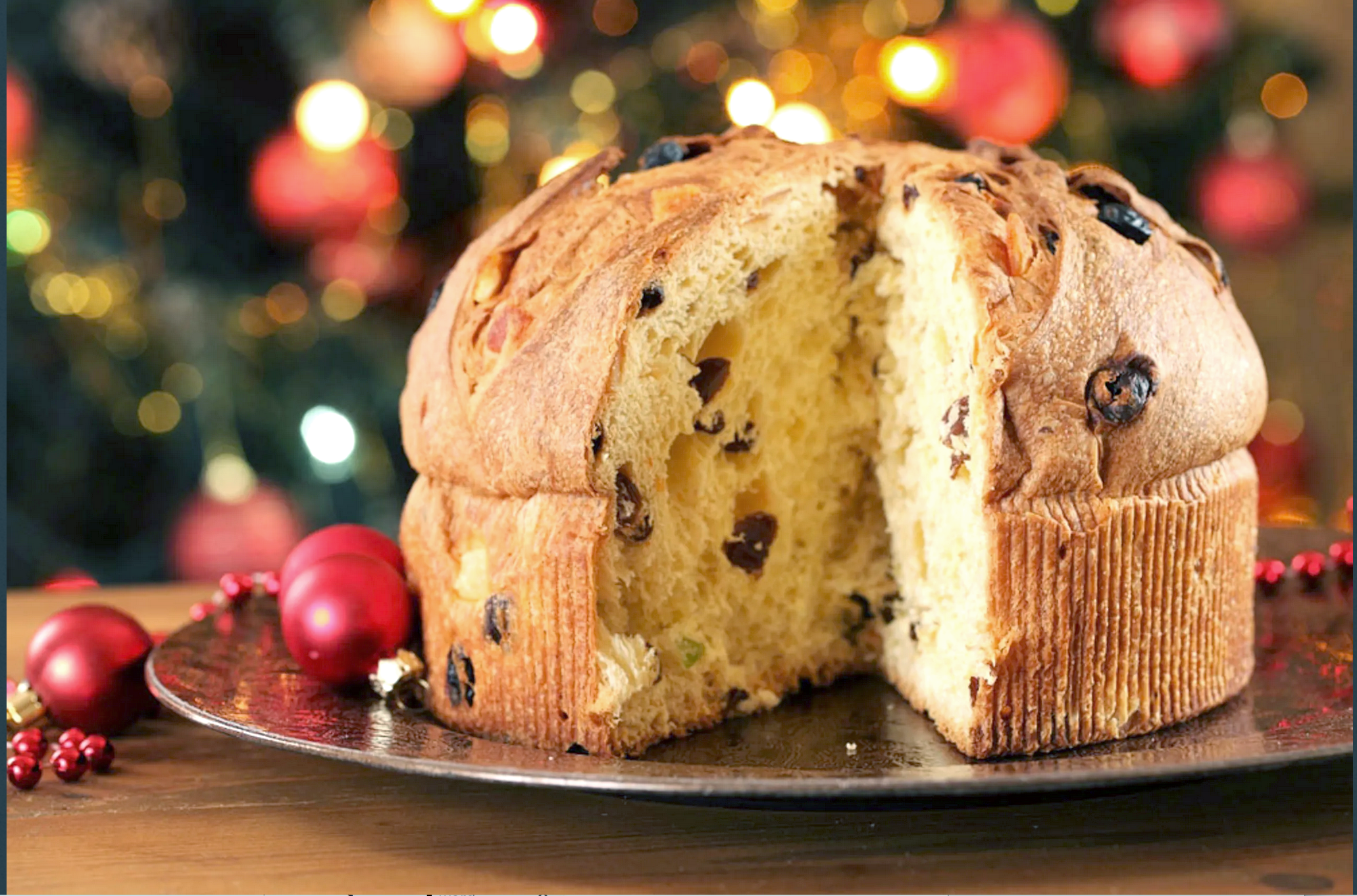 Stollen is a German holiday bread filled with nuts, spices, and dried or candied fruit and is steeped in history and tradition. It was baked for the first time in 1545 at the Council of Trent, but without the addition of butter (it was not allowed because it was a time of fasting). After various appeals to the Pope (known as the Butter Letter) to allow this to change, the use of butter was granted but only for the Prince and his household. Over the years, the bread has changed from something very simple and fairly tasteless to the sweet Christmas bread we see in stores today.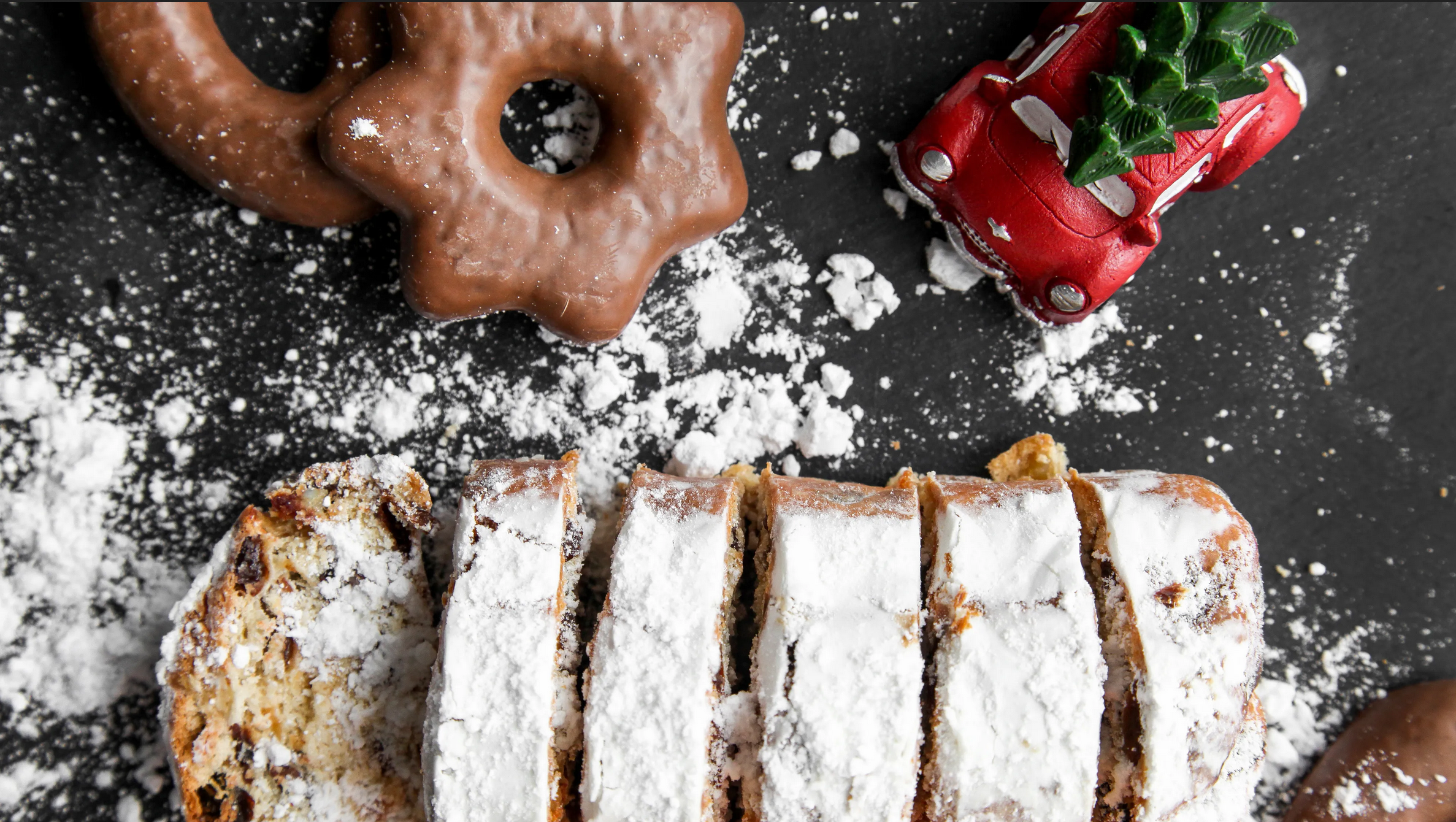 For my own family, being raised in South Africa with a Canadian mother and a father of British origin, we had a mix of traditions. With the weather being so hot, we had a Christmas-cake ice cream bombe, combining sweet fruitcake with vanilla ice cream to make a dessert that suited tradition as well as the climate.
The Australian and New Zealand dessert, Pavlova, made with meringue, cream, and fruit is also a great holiday dessert for warm climates, as is the chilled layered Italian cream dessert Tiramisu.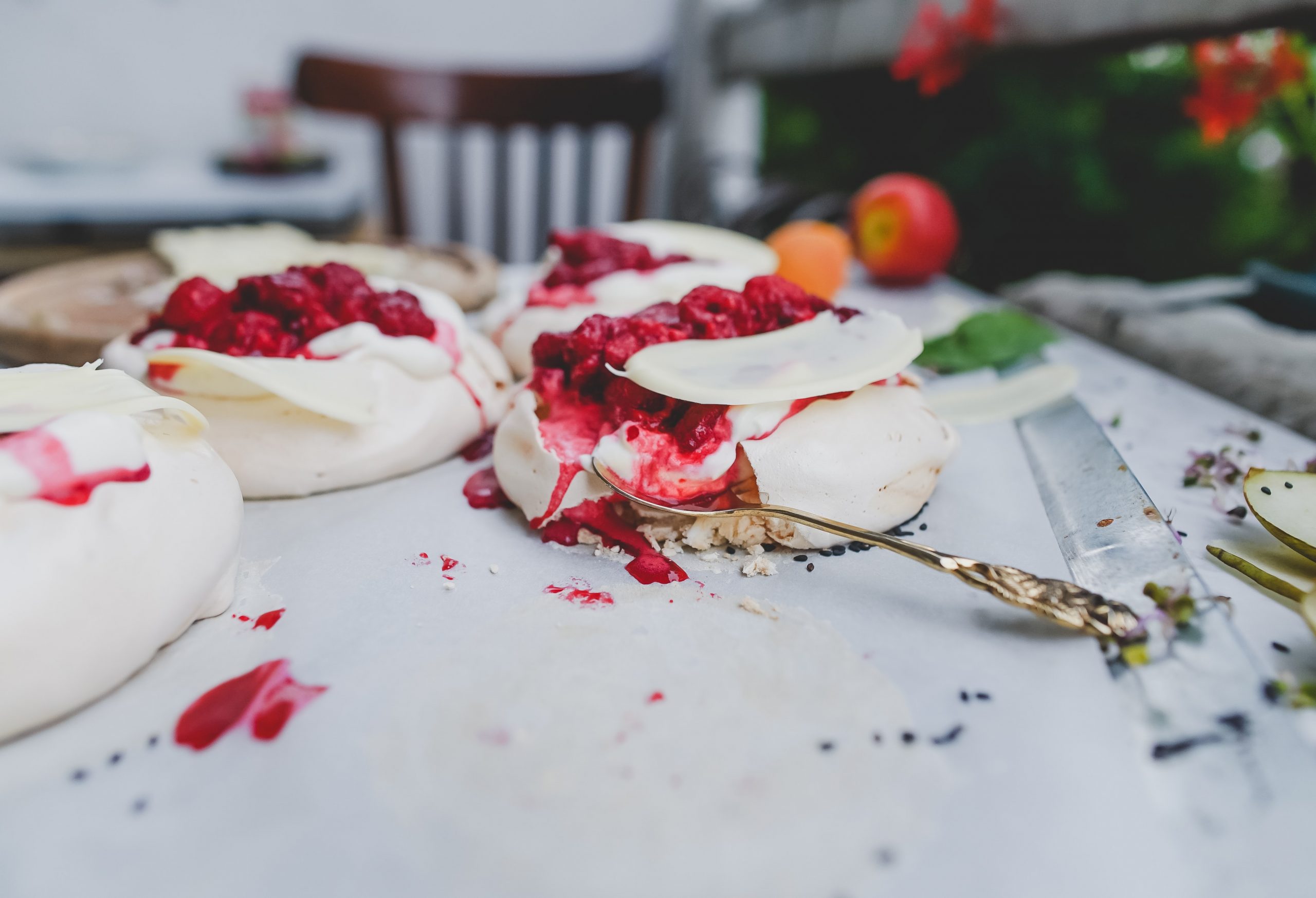 Fruit mince pies are, for me, the ultimate Christmas treat with spiced fruit mince baked into pastry or shortbread and dusted with baking sugar. Cobbs Bread makes delicious pies with a flaky pastry – perfect to decadently serve with fresh whipped cream.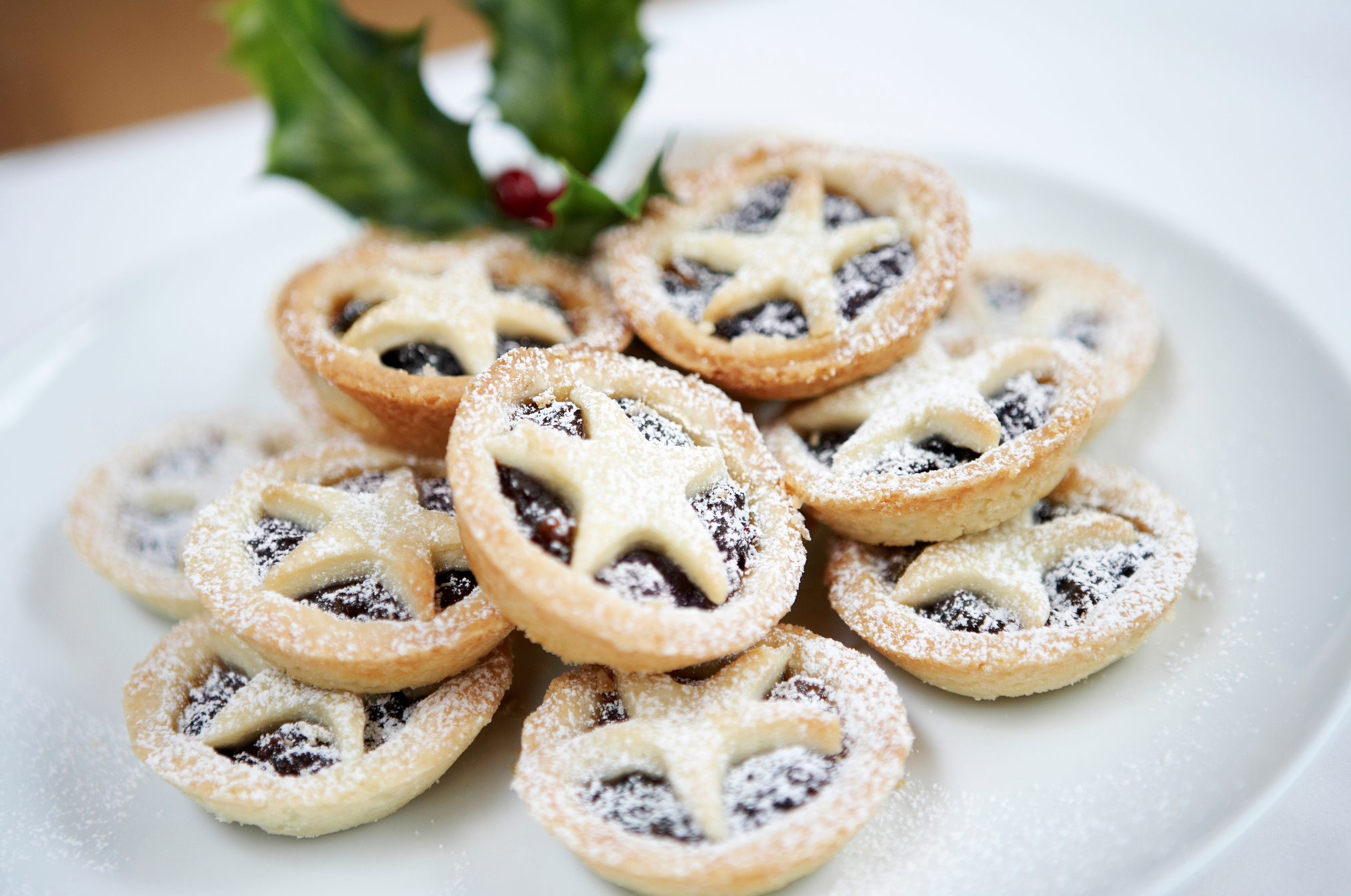 Holiday treats are what make this time of year even more festive. Whether you are trying a recipe for the first time or making a family favourite, there is always room for dessert!
Where to Find These Sweet Treats
We are fortunate in Oakville and Burlington to have many grocery stores that carry a superb range of holiday desserts.  Try Whole Foods in Oakville, or your local Denninger's, Longo's, Fortinos, Sobeys, Metro or Cobs Bread.  Or you can support one of these independent stores and bakeries for something more unique and/or international.
The Dutch Shop, Burlington: burlingtondutchshop.com
for Almondstaaf
British Pride Bakery, Burlington: britishpridebakery.com
for Sticky Toffee Pudding
MollyCake, Burlington: mollycake.ca
for Sticky Toffee Pudding and numerous other holidays treats
Monastery Bakery, Oakville: monasterybakery.com
for Sufganiyah, Panettone, and Tiramisu
Black Forest Pastry Shop, Oakville: blackforestpastryshop.ca
for Fruit Mince Pies, Yule log, gifting cookies, gingerbread houses
The Platter Company, Aldershot: theplatterycompany.ca
for Pavlova, Mince Pies, and Yule logs
Mango Mirchi Restaurant, Mississauga: mangomirchi.com
for Bebinca
Nostalgia Latin Market, Oakville: nostalgialatinmarket.com
for Tres Leches Cakes, Churros, and Turron 
Florence Meats, Oakville: florencemeats.com
for Malva Pudding 
Saving Thyme, Burlington: savingthyme.ca
for Choux, Kouign Amann, and Macarons

Familia Fine Foods, Burlington: familiafinefoods.com
for Tres Leches 
The Sweetest Thing, Oakville: thesweetestthing.com
for cakes, cookies, and cupcakes