Written By: Kristen Sanchioni
Outdoor entertaining has become a growing trend over the past year—and with good reason! With more time spent with family at home, our patios, backyards, and balconies have become a wonderfully functional extension of our living space. Perfect for socially distanced visits, they are the ideal spot to gather with loved ones, while still conforming with our health guidelines. 
We are almost through the worst of our frigid winter, and spring is just around the corner. Many of us will be looking forward to venturing outdoors again, and enjoying some limited social interactions with friends or family. By incorporating a few key design elements, you can create a patio or backyard that is both functional and cozy for outdoor entertaining all year round.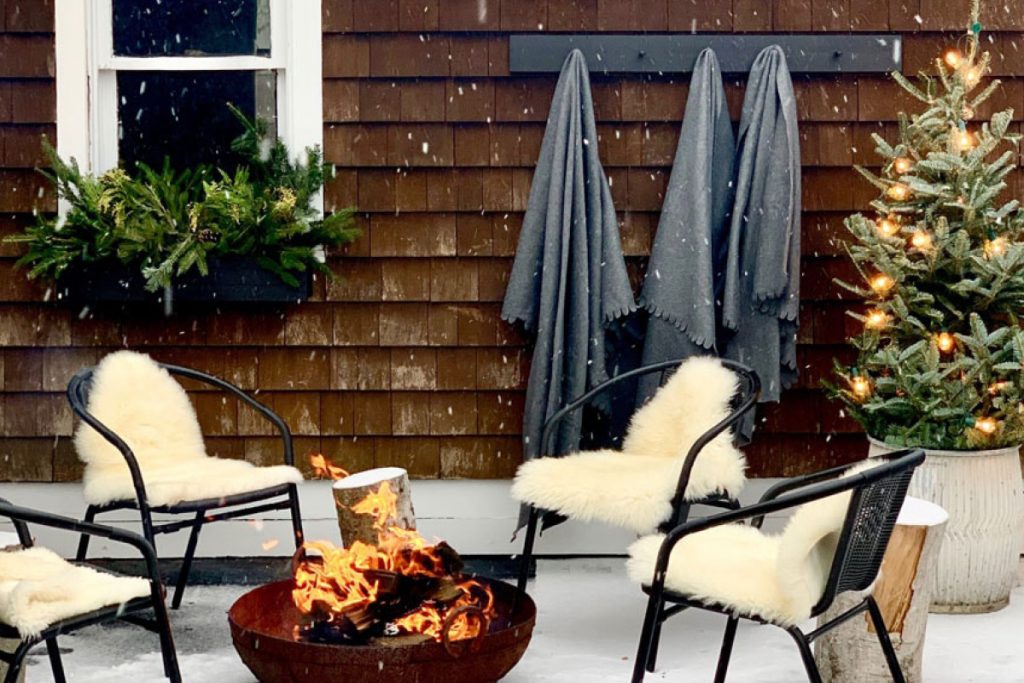 Warm and toasty
Perhaps the most important aspect of entertaining in cooler weather is keeping warm. While Canadians are no stranger to bundling up in winter, introducing a heat source to your space invites people to settle in for conversation and a visit.
Outdoor friendly fireplaces are the quintessential gathering place for cool-weather entertaining. If you don't have the budget or you dislike the permanence of a built-in fireplace, there are stylish and portable options. Fire pits, chimineas, fire tables, and patio heaters are available in every size, style, and price point. At Oakville Home Leisure, Jeremy Kalapacz notes that this has been their busiest year-to-date. "The demand for fire pits and patio heaters has been incredible this year!" he says. "We are fully stocked for the upcoming season and expect to be just as busy, if not busier this year than last."
Wood burning fire pits and chimineas are among the most popular, but there are loads of stylish gas-powered fire tables and pits that are convenient and easy to start.
Gathering with your friends and family around an open-air fire with a warm drink sounds pretty wonderful if you ask us!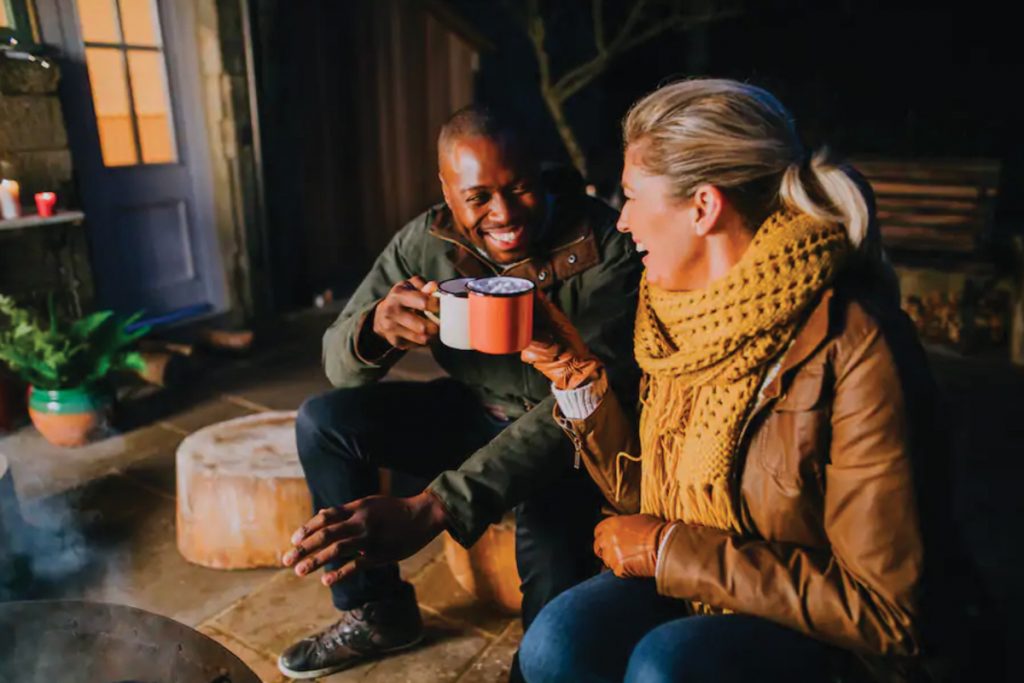 Under Cover
With the heat source as your centerpiece, it's still important that people are comfortable enough to stay for a while. Is there anything more bone-chilling than sitting for hours on a cold, hard chair? "The furniture we carry is all high end that can last for many years outdoors," assures Jeremy. He also notes that a little maintenance goes a long way to preserving the look and longevity of your patio set. "Although you don't have to tarp or cover your furniture, it is good housekeeping to do so." Oakville Home Leisure has many options for protective patio coverings that will keep the snow and rain off.
Padded and weather-resistant furniture is a must, but if you prefer the rustic charm of a Muskoka chair, consider draping a sheepskin throw over the back to provide some stylish cushion and warmth.
Adding or adapting an outdoor structure like a pergola is a relatively small project but can provide protection and shelter from the elements by adding a roof. Retractable roofs, plexiglass, or canvas will keep the snow and rain off and also help keep the fire heat contained.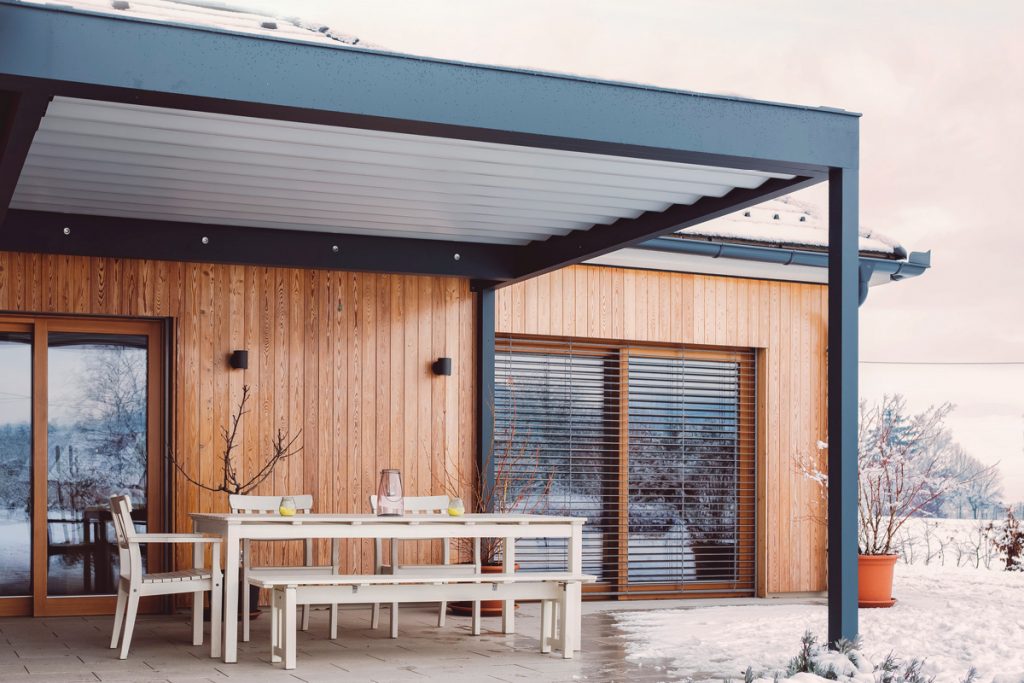 Accessorize!
Creating that cozy hygge atmosphere outdoors requires a little ingenious thinking.
Many plants do well outside in winter, and nurseries like Sheridan have the knowledge to help you choose the right ones. Planters with potted greens such as yew and rosemary, and larger trees like boxwood, cyprus, and evergreens are useful for privacy and blocking a sudden gust of winter wind.
Even with the glow of a fire, additional lighting will make your space feel magical. Strings of fairy lights or strips of solar lighting wrapped around planters immediately warm up the atmosphere. Finally, remember that this space is an extension of your home. Layer winter-friendly textiles the same as you would indoors: decorative pillows, rugs, and sheepskin throws. Having a pile of thick blankets on hand means that people are warm enough to settle in for a longer visit. Offer a warm drink and some s'mores and they might never leave!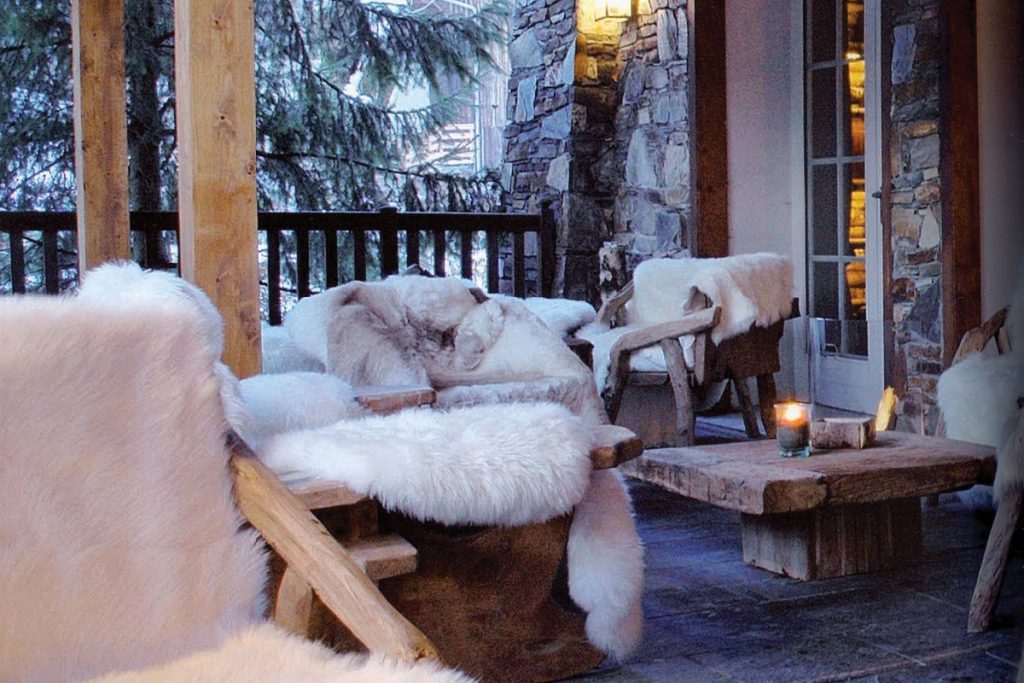 Local Links
Oakville Home Leisure (Oakville): oakvillehomeleisure.ca
Sheridan Nurseries (Mississauga): sheridannurseries.com
Centro Garden (Burlington): Centrogarden.com