Whether you're an avid cyclist out on the roads several times a week, or you like to dust off your bike every so often for a leisurely ride along the trails, there's an event this summer that appeals to riders of all ages and abilities. Le Tour De Norfolk is an opportunity to see the sights on a leisurely route through one of Ontario's most picturesque regions.
Belgians who immigrated to Norfolk in the 1940s and 50s brought with them their love of cycling, and the area has become known as a cyclist's paradise. The terrain is mostly flat, and can be traveled with ease and you'll probably come across more farm animals than traffic on the back roads, possibly going for several kilometres without seeing a car. The trees along the roads offer shade and you may even pass by a farmer irrigating his fields so you can take advantage of the misty air.
Speaking of farmers, the area is rich in agriculture with apple and cherry orchards and fields of asparagus, blueberries, cabbage, cucumbers, ginseng, lavender, onions, peanuts, peppers, potatoes, pumpkins, squash, sweet corn, sweet potatoes, tobacco, tomatoes, raspberries, rye, strawberries and zucchini. If you've got a basket or saddlebags on your bike, you may want to stop at a roadside stand and stock up on some fresh produce. 
The Tour de Norfolk route begins and ends at the Delhi Community Centre and there are a variety of route lengths to choose from: 40, 75, 100 or 160 kms and you can 'rest' assured that there are break areas every 20 – 25 kms with snacks and refreshments. Routes are clearly marked with painted arrows on the road and maps are also available (to be posted on the event website in early July). Children under the age of 12 are also welcome.
Stay & Play
If you have time to explore the area on an extended weekend stay, the beaches can't be beat. Along Lake Erie, you'll find Port Dover Beach, Turkey Point Beach and Long Point Beach. If it's food, wine or beer you're after, there are plenty of choices. From drive-ins and brew houses to lavender farms with on-site wineries, you won't go hungry or thirsty. Charlotteville Brewing is the newest craft brewery on the scene. Try their local 519 India Pale Ale or the Velvet Devil.
New Cycling Route Added
A new cycling route was just launched in June: the Attawandaron Cycling Route is 100 kms long and starts and ends in the town of Port Rowan. The Attawandaron indigenous people lived along the shore of Lake Erie between 1500-1600. Their name translates to 'people of a slightly different language'. They were known as the Neutral Nation. Take the trail at your leisure, and if you wish, stop at Bird Studies Canada and the Long Point Waterfowl display area before heading out along scenic marshland.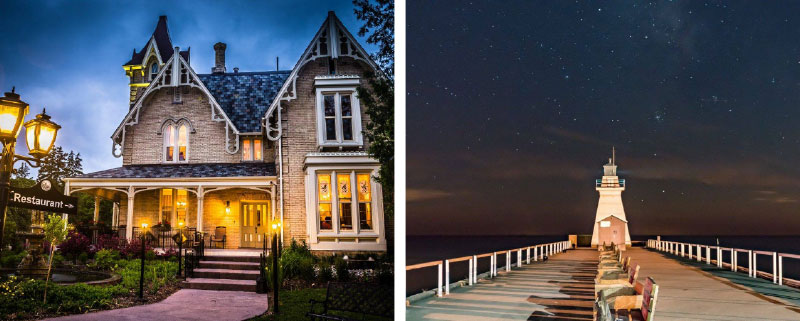 Where to Stay
Scenic countryside and beaches call for accommodation in B&Bs and quaint inns, and there are lots here. If you prefer to bed down in a B&B, look into the Cedar Cottage, Palm Trees and Polar Bears, Dover House, or R & F Alpacas (yes, visits with the alpacas are included). The Elmhurst Inn & Spa is also nearby, offering luxurious suites, sprawling grounds and a restaurant serving locally inspired cuisine.
By the end of the tour, you may be 'moved' to cycle more often. With the number of trails and routes available you could be blazing through Norfolk County all summer – and fall.
Local Links
Le Tour de Norfolk
letourdenorfolk.com
Norfolk County Tourism
norfolktourism.ca
Charlotteville Brewing Company
charlottevillebrewingcompany.ca
Dover House B&B
doverhousebb.ca
Elmhurst Inn & Spa
elmhurstinn.com
Just For You B&B
bbjust4ucanada.com
Palm Trees & Polar Bears B&B
palmtreesandpolarbears.com
R & F Alpacas B&B
www.rfalpacas.com