Summer is the season for day trips, and the charming town of Dundas should be on everyone's bucket list. The picturesque town offers an array of activities for all ages and interests. Steeped in history, the downtown is filled with one-of-a-kind boutiques and eateries in a setting that combines old world charm and new world vibrancy. Situated on the west end of Hamilton, it's a short scenic drive from Oakville and Burlington.
Planning your perfect outing is easy – whether you love nature, shopping, food, history, or all of the above! From hiking and cycling to downtown shopping and al fresco dining, there are so many ways to fill your summer afternoon, evening or entire day in this gem.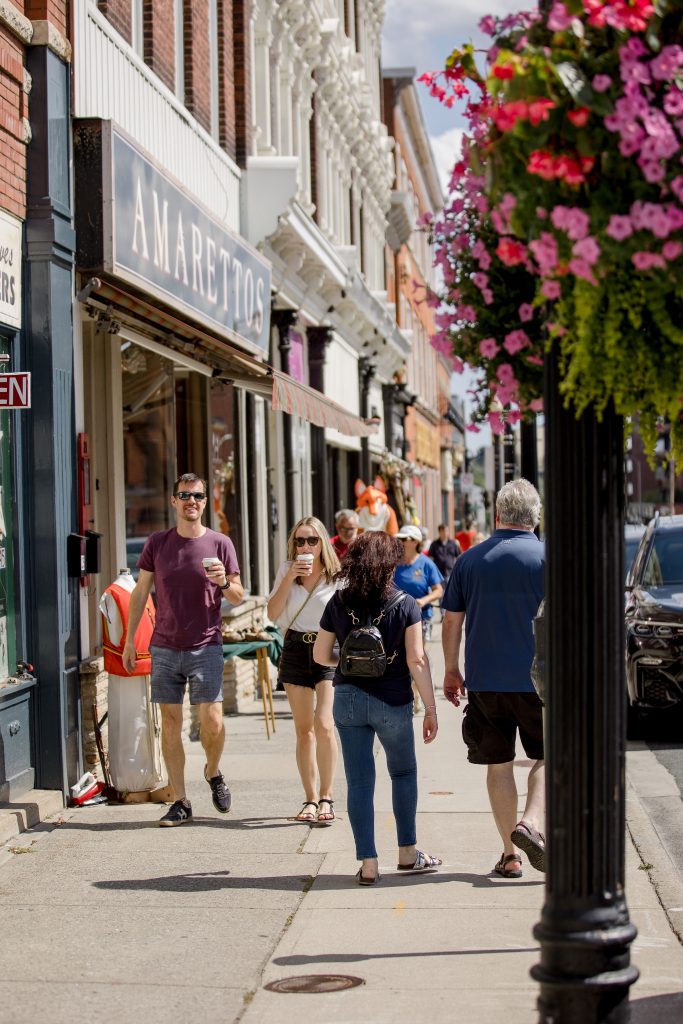 Explore old world charm
Dundas has a rich history that has been carefully preserved, giving the downtown and surrounding neighbourhoods their distinctive character. Incorporated as a town in 1847, many of its original heritage stone buildings and houses (built in the mid- to late-1800s) remain.
The Dundas Town Hall, built in 1849 is one of a few municipal buildings in Ontario built before 1850. It is said to have cost £2,500 to build! Interested in learning more local history? Visit the Dundas Museum, located at 139 Park Street West.
While strolling through downtown Dundas is a perfect way to appreciate the architecture of a bygone era, you may also wish to explore the surrounding neighbourhoods to spy the beautifully preserved heritage homes. Here's a little trivia: the older buildings in Dundas were constructed using local stone sourced from the Niagara Escarpment surrounding the Dundas Valley. Do a self-guided tour by car or foot when you visit – the Dundas Heritage Association offers maps for both online.
Go for a hike or bike in nature
Dundas is a haven for outdoor enthusiasts, as it is surrounded by lush Carolinean forests, streams, waterfalls and of course the stunning escarpment. Within this beautiful setting is a network of trails for hikers, runners and cyclists of varying abilities (strollers are welcome!) Residents and visitors, alike, flock to Hamilton's conservation areas in full bloom through the summer.
Hike the Dundas Valley Conservation Area
The Dundas Valley Conservation Area has more than 40 km of trails, including the Bruce Trail, that traverse forest, meadows and wetlands, and provide stunning panoramic views. You may also choose to walk, run, or ride the Brantford to Hamilton Rail Trail; the Hamilton section follows the scenic Dundas Valley for 18 km.
Get splashed by waterfalls
Drawing thousands of visitors every summer are the awe-inspiring waterfalls of Dundas. Webster's Falls is one of Hamilton's most iconic falls — a 22-metre curtain waterfall that spills over tiered rock. Within walking distance is Tew Falls. This ribbon waterfall is 41 metres high, making it the tallest one in Hamilton. It can be reached from Webster's Falls via hiking trails.
Due to the popularity of some conservation areas, you may need to reserve your spot online beforehand at
hcareservations.ca.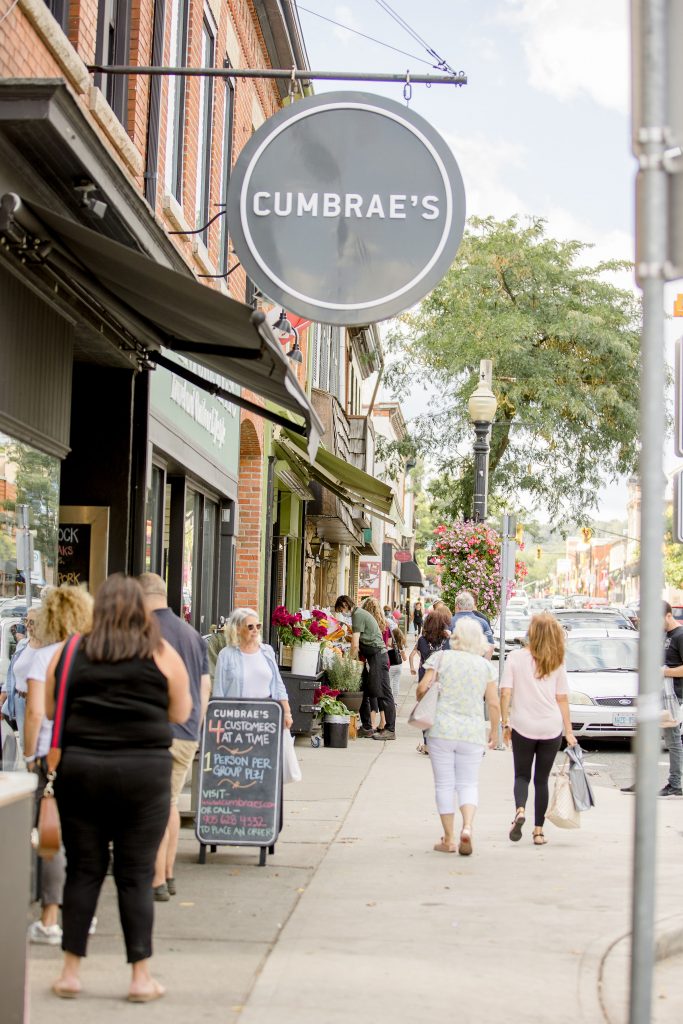 Shop and dine in Dundas
Make your way to King Street at the heart of downtown Dundas. This bustling thoroughfare is lined with locally-owned boutique shops, cafes and restaurants. Many businesses are housed in heritage buildings which creates a wonderful sense of nostalgia.
Stroll along the street and pop into the many specialty shops and clothing boutiques. Find fine arts and crafts, sporting goods and jewellery, as well as a selection of home, garden and kitchen goods. On a typical summer day or evening, patios buzz with people enjoying delicious fare, cool drinks and live music. Parking is free Saturdays and Sundays.
Be sure to consider these well-known shops and eateries when planning your visit to Dundas.
Food & Drink:
Beanermunky Chocolate
is a locally-owned chocolatier tempting you with mouth-watering treats.
Micky McGuire's Cheese
offers a vast range of artisanal cheeses, sourced from around the world by its proprietor.
French Revolution Bakery & Creperie
is owned by a French pastry chef (need we say more.)
The Cookie Doh Factory
serves sweet edible cookie dough in its original factory and shop for a truly original experience.
The Urban Vine
is Hamilton's largest premium olive oil and aged balsamic tasting boutique with a vast assortment of fresh oils, blends and aged balsamic vinegar.
Detour Coffee
is passionate about all things coffee, sourcing and roasting in small batches to ensure the perfect java.
Collins Brewhouse
is a local brew pub serving craft beers and pub food in an inviting atmosphere with a great patio for summer dining.
Quatrefoil offers French cuisine, wine and splendid service in a refined, yet relaxed, environment with a charming patio to enjoy lunch or dinner.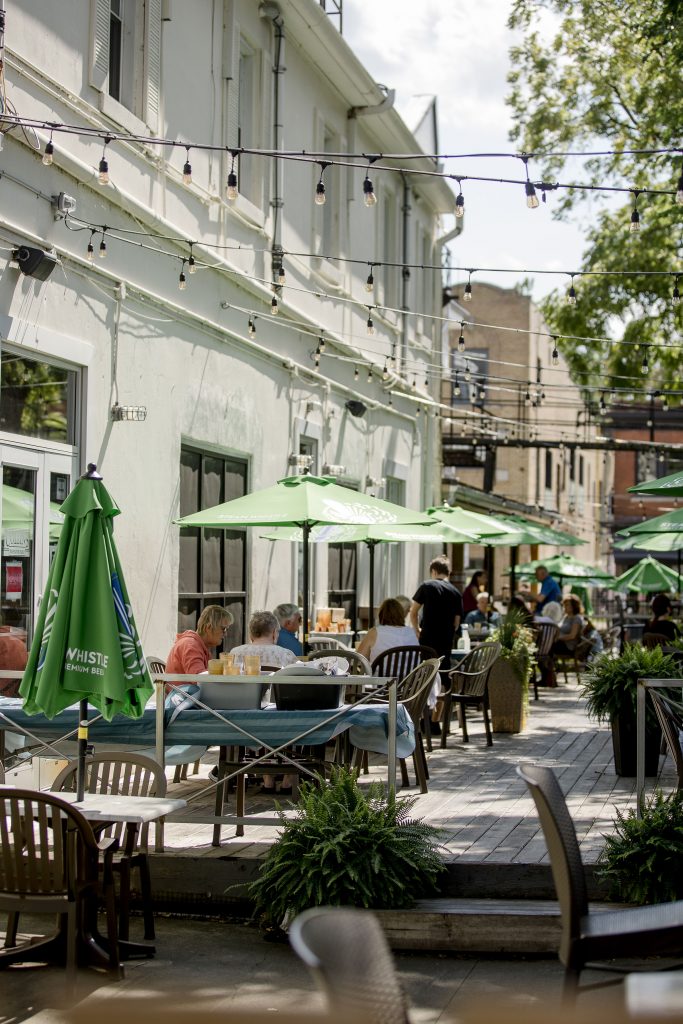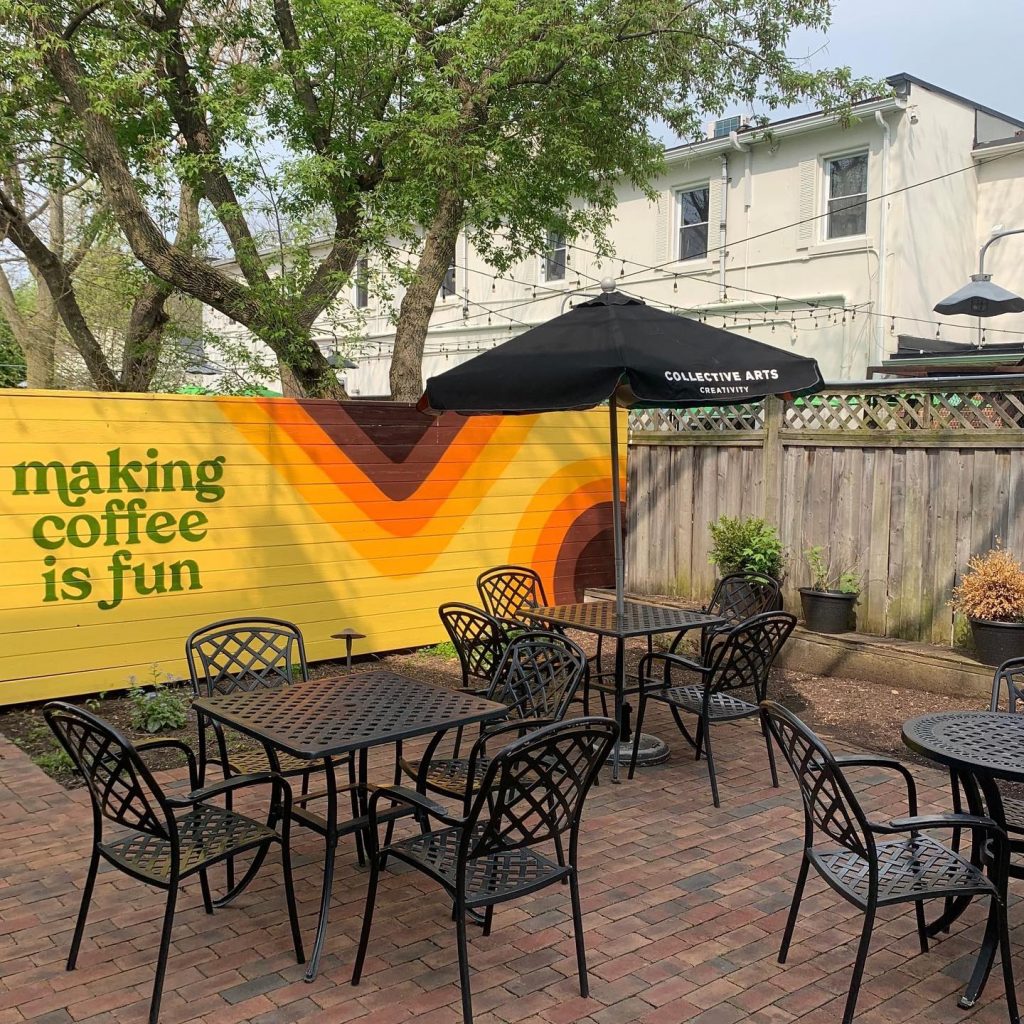 Home & Garden, Décor & Gifts:
The Handmade House
is a purveyor of one-of-a-kind goods handmade by creators who live within a two-hour drive of the shop.
The Keeping Room
is a local favourite selling everything you can imagine related to eating and cooking.
Mrs. Greenway
sells a wide assortment of green, eco-friendly products that are good for the environment and good for us too, plus you can bring in your containers and refill.
The Kitchen Witch
is an entertaining little gift shop, perfect for finding hostess gifts, containers, linens, antiques and curiosities.
Graham & Brooks
combines a selection of antiques, vintage pieces and home décor ideas with a unique treasure trove of architectural artifacts and salvaged items.
Fashion & Jewellery:
David William Shoes
has been serving customers since 2008 with an extensive array of carefully chosen and unique collections of fine footwear, handbags and apparel.
Sell it 2 Wear it
is a designer consignment store with a variety of clothes and accessories for women and men.
HV Creative Jewellery
has been offering custom jewellery design and repair on site for over 30 years.
Kids 'N Krafts
carries 100% cotton casual wear for children of all ages, from babies through to teens.
Anglesea Home Accents & Apparel
is your source for thoughtfully designed and curated new and vintage clothing and home décor items.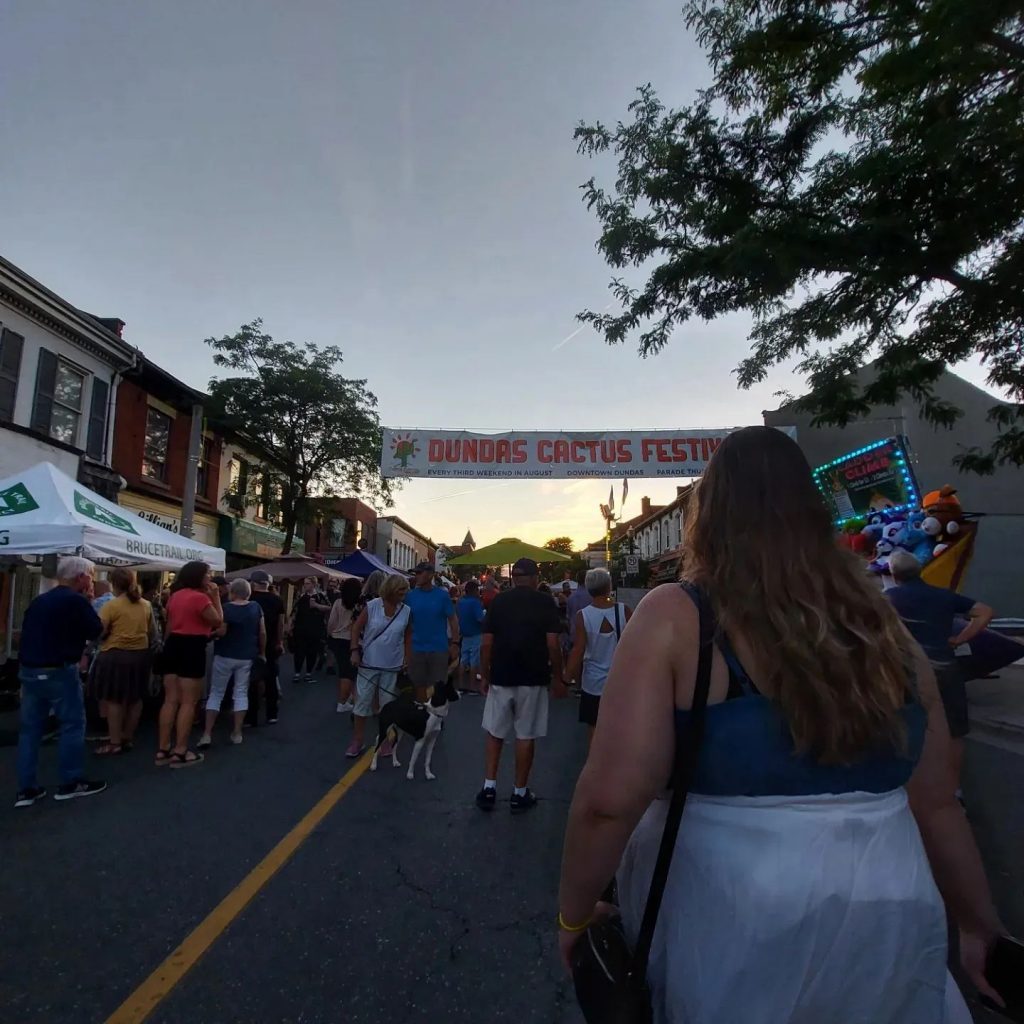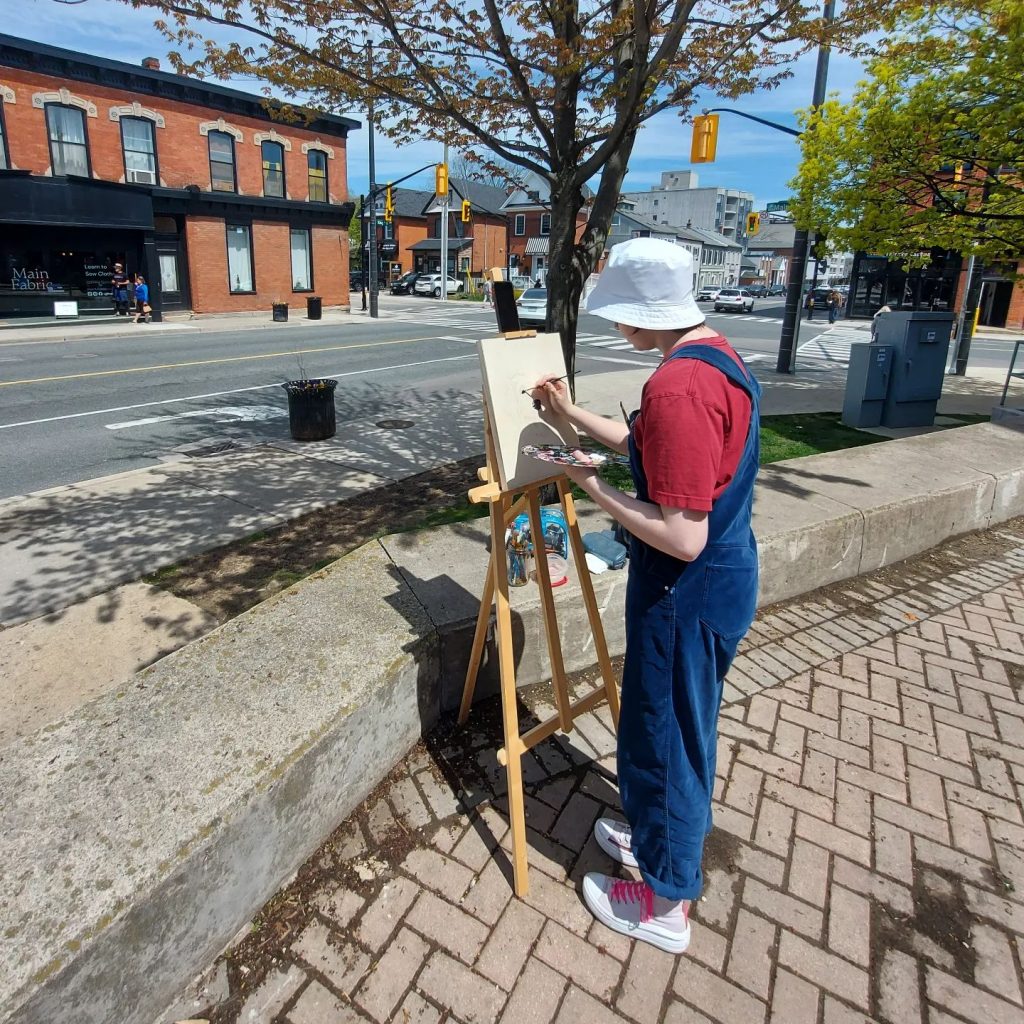 Summer events in Dundas
Before you plan your visit, be sure to check out the latest events happening in Dundas. Many restaurants have live music throughout the summer and downtown is always bustling with excitement on weekends.
Every Tuesday night in the summer, enjoy music under the stars when a concert band performs at the Dundas Driving Park amphitheatre. This historic site close to downtown includes playgrounds, a roller/ice rink, splash pads and public art.
The Dundas Cactus Festival takes place August 18-20. You won't want to miss this family street festival that offers free local entertainment, vendors and family fun. Dundascactusfestival.ca
Check Downtowndundas.ca and @dwntwndundasbia for the most up-to-date offerings.
Top things to do in Dundas this summer
Take a hike in the Dundas Valley Conservation Area
Stroll and shop for locally made goods in Downtown Dundas
Learn the history behind Dundas's oldest heritage buildings
Eat a freshly made chocolate or baked treat in Downtown
Sample a craft beer at Shawn & Ed Brewing Company
Be inspired by Webster's and Tew Waterfalls