Have an axe you'd like to grind? How about one to throw, then? The puns are endless, but if you think you might enjoy hurling a sharp, heavy object at an inanimate, wooden target, Burlington's Bad Axe Throwing is an axe-cellent outing for you plus a group of your friends, family, co-workers … and even your kids.
Founded in Burlington by CEO Mario Zelaya in 2014, Bad Axe Throwing now boasts 16 locations across Canada and the US, all with the same purpose: to have fun throwing axes. "It's like the sport of darts with a target, but with an assigned lane," says Melanie St-Amour of the marketing and development team at Bad Axe Throwing. "Participants can throw at the same time to make it more challenging, and there's a bullseye to track points and lots of games you can play during a session."
Pre-scheduled sessions with a minimum of eight participants take approximately 2.5 hours or so to complete, while weekly walk-in sessions can last as long as you want, at $20 an hour.
But how did this decidedly different pastime find its way into the mainstream? It all started when Zelaya and his brother-in-law were at a cottage casually tossing some axes and thought it would be great fun to develop for the public to enjoy as well. "It's something different and unique," says St-Amour. "Kind of a lumberjack thing, a Canadian thing. Something totally unique." And St-Amour can vouch for the unique part: she tried it herself and loved it.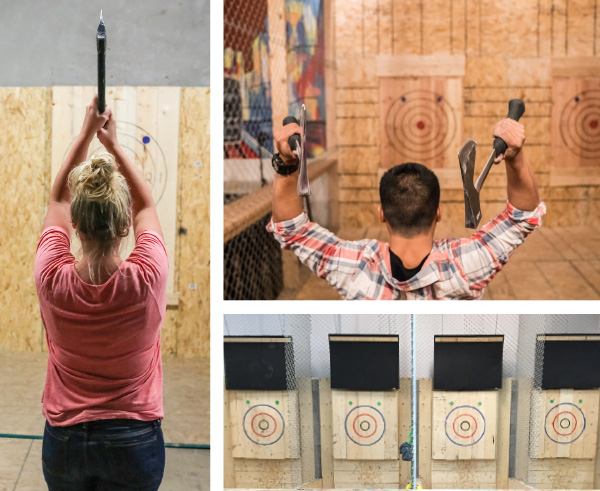 "I was nervous at first," she says. "It does take a little bit to perfect your aim, but it's so satisfying to hear the thud when it hits the wood and then you really want to continue to get better. Women are really good at it and actually make up 60 percent of the participants."
Never thrown an axe in your life? Never even considered picking one up? No worries. Experienced hosts are on hand to help you heave your supplied weapon effectively and, most importantly, safely. "It's very popular with young adults," says Morgan Rutledge, a host at the Burlington location, "but kids can also participate with a little practice and assistance. Everyone can certainly improve even after a few attempts."
And it's also popular for a wide variety of outings, including bachelor and bachelorette parties, birthdays, corporate events, fun get-togethers with friends, or even the occasional divorce celebration. St-Amour recalls a woman hanging her wedding dress over the target and she and her friends went at it.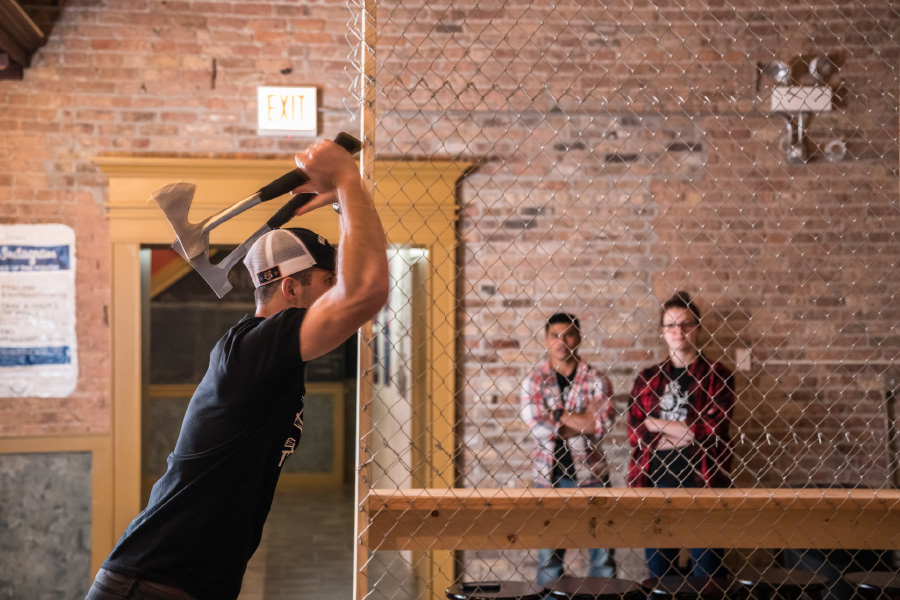 Remember to dress casually and comfortably (you could even put on some plaid if you like), and if you're still unsure, feel free to come, watch and cheer on your axe-wielding mates until you're ready to hurl one yourself.
If you can't gather together a group of eight friends or more, there are always walk-in axe throwing sessions, a first-come, first-serve open axe throwing experience in a communal throwing lane open to the public several times a week. It's fun, safe, different and a definite ice-breaking topic for your next social event. And as Rutledge points out, "Well, who wouldn't want to throw axes at walls?" Axe-actly.
by Allison Dempsey
Local Link
Bad Axe Throwing
badaxethrowing.com