In today's world of mass production and fast fashion, there is a certain appeal to finding unique, one-of-a-kind items that set them apart from the crowd. For the early settlers of Oakville and Burlington, local and hand-made goods such as furniture and clothing were often the only option. "Everything old is new again" is today's trend, and it's taking us out of mass-market stores and back into artist's studios and small local shops.
Oakville's first products were flour, grain, timber, and barrel staves. These were shipped out in schooners that were built in the harbour's own shipyard. The great trees that provided the ribs, planks, and masts for the ships are long gone, but the appreciation for fine wood and craftsmanship remains. Visit Exotic Woods in Burlington to find beautiful live-edge pieces reminiscent of those vanished trees. Urban Reclaimed and Fallen Oak Furniture, both in Oakville, take a green approach to woodwork, using reclaimed and naturally culled wood.
Not all of the grain was shipped away. There were local bakeries like the Black Forest Bakery in Oakville, and a good portion of the local grain went to producing copious amounts of beer and whiskey.  Oakville Brewing and Distilling Company on Walker Street produced up to sixty gallons of whiskey daily. Similar scale craft brewing has taken root over the last decade with many successful and tasty beers available to suit all palates. Cameron's Brewing, Nickel Brook Brewery, and All or Nothing Brewhouse have revived local brewing, while Maverick Distillery began producing spirits as the first craft distillery in Ontario in 2009.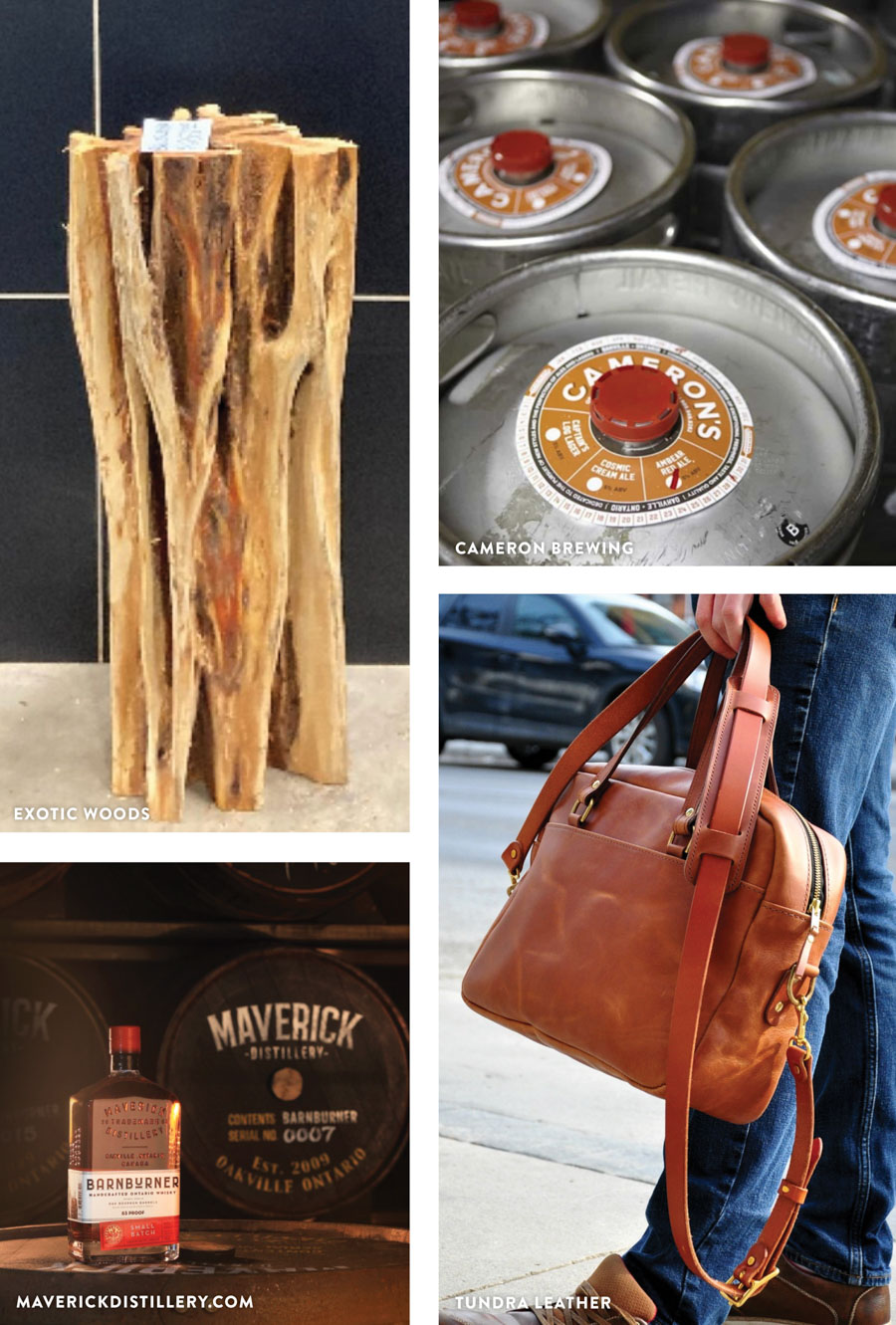 The original distillery was succeeded by a tannery. Under the name of Marlatt and Armstrong, the tannery grew to become Oakville's largest employer and made purses, gloves, seats, carriage tops, and their much sought-after patent leather. In the early 1900s, the steam whistle at the tannery helped the locals keep time and even served as the town fire alarm. Well-crafted leather goods have a continuing appeal, though the same cannot be said for the smell of a tannery.
While not everyone can make a pair of shoes, making a belt or a simple pouch isn't all that difficult with the right tools and a bit of instruction. Today you can find handmade leather goods at Tundra Leather in Hamilton and you can even take a class in leatherwork or take home a kit.
Some businesses succeed purely on good service and personality, and one of Oakville's first Black businessmen, barber Joe Wordsworth, was on the right track when he assured the public that his customers would be "well accommodated with a comfortable shave, and hair cut in the best style." This is essentially the same promise made by the trendy barbershops proliferating today.
Another early Oakville figure, James Wesley Hill, escaped enslavement to become a prolific conductor on the Underground Railroad, but he was also a prosperous farmer who helped lead Oakville to become the strawberry capital of Ontario.  

Of course, to collect and ship fruit, you will need a basket, and so a local basket factory was established. In the late 1800s, the basket factory produced over 300,000 baskets a year and stayed in business until 1984. (Fun fact: our editor's grandparents worked there!)
In the later nineteenth century, what is now Kerr Village was the edge of town and home to many market gardens.  Today, hip restaurants and artisan market shops continue this local food tradition, and not far away at Dorval Crossing, there is a farmer's market on Saturdays through the spring and fall.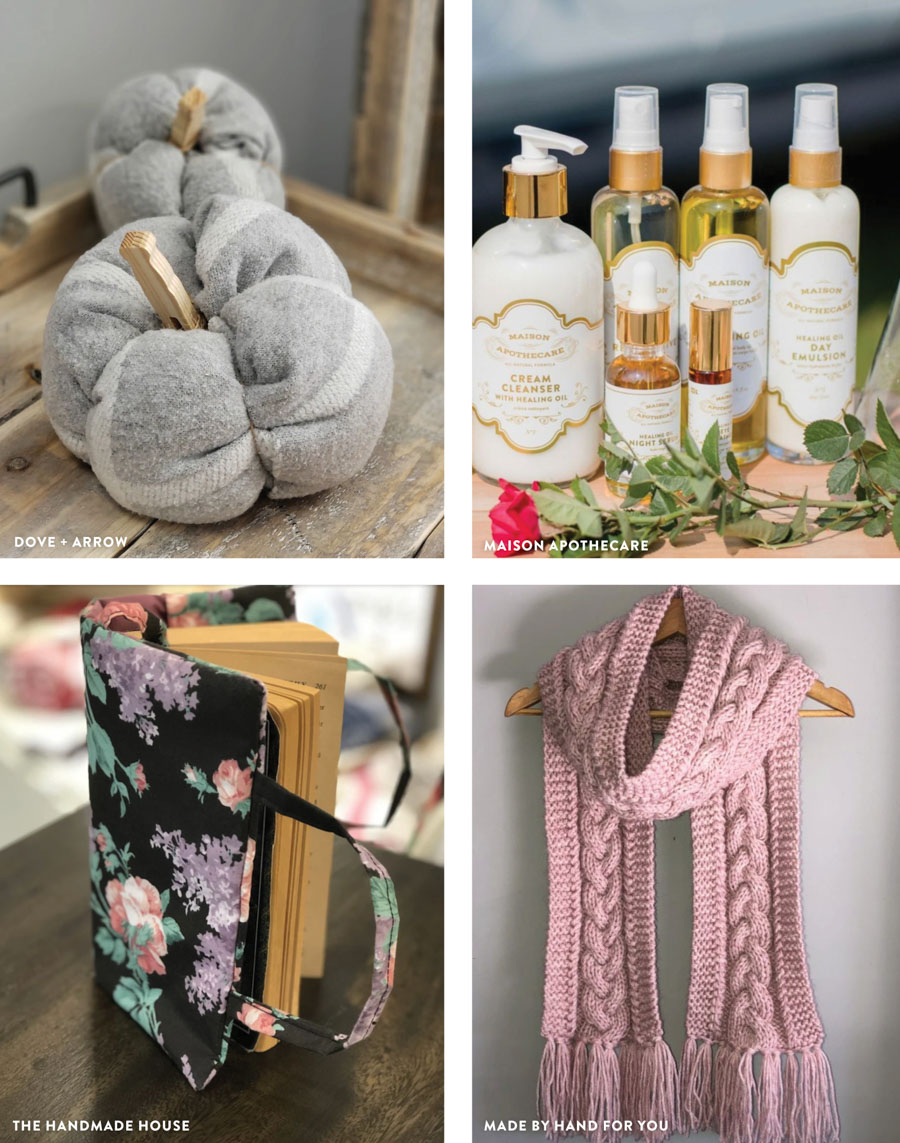 For decades, Urquhart's Medical Hall established ca. 1835 on Colborne Street (later Lakeshore Road) was the place to find hand-prepared medicines, salves, and ointments. Today within a stone's throw of each other on the same road we have Maison Apothecare – where you can find small-batch prepared soap, lotions, and essential oils.  Other local shops feature an array of handmade items from toiletries to the fibre arts. Take some time to peruse the offerings at Dove & Arrow on Kerr Street in Oakville, The Handmade House in Burlington, or Made by Hand for You in Waterdown.
Certainly, the desire to find well-made high-quality goods remains today, but now there is an authentic desire to connect to our communities, local craftspeople, and support small businesses that lead us back, in some ways, to the way it was.