It's finally summer! Here in the northern hemisphere it seems to take forever to feel the warm sunshine, but now is the perfect time to shed the long sleeves and celebrate all things outdoors, starting in your own backyard.
Smaller, more intimate gatherings are what our backyards are made for. When a summer day or night calls for entertaining, start planning for the best backyard get together possible with some ingenuity, a little creativity, and some great tips from the local experts.
Aside from simply enjoying yourself and having a fun, relaxing time with friends and family, making your backyard look as inviting and friendly as possible is priority number one. Whether it's a casual gathering or a more formal affair, there are a few guidelines to embrace when it comes to making your outdoor living space look habitable, welcoming and even a little trendy. "Great napkins are a must, whether they're paper or linen, or even rough cottons," says Tori Brock, owner of Fairhome Interiors in Burlington. "Creating a harvest table feel is really fun, and that could mean hand-done flower pieces, wildflower arrangements, and maybe some lilacs in Mason jars."
She also suggests some fresh, eye-catching details such as French linen runners placed width-wise instead of length-wise, to double as beautiful placemats. "Bringing colour outdoors is a must in the summer months, whether through pillows, rugs or custom serving dishes such as bright Melamine," says Brock. And when it comes to mood lighting, there are lots of stylish options, including pixie lights, stunning lanterns, battery-operated candles and even using wine or antique bottles with candles to light up the night.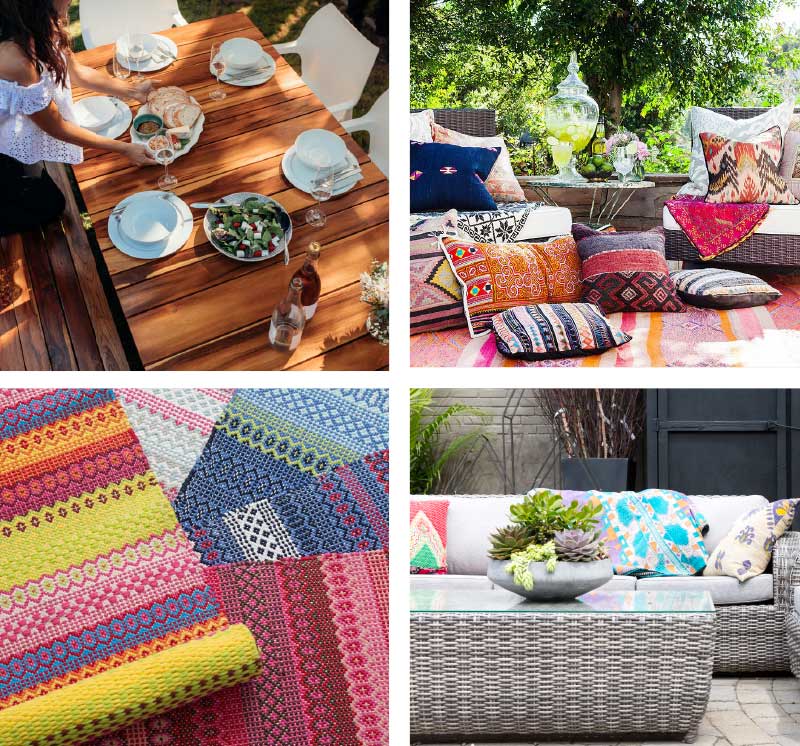 If you have those items under control, you might want to think about tackling your landscaping, says Jennifer Klassen, manager at Centro Gardens in Burlington. "Top up the landscaping in your backyard with fresh flowers, plants and succulents in bowls," she suggests, which will help create a stunning and serene backyard vista. Klassen is also a fan of big, fun containers for ice and drinks, such as large galvanized buckets or tubs that are both festive and practical for warm summer evenings. "Ceramic bowls always add atmosphere as well," she says, "and any kind of table centrepiece that adds some pops of colour, such as orange and red."
A few other extras she relishes include mesh food covers to keep the bugs at bay, and a large wooden or steel tray handy for carrying glasses and dishes from indoors to out, and back again.
Finally, when it comes to furniture and larger accessories, it's all about wicker and fire pits, says Jeremy Kalapacz of Oakville Home Leisure. "Fire pits are still hot!" he says with a laugh. Whether you call them fire pits, fire tables, or just a good gathering place, these very popular gas or wood appliances add immeasurable quality to your outdoor entertainment venue. You can simply kick up your feet and relax with friends late into the night, or actually use them for cooking, from full meals to after-dinner marshmallows. The wood-burning variety requires some work with a supply of wood and a little fire-building know-how, but they're beautiful and smell great. The gas variety won't get quite as hot, but are easier to maintain, says Kalapacz, and you won't have to worry about flying sparks and embers.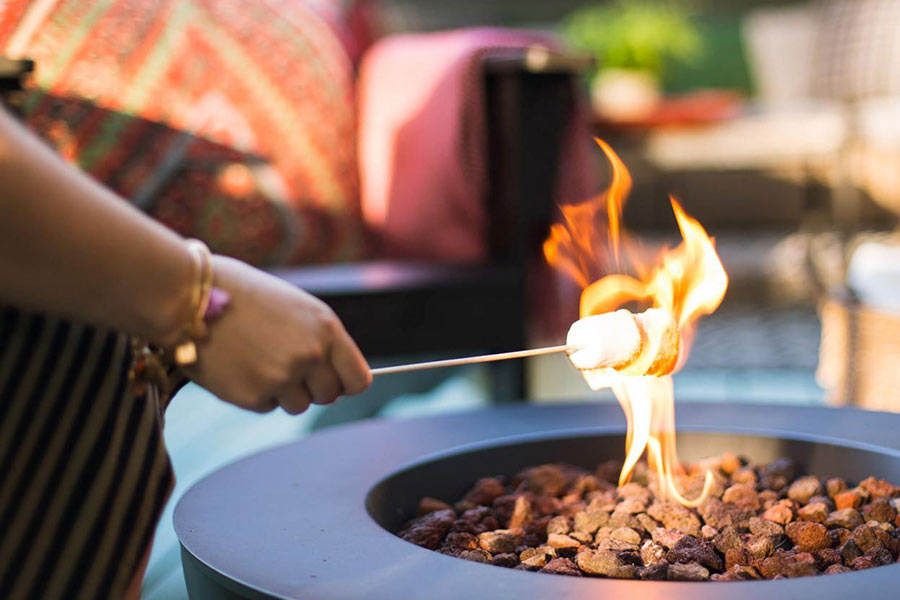 When it comes to wicker furniture, Kalapacz suggests the dark variety, that will last longer and look fresher, with bright cushion fabrics and accessories, or light colours for a beautiful contrast in your outdoor living space. "Many cushions and pillows claim to be weatherproof, but we still recommend bringing them inside the house or covering them up when they're not in use." he says. And always bring them indoors during the long winter months.
No matter which trends you choose to embrace this season, there are lots of new and exciting items to try. With good friends, family and food, however, you're already more than halfway to your amazing backyard barbecue goals, and enjoy the heat while it lasts!
by Allison Dempsey
Local Links
Centro Garden, Burlington
centrogarden.com
Fairhome Interiors, Burlington
fairhome.ca
Lakeside Livin', Oakville
lakesidelivin.ca
Oakville Home Leisure, Oakville
oakvillehomeleisure.ca
Station Home, Burlington
stationhome.ca
Terra Greenhouses, Burlington
terragreenhouses.com