Fitness. An intimidating seven letter word associated with running, weights, gyms, and equipment. But the truth is, fitness is far more than a run on an elliptical – it's actually a pretty broad term that can mean something different to everyone. Overall, when it comes to being "fit", the goal is to focus on your overall health and wellbeing – and the best way to do that, is by having fun! For some people, fitness is a lifestyle but for others, it could be joining a weekly yoga class to centre your body and mind, or using physical activity to recover from a major surgery or illness. Working your body as a system (and having fun while doing it) is a great way to not only work towards living a healthier and fuller life, but it supports a healthy mindset too.
There are a number of unique, inclusive, and expert-led fitness studios in our area, featuring everything from Jazzercise to Egyptian Dance. Here are are just a few of them.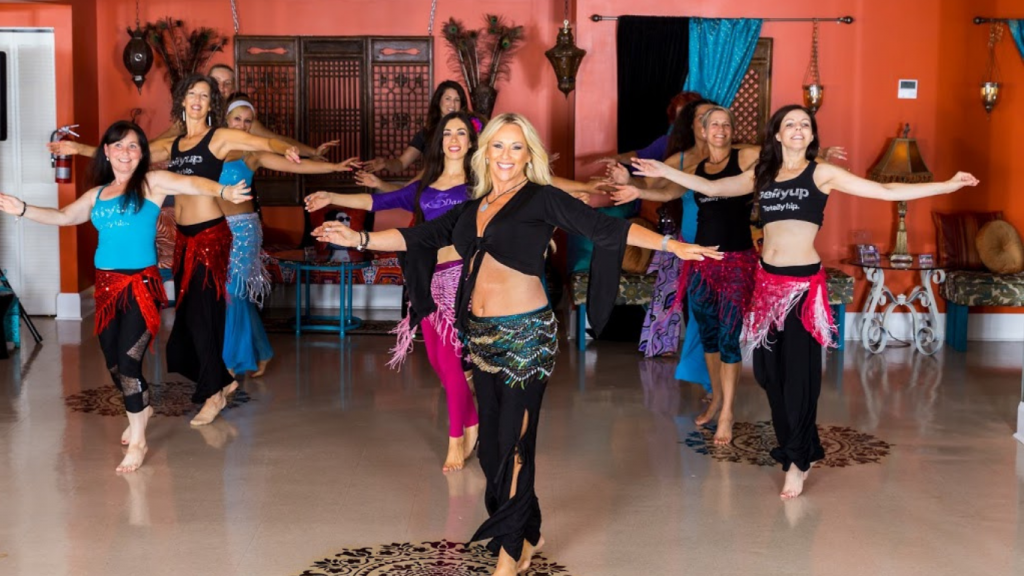 Belly Up Belly Dance Studio
BellyUp BellyDance Studio is a one-of-a-kind dance studio designed to embody the Egyptian vibe and ambiance from the moment you walk in. For over 16 years, their fun and vibrant instructors have taught thousands of women how to move their bodies in a way that makes them feel empowered, more confident, and more alive. Not only is it fun and challenging, but Egyptian dance is an art form — and BellyUp is passionate about sharing its rich cultural legacy with their students, too. If you're interested in finding a new hobby, a new way of getting in shape, or for self-transformation and artistry, BellyUp offers classes for absolute beginners to advanced level.
What You Can Expect with Egyptian Dance
BellyUp has specialized in the art of Egyptian dance (also known as Raqs Sharki) for nearly two decades! Their courses, which typically run for eight weeks, incorporate technique, fun combinations of moves and steps, and cultural context of the dance. Even beginners feel like they're dancing right from their very first class. Since Egyptian dance is an art form, technique is very important. BellyUp focuses on giving students proper technical instruction to build a strong foundation of dance skills — and from there, the sky's the limit! The more you practice, the stronger your foundation will become, and the easier it is to advance in the dance form. It's never too late to learn a new dance style! Whether you're an absolute beginner or have some previous experience, BellyUp has a class to suit every level. At BellyUp, you'll find a supportive and welcoming dance community, amazing women to dance with from all walks of life, and a place to belong and call home!
bellyup.ca
info@bellyup.ca
2061 Pine Street, Lower Level, Burlington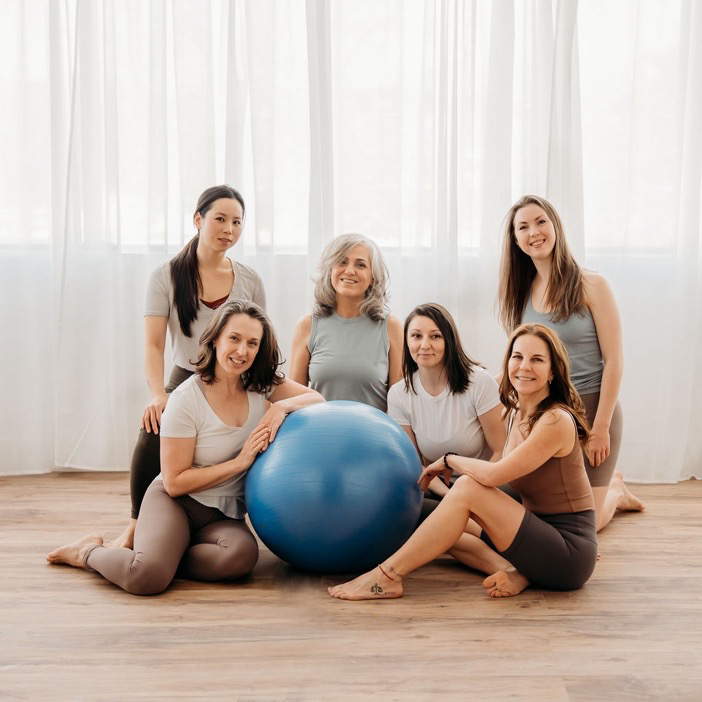 The Cornerstone Pilates
Uniquely designed for cancer survivors and those who have undergone surgery, The Cornerstone Pilates is a 'cornerstone' in our community. Their clinical, personalized programs are tailored to individuals and their specific needs. The Cornerstone Pilates staff's compassion, combined with their personalized approach will help support you in your journey as you work towards becoming "you" once again.
Top Pick For Cancer Survivors: Pilates
The Cornerstone Pilates' clinical program is designed to assess where the client is at by creating an individualized program. The objective is to help you find range of motion in your body post surgery and/or treatment. The program targets the diaphragm to restore breathing mechanics, the inner unit to support the low back and torso, the shoulders and scapula to regain movement caused by restrictions from scar tissue caused by the surgery or trauma due to the body protecting itself. The purpose of the program is to deliver measurable goals by improving range of motion through movement, thus enriching one's quality of life. A top-pick studio for cancer survivors, Cornerstone supports and restores the body as a full system.
905.631.8352
thecornerstonepilates.com
5-4170 Fairview Street, Burlington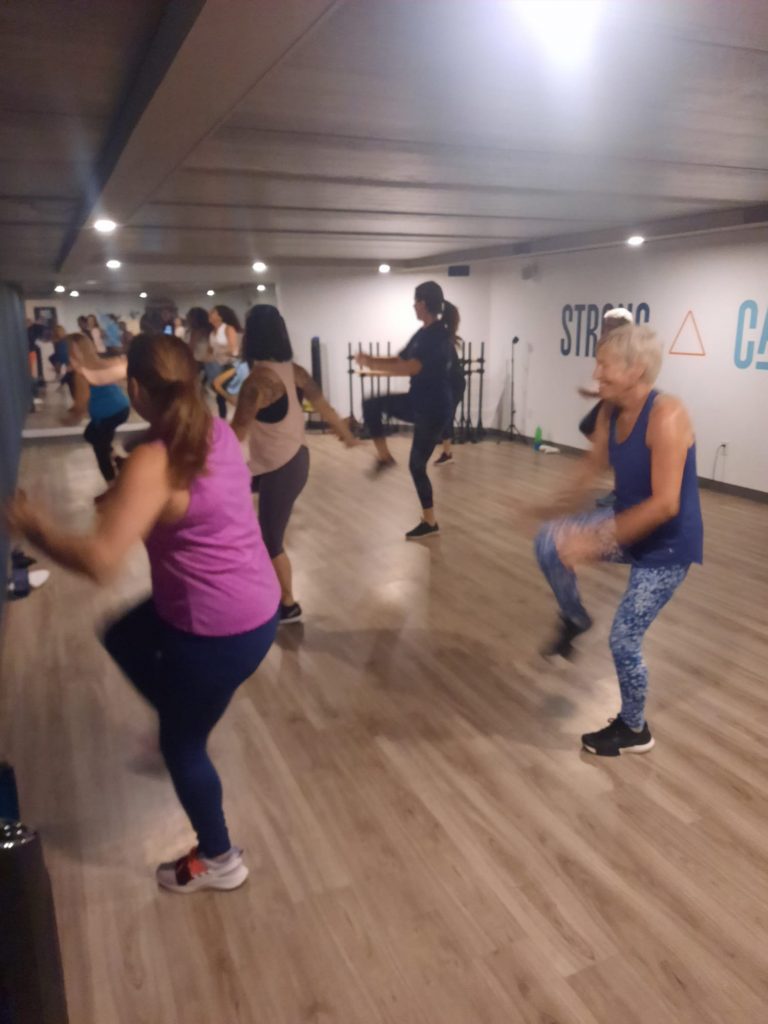 Free2Be Wellness
After 20 years of corporate burnout and a fleeting pandemic, Buket Necip, realized how much she truly missed her family, and, even more importantly, herself. With a degree in Health Sciences and a passion for fitness and coaching, Buket founded Free2Be Wellness, an exclusive health studio that offers a personalized wellness journey. A unique take on wellness, Free2Be has transformed and elevated the outdated "gym" experience, creating instead a fully-equipped training studio that also offers float therapy, mindfulness and meditation practices, nutritional counselling, and an atmosphere of support and acceptance.
Our Pick For Zumba
Free2Be's Zumba® program is a beloved staple at the studio, featuring a contagious blend of Latin and international rhythms that provides a fun and effective workout to a global community. Zumba® Fitness is a global lifestyle brand that fuses fitness, entertainment, and culture into an exhilarating dance-party workout. Coined "fitness parties," Zumba classes blend upbeat world rhythms with easy-to-follow choreography, which provide effective, total-body workouts. Zumba instructors, Sebrina and Lou, will have you smiling, and laughing, all while burning calories. In this judgment-free and inclusive studio, you're safe to be yourself as you discover and strengthen your body, your mind, and your soul. Ask how you can try a free class!
905.689.3888
free2bewellness.com
312 Dundas Street East, Waterdown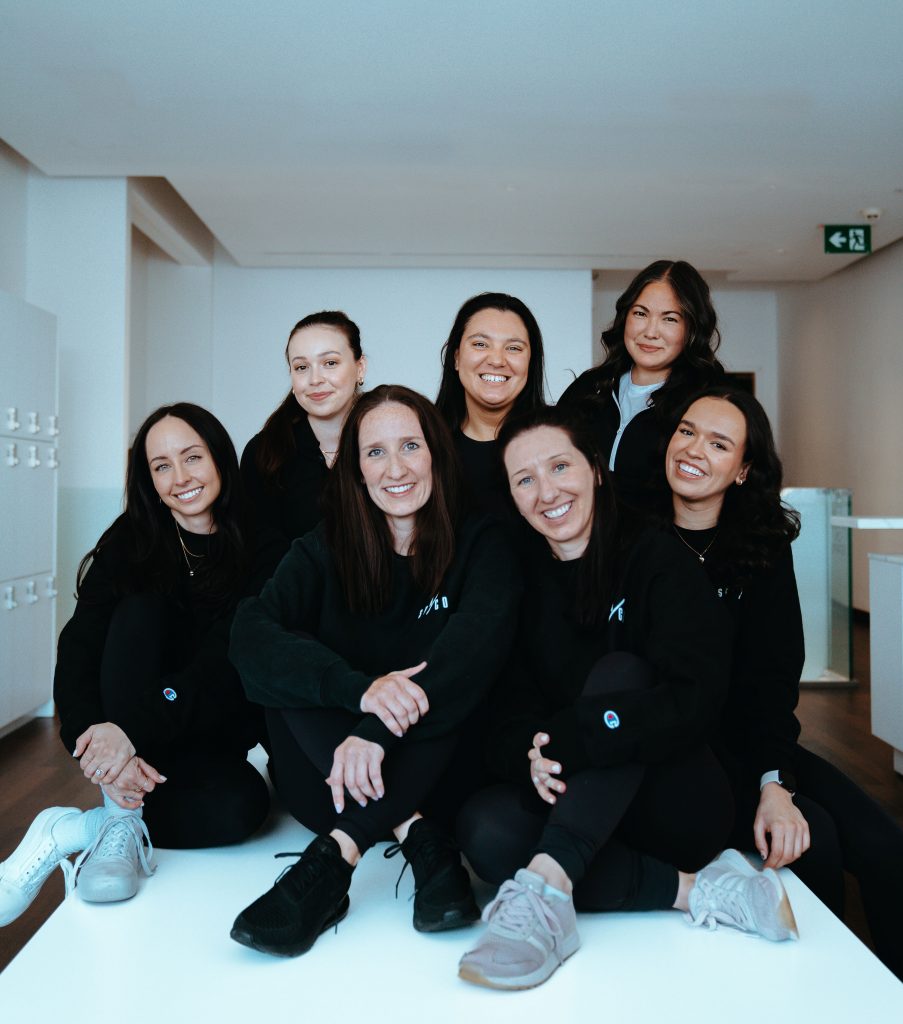 SPINCO Oakville
Our spin classes are 50 minutes long, combining cardio, upbeat music, and fun for an intense full body workout! Our mantra is "One Team, One Bike" which signifies the importance of community and working together to achieve our goals. Our team and riders are considered family and you get a sense of that as soon as you walk through our doors. The studio is a place where everyone is welcome no matter what your fitness level is.
New Rider Tips
First class is on us using promo code: SPINCOLOCAL. Just make an account at SPINCO.ca and put a one class card in your cart, then enter the promo code at checkout.
Spin shoes and towels are included with each class, just come in your workout gear and bring a water bottle and we will take care of the rest!
For your first class we ask that you come to the studio 15 minutes early aswe will take you through bike setup to ensure you are ready to ride!
905.330.7085
SPINCO.ca
229 Lakeshore Road East, Oakville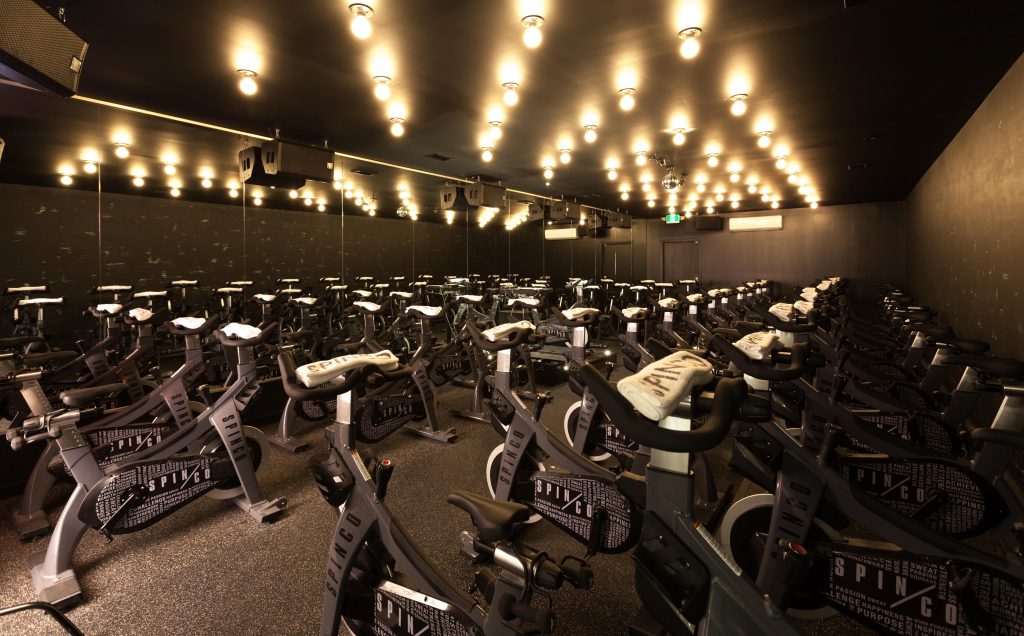 Jazzercise Oakville
Jazzercise is the original dance party work out. Founded in 1969 by Judi Sheppard Missett, Jazzercise has been the innovator in fitness for 53 years. 8,500 franchisees offer Jazzercise classes in 25 countries around the world. If you are looking for a fun way to get fit, Jazzercise was created for you. Blending dance cardio with Pilates, yoga, kickboxing and strength training, one 55-minute session can burn up to 800 calories. The results? Long, lean muscles and an undeniable mood boost.
Top Picks For Jazzercise
Get a fun and effective total-body workout that works for all ages and fitness levels. Certified Jazzercise instructors guide you through cardio and strength routines that leave you glowing from the inside out.
A variety of formats will keep your workout fresh, fun, and challenging too. All the routines in our Dance Mixx, Interval/Fusion, and Strength classes are carefully choreographed, and reviewed by an exercise physiologist. A safe and effective workout is our priority.
DANCE MIXX: This top 40 dance workout mixes modern moves with strength training. Dance Mixx targets the 3 major muscle groups for a full-body workout.
INTERVAL/FUSION: Equal parts circuitbased bursts of cardio and strength training, this workout carves your body into the shape you strive for.
STRENGTH 45/60: Sculpt lean muscle through weight and resistance training for a tight, toned physique in 45 or 60 minutes.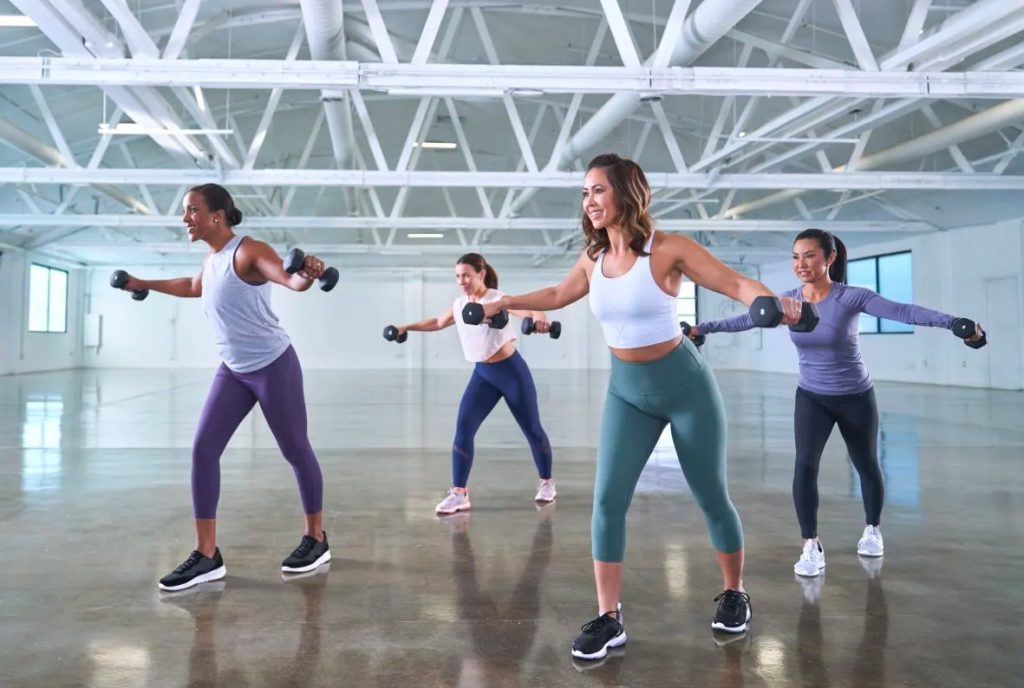 Find our full schedule
JAZZERCISEOAKVILLE.CA
oakvilleonjazzercise@gmail.com
There are two Jazzercise locations in Oakville
LOCO DANCE COMPANY
9-407 Iroquois Shore Rd, Oakville
GLEN ABBEY UNITED CHURCH (in the gym)
1469 Nottinghill Gate, Oakville
We offer classes every day of the week, both mornings and evenings.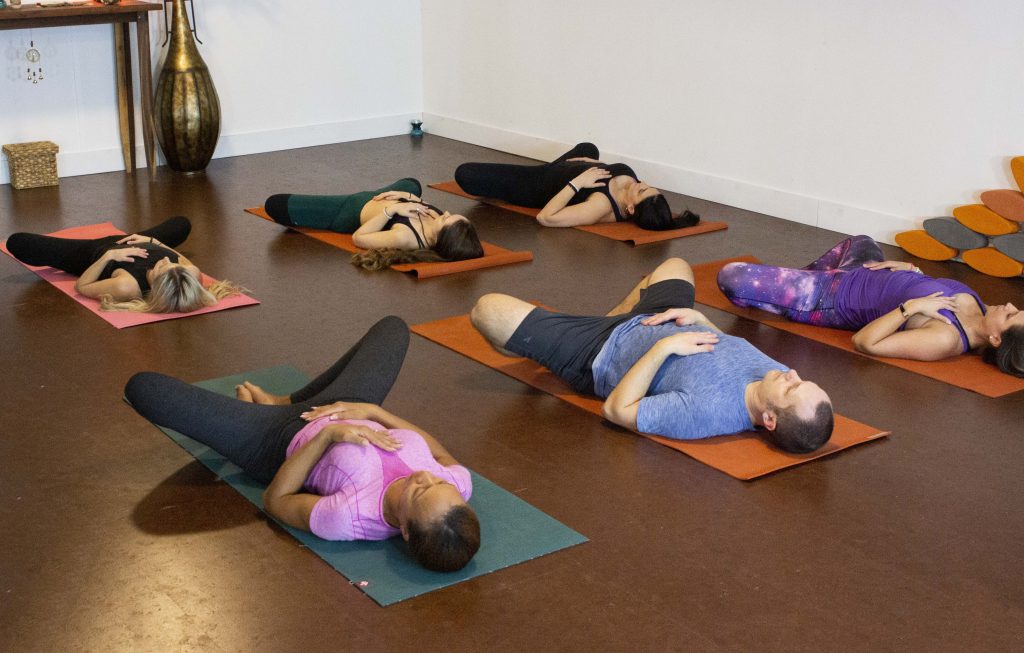 Sadhana Yoga
Located inside the Burlington Fitness and Racquet Club, students refer to this studio as a "hidden gem." From the welcoming reception area to the studio with warm cork floors and infrared heating, you will quickly settle into Sadhana's cozy space. Upon arrival, you'll be encouraged to take a few moments to meditate and rest before practice. Sadhana's experienced instructors will then guide you through the practice, with a focus on proper, safe alignment and breath. Class ends with a cool eucalyptus cloth, leaving you feeling refreshed and relaxed!
Top For All Levels of Practise in Yoga
Whether you're a beginner or an avid Yogi, Sadhana is a welcoming, inclusive, and safe space for all to learn and develop the fundamentals of yoga practice. Offering a variety of classes from Restorative to Yin Style Stretch to Hatha Fusion and Yogalates (a Yoga and Pilates fusion), Sadhana has something for everyone – and can even accommodate those recovering from illness or injury. Classes are daily, including evenings and weekends! Plus, Sadhana is a Yoga Alliance Accredited Yoga Teacher Training School and offers a 200 Hour Yoga Teacher Training each year to those looking to deepen their practice and expand their knowledge of yoga or become yoga instructors! Join a group, or one-on-one session, or even bring Sadhana into your workplace or community.
905.336.4232
sadhana-yoga.ca
1233 Dillon Road, Burlington