I was a band kid. Yup, I went to band camp. I played clarinet and saxophone in a jazz band, a symphony, and even a marching band. So, when my 7-year-old expressed interest in music, I assumed it was genetic. Except he didn't want to play the clarinet. He wanted to play drums or guitar – "the cool instruments, Mom." I think the piano is pretty cool, too – I mean, look at Elton John.
Aside from being cool, though, music has many benefits for children, from aiding in the development of language skills, to strengthening cognitive functions such as planning and working memory, to building self-confidence. One 2004 study by E. Glenn Schellenberg at the University of Toronto at Mississauga found an increase in the IQs of six-year-olds who participated in weekly voice and piano lessons.
My search for music lessons first led me to Waterdown Music Academy. This music studio offers everything! They include piano, guitar, bass, flute, and drum lessons for children and adults, and even have voice and ukulele lessons. Lessons are one-on-one with professional musicians either in-person or online. While age 6 – 8 is typically the sweet spot for learning an instrument, Waterdown Music Academy starts their lessons at 5 years old. Whether you want to learn Beethoven or Elton John, they've got you covered… their teachers love to help students learn their favourite songs! Students will learn fundamentals such as reading music, technique, and theory.
If your child isn't set on an instrument, TipToe Music in Oakville offers an interactive Rhythm Kids class for ages 4 to 8. This class explores music through games, rhythm pattern play, and drumming. Kids sing, dance, and jam to rhythms inspired by worldwide musical traditions.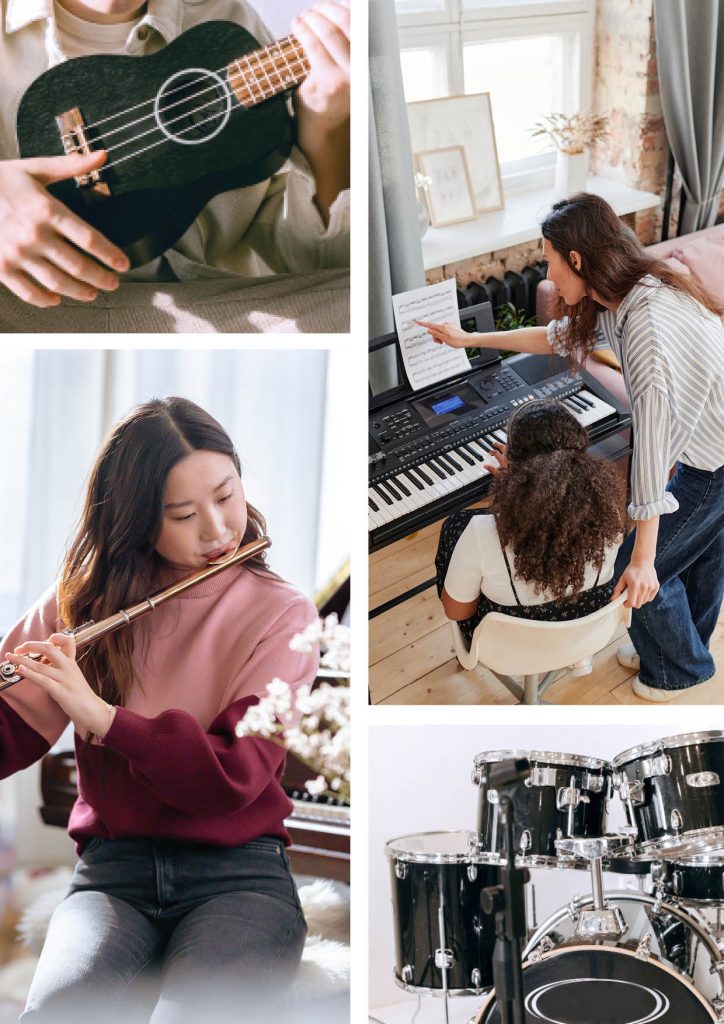 Two music schools that have been around for quite some time are Burlington's Academy of Music and Oakville's Academy of Music. These schools offer private music lessons for piano, guitar, drums, violin, voice, and ukulele, and also some woodwind instruments including flute, saxophone, and clarinet. Piano classes begin as young as four, and guitar and drum lessons start at six. Both schools offer optional recitals twice a year. They also have a rewards program called the music ladder system, providing students with cool coloured wristbands and certificates for passing music tests.
In my search for my 7-year-old's request for "cool," I found Rock This Way! School of Rock. If that doesn't sound cool, I don't know what does. With locations in Burlington and Oakville, Rock This Way takes a modern song-oriented approach to music lessons and throws out some cool alum names. The school's founder managed Hall of Fame guitar player Rik Emmett from Triumph and drummer Chad Smith from Red Hot Chili Peppers. Rock This Way teaches students their favourite songs, whether Taylor Swift or Metallica, citing on their website "forget Twinkle Twinkle." With guitar, drums, and keyboard lessons, Rock This Way encourages students and instructors to jam together. Instructors are multi-instrumentalists, so guitar students can jam with a pianist, allowing students to practice alongside other musicians and really feel like a rock star.
Finding the right music school for your child is a bit like finding the right instrument. Visit a few and see which one is the right fit for your child. Regardless of which school they choose to study in, take it from this former band geek – there's no doubt learning a musical instrument will provide your child with skills and memories that will last a lifetime.
by Lisa Evans
Local Links
Waterdown Music Academy
waterdownmusicacademy.ca
TipToe Music
tiptoemusic.net

Burlington Academy of Music
musiclessonsburlington.ca

Oakville Academy of Music
academymusic.org

Rock This Way School of Rock
rockthisway.ca