For the last two years, we've been dreaming of leaving our homes, travelling to faraway places, and begging for a change of scenery. However, if there is one time of year when many of us are okay with staying at home, it's the holidays! We can go right back to our visions of airplanes and beaches in January, but as the holiday season draws near, let's go back to enjoying the comfort of family, community, and tradition. Our hometowns have been here for us all along, and they want to celebrate this time of year with us once more. The local BIA's have many events in store for us to ensure our holidays at home are as special as ever.
Bronte Village
At Home in Bronte (winter edition) is back, and the chairs are even more beautiful than ever. Tour professionally painted Muskoka chairs all over the village. If you missed it last year, you'll definitely want to see how Bronte has taken this summer tradition and winterized it! 
Take in the beauty of these chairs that symbolize a piece of our home, and search for the hidden lighthouse icons on each one. They will be set up throughout the business district and Bronte Heritage Waterfront Park all winter. 

Downtown Oakville 
The historical buildings, charming shops, and cozy, contemporary restaurants of downtown Oakville make it a great destination. Add in their holiday light display and signature 20 ft tall ribbon tree and you've got a perfect combination for a festive outing. 
While you're downtown, Santa needs your help. Check out his new augmented reality scavenger hunt that promises one lucky player $1,000! All you have to do is find eight characters hiding at secret locations throughout Downtown Oakville. Keep an eye out while supporting small businesses and checking off gifts on your list!
Mark your calendars for Fridays Downtown this December as participating restaurants stay open late, offer special savings, giveaways, live music, and special surprises!  
Follow Downtown Oakville on social media to get updates, receive personalized gift ideas, and have a chance at winning daily gift-aways!

Downtown Burlington 
For many, the Burlington parade has been a staple event we look forward to, and Santa hates to disappoint. After an overwhelmingly positive response to his surprise neighbourhood tour last year, he has agreed to return! Santa will make his way throughout the town in his antique fire truck once again this year on December 4th and 5th. Should you spot him, be sure to use the hashtag #SpotSantaBurlON to spread the magic and reveal his current location! 
The Burlington Lakeside Festival of Lights has been an iconic landmark of the holiday season for a quarter-century. The display will return this year beginning on November 26th at Spencer Smith Park. Take in the magic of the waterfront with a stroll through this spectacular themed display beginning at 4 p.m. every day until midnight. Want to see it on Christmas Eve, Christmas Day, Orthodox Christmas, or New Year's Eve? The lights will stay on all day and night on those days.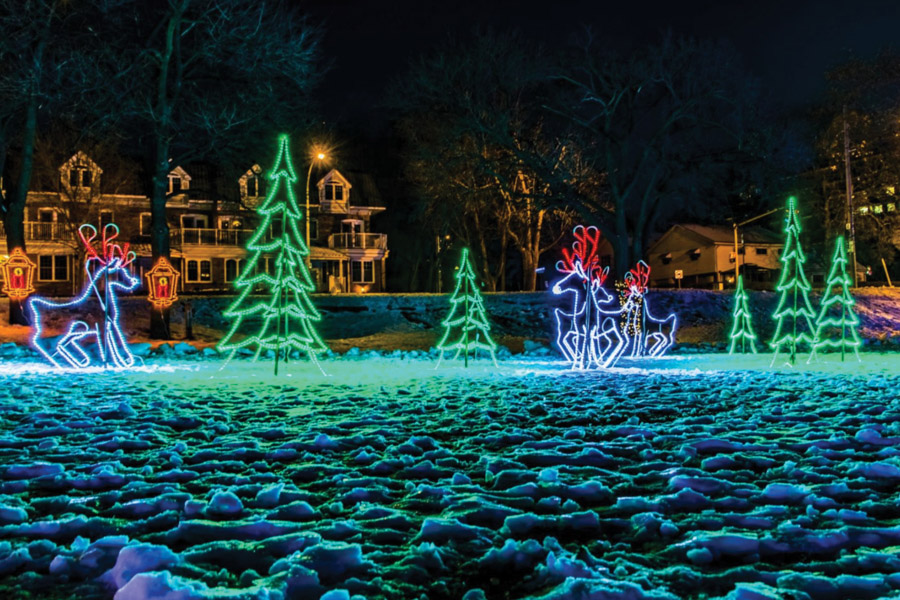 Word has it a Christmas market might be coming our way. The city is discussing a four-day market from December 9th to 12th in the lot between Pearl and Elizabeth streets. They hope to highlight the local businesses while showcasing the talent and strengths of our amazing community. They may even have music provided by the Sound of Music Festival! 
With so many exciting things happening in our own hometowns, surely no one would dream of going anywhere else… at least not until January!