There's nothing like the fresh smell of apples, cinnamon, and sugar in the fall – baked in a pie, mixed in with some oats, and even topped with ice cream. But there's one apple dessert that really frits the bill this season – golden, crispy, and warm apple fritters. They're essentially an apple donut; apples dipped in a simple batter then deep-fried in oil. The real magic happens after they're garnished with a light dusting of cinnamon and sugar. While fritters are relatively easy to make from home (and the perfect way to wrap up a day at the orchard), many local cafes and bakeries
The Sunshine Doughnut Co., Burlington
This Burlington doughnut shop didn't arrive on the scene quietly in 2016. In fact, when the owners of Son of a Peach Pizzeria, Kim and Bartholomew Nadherny, staked out their location with a giant freestanding doughnut, no one could ignore it!
Almost half of Sunshine Doughnut's customers travel from the GTA for the enormous doughnuts and oversized apple fritters. The $5 fritters are made fresh daily with hand-chopped local apples, topped with cinnamon sugar and a vanilla bean glaze. They're made in small batches, and you are advised to order ahead. They seem to sell out.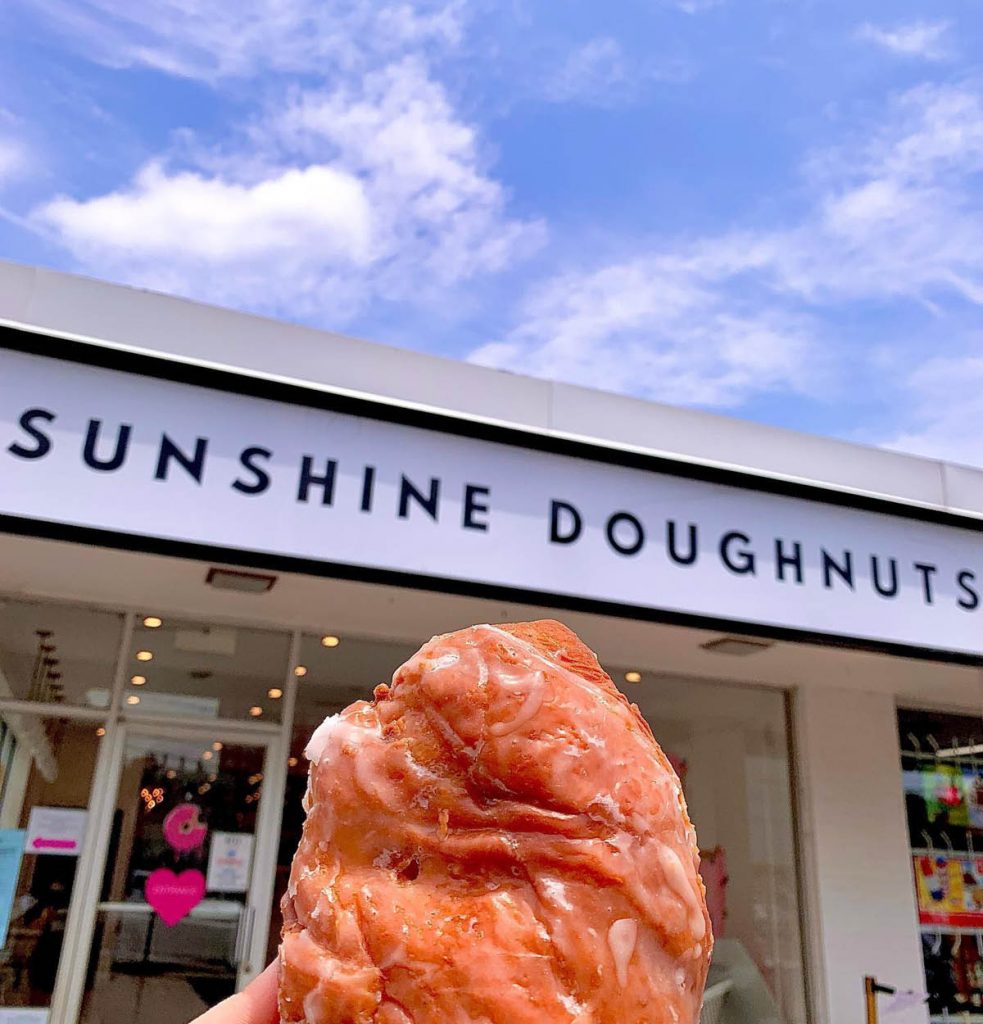 Aveiro Bakery, Oakville
Aveiro Bakery in Oakville uses authentic Portuguese recipes passed on by generations. They offer artisan bread, custom cakes, and breakfast treats. Head Baker and co-owner Ricardo De Oliveira brings 15 years of experience to the bakery. Co-owner Priscilla De Oliveira is involved with day-to-day business matters, including customer service. Baked fresh every day, customers rave about how delicious the $3.75 apple fritters are at Aveiro's.
Wallflower Doughnuts, Oakville
Wa llflower Doughnuts is perfectly situated within the Tribeca Coffee shop in Downtown Oakville. A co-brand for the six-yearold company, Wallflower Doughnuts' co-creator Monika Kruszka launched her tasty line of treats in July 2021. Her signature style has been to adorn her doughnuts like a piece of art. Recognizing that an apple fritter requires its own identity, her unique version dons a Southern Comfort flavoured glaze, unlike any other, and they sell them for $50 for a baker's dozen.
Monastery Bakery, Oakville
Mo nastery Bakery has been tucked away in a small strip mall in Glen Abbey in Oakville since 1990. This popular shop started small and kept expanding over the years, evolving into a one-stop shop for unique and essential food needs, as well as providing handmade bread, pizzas, pastries, cakes, and more. Everything is baked fresh in-house, and many agree that Monastery's $1.69 apple fritters are at the top of the list.
Sweet Paradise Bakery, Waterdown And Hamilton
Sw eet Paradise Bakery has two locations – one on the Hamilton Mountain and the other at the edge of Burlington and Waterdown on Dundas Street. They describe themselves as an authentic Italian scratch bakery. They use no preservatives or additives, and have been known for their breadmaking and baking for more than 30 years. The owners advertise that their $1.25 apple fritters are the best in the city!
Copper Kettle Café, Waterdown
Copper Kettle Café in Waterdown identifies itself as "Your Waterdown Café with Fritters" on its website. Family-owned and operated, this shop offers a full food menu for patrons to sit in and enjoy. They also serve specialty coffees from local suppliers Firebat Coffee Roasters and Reunion Coffee. You can enjoy a great cup of coffee for $2.75 and spoil yourself with a fritter at the same price. If you adore the pillowy apple delight as much as I do, make an outing out of it. Try one a week and let your tastebuds decide.
by Michele Bogle