The holiday season is here, and it's time to dust off that box of festive decor and create a little winter magic inside your home. It's also a great excuse to go shopping for high-quality, locally-made holiday décor — after all, these pieces often become family heirlooms that bring back memories year after year. So, don't be a Scrooge — shop local, build your own collection of sentimental pieces and let your home sparkle with holiday joy. Here are some suggestions to help get you started.
Trim your tree
Ornaments can be passed on from generation to generation, so don't be afraid to invest in a few (or a few dozen) you really love. You may be drawn to classic Santa or snowman pieces, elegant gold and silver accessories, one-of-a-kind crafty ornaments, or quirky bobbles that make you laugh (we're talking about you, naughty ornaments, and festive pickles). You may want wooden garlands, family-friendly cloth ornaments, religious symbols, or something that complements your home's colour palette. Anything goes — let yourself explore and find out what you're drawn to. Your Christmas tree doesn't necessarily need to look like it belongs on the cover of a magazine — it just has to feel right. We recommend starting at a local shop like The Handmade House (with locations in Burlington and Dundas), Rustic Daisy's in Waterdown, and The Artisanville, located inside Burlington Centre. They offer a wide selection of unique, handmade ornaments that make perfect gifts for anyone on your list (including yourself).
Magic on the mantle
If you're lucky enough to have a classic fireplace mantle, make the most of it! And if not, mimic the same look using a console table, the top of an upright piano, or even a floating shelf. Consider using some greenery like garland from Centro Garden in Burlington, along with some candles, festive table top accessories, and olive wood accents. Centro also carries beautiful barware, textiles, and more items that are functional as well as stylish. You can also shop for festive mantle pieces at Lakeside Livin' in Bronte, which has a great selection of beautiful stockings, adorable gnomes, and elegant ornaments.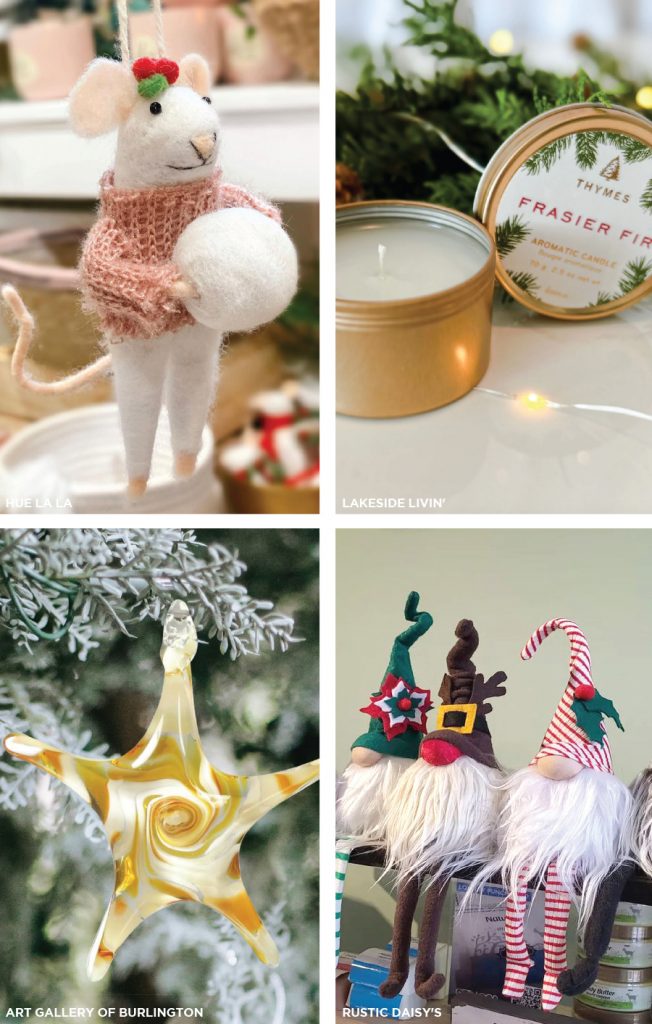 Spruce up your glassware
A holiday cocktail tastes even better in gorgeous glassware, and Hue La La — a by-appointment boutique in Burlington — has some excellent choices. Look for beveled, smoked, coloured, or even novelty glassware that brings you joy while impressing any guest. A decanter will look beautiful on your table and make any wine taste just that much better (even if it came from a box). Add some pottery mugs from the Art Gallery of Burlington for those booze-infused evening
coffees or hot chocolate, and you'll be ready to let those sleigh bells ring. Hue La La also carries festive napkins, quirky ornaments, gorgeous tabletop decor, and fantastic hostess gifts. Cheers to shopping local, and happy holidays!
Add A Festive Touch to Your Bathroom
The best play to spread holiday cheer is by sprinkling it everywhere – even in the bathroom, which is really one of the best spaces in your home to make the festive season fun. Lakeside Livin' carries novelty items like Santa-themed toilet paper, along with the much-loved holiday scent Frasier Fir (available in candles, incense, soaps, and varieties). At Rustic Daisy's, where everything is made in Canada, you can find winter-scented soaps, holiday candles, and even holiday-themed tea towels to add a special touch.
While Santa toilet paper may not become a holiday heirloom like a hand-made ornament, it may just become a family tradition. You never know what will be passed down for generations.
By Erin Pepler