Every home has it: dead space without a designated purpose. There's the hall closet where you toss shoes, backpacks, and coats, and…is that a pair of ski boots? Plus, the spot under the stairs where you house bins of outgrown baby clothes and keepsakes…just in case. You might have grandchildren one day. These spaces, while often underutilized, are valuable real estate in your home.
Dominique Rutledge of Rutledge Improvements has transformed underutilized spaces like these into fun and functional spaces. Most recently, Rutledge worked on our Editor, Anneliese Lawton's basement, turning the empty wasted space under the stairs into a fun playhouse for her three children (all under the age of 6).
"We cut it all open, drywalled, trimmed it out, made an entranceway," says Rutledge. To make it look like a house, Rutledge added a shiplap to the front of the entrance and a window with a hanging basket to put a pretend garden. A platform at the upper level of the stairs provides a fun, enclosed fort area below, and a ladder allows the kids to use the platform as a lookout.
Rutledge says under the stairs is one of the most common spaces homeowners like to transform for storage solutions, but this is the first time he's used the area to add functional living space to the basement.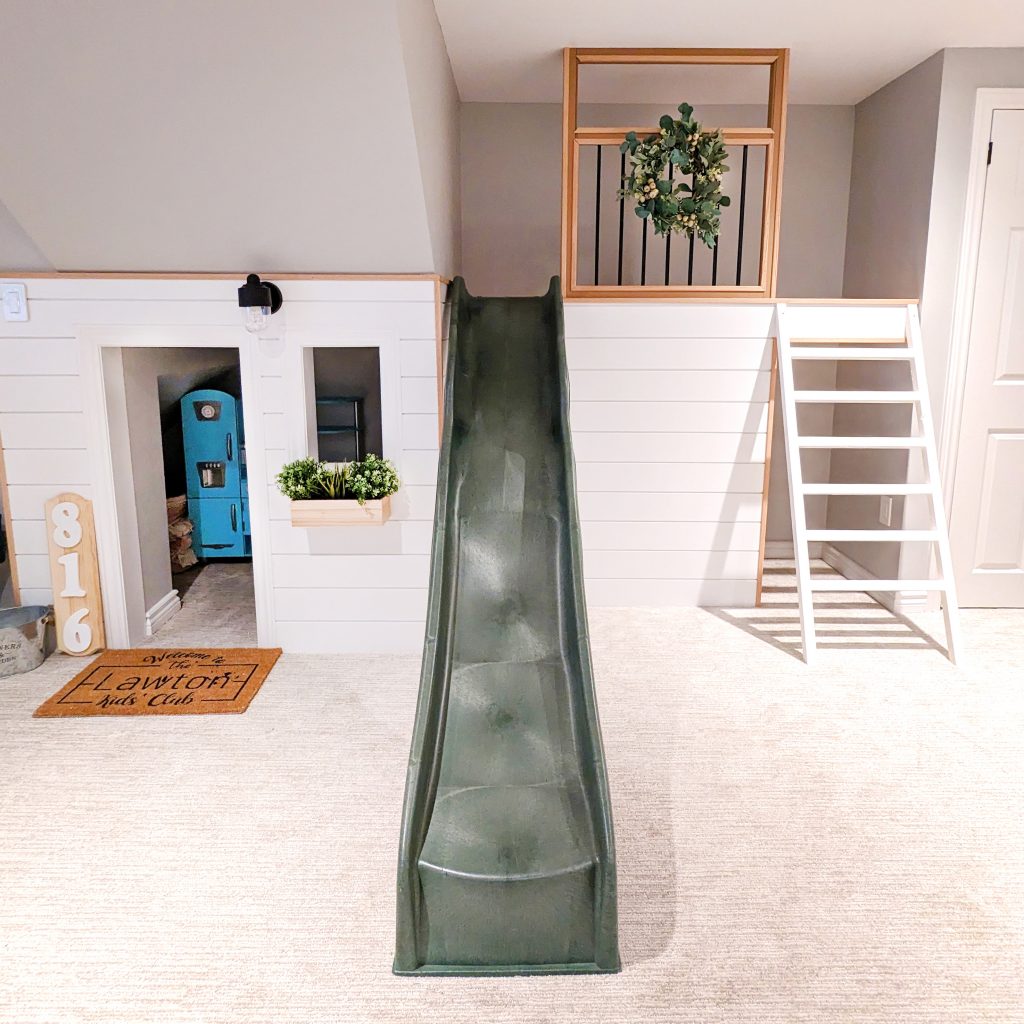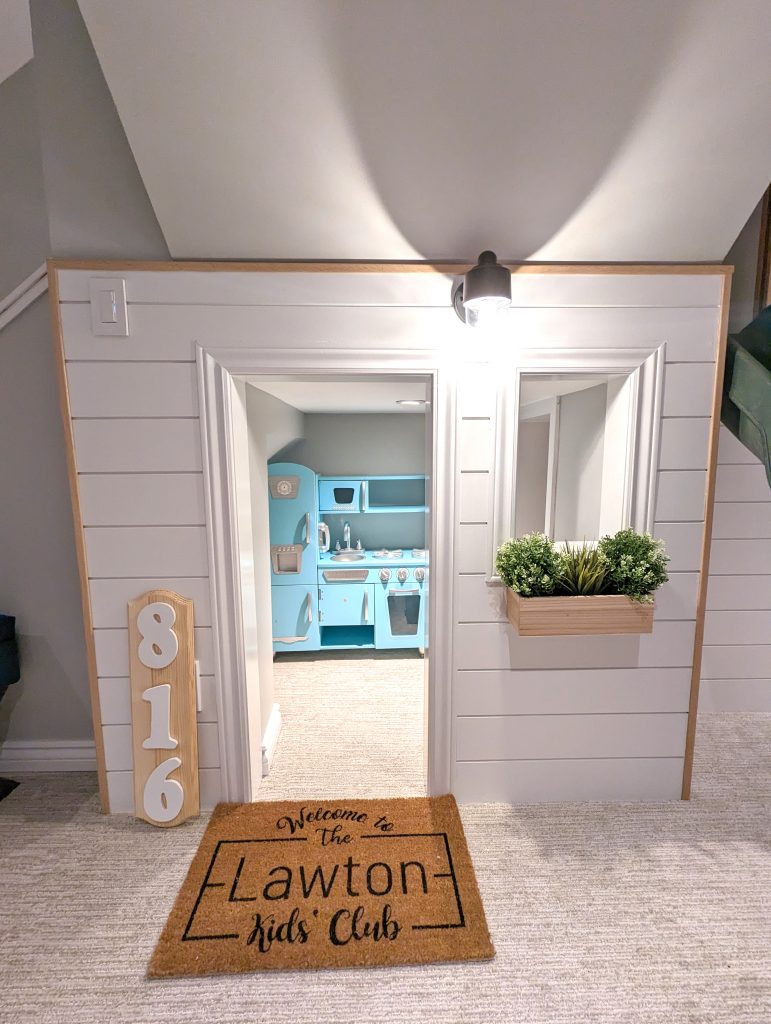 From a design perspective, Katie Campbell from Katie Campbell Interiors & Design says that her goal is to always maximize space and functionality in a home. Adding, "We hate wasted or unused space. At a recent project, we were redoing the staircase – so we decided to leave it open underneath and create a built-in bench seat. We added a niche in the underside of the stairs to be used for books, a wall sconce above, and a comfortable seat cushion…it became the perfect reading nook for their kids." When designing new builds, Campbell notes that the elimination of wasted space should be considered during the initial design stages, such as making rooms larger to remove dead corners.
But if you've purchased a home that already has awkward spaces, Rutledge has some fun recommendations. He once created a wine cellar under a set of stairs. With six feet of space at the highest point, the wine cellar was tall enough to be a walk-in. "It was custom with glass on the outside, all cedar on the inside, and custom wine bottle holders," says Rutledge.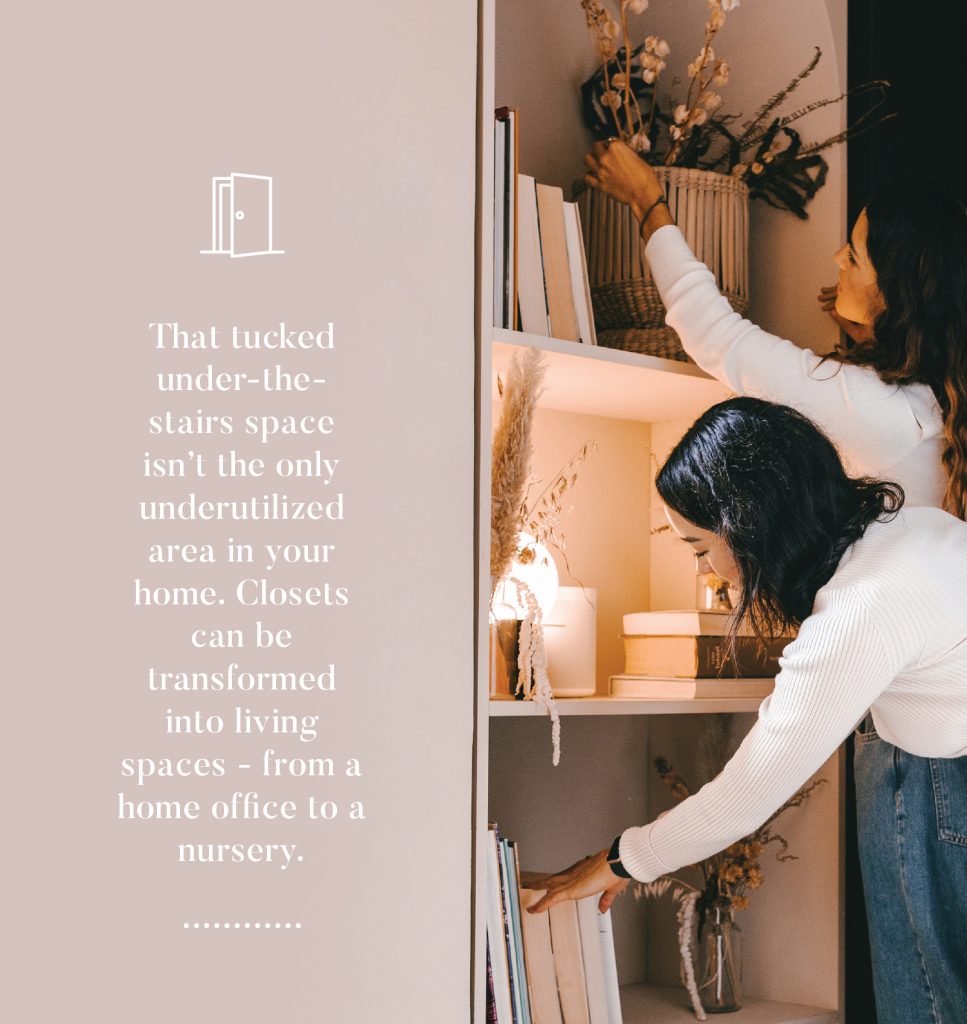 A closet can provide a perfect solution for families who don't have a spare bedroom to house a nursery. By removing the walls on either side of the door to widen the entryway, you can easily fit a crib. Having the crib within steps of your bed is not only a convenient space-saving solution but means you don't have far to go for all those late-night wakings.
If you've always wanted a home office or crafting space but don't have a spare room, a closet can provide the ideal workspace. Add a desk and some floating shelves, and some fun wallpaper for an inspirational office. Simple wall-mount Kallax drawers are a great storage solution for supplies that you want to keep hidden away. Rutledge suggests opening up the walls when removing the closet door so your office doesn't feel closed in and instead becomes a nook, an added extension of the room's space.
By utilizing tucked-away spaces, you can reclaim square footage into something cozy, functional – and completely unique to your needs.
Local Links
Rutledge Improvements
rutledgeimprovements.ca
Katie Campbell Interiors & Design
katiecampbellinteriors.com
By Lisa Evans