If you are planning a night out with friends, the chances are your socializing plans seem too predictable. Shake it up. Move the movies aside, put the restaurant meal to rest, and try a paint night. Where else are you able to hold a paintbrush in one hand and a cocktail or vino in the other? Whether it's a private party, going solo or as a group, local paint nights can be a refreshing change from the ordinary.
Canvassing for Creativity
Although there are several franchise-based paint nights in Halton, there are also some independent artists who have created their own businesses. Teresa Parente was inspired to launch her business "Cocktails & Creations" after a trip to Los Angeles, where paint nights were popular. When she returned home, she put the idea into the works and launched in 2013.
With a background in art from both Sheridan and Mohawk College,
it was the perfect business idea. Parente runs paint nights in Hamilton's Lincoln Alexander Centre and also at the King's Arms, downtown Oakville.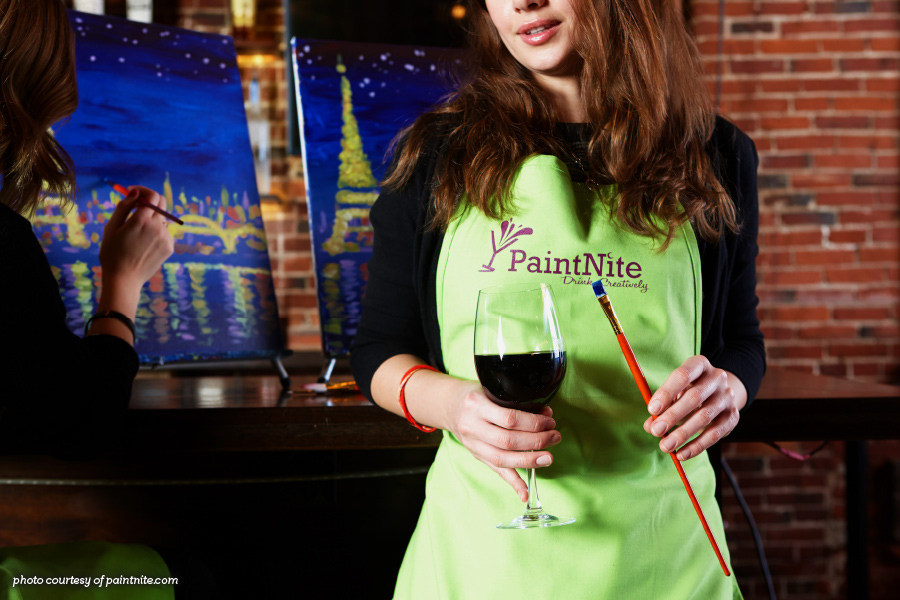 Veniessa Kiddey, owner of The Wobbly Canvas, is a mostly self-taught spiritual artist who operates her events in her home's art gallery as well as at The Purple Heather in Burlington. Part of her objective is to support local charities by donating proceeds from her events. One of her events in May is dedicated to Ralphy's Retreat, a potbellied pig rescue centre in Fort Erie.

Carefree Abandon
As adults, too often we squelch that carefree creative process. "Art is great for a person's psychological state because it releases stress," says Parente. Immersing yourself into the thought process of what's happening on the canvas is relaxing.  "They forget about their problems. I think the more people are creative in life they're going to have a better work life too – I think it helps you think outside the box."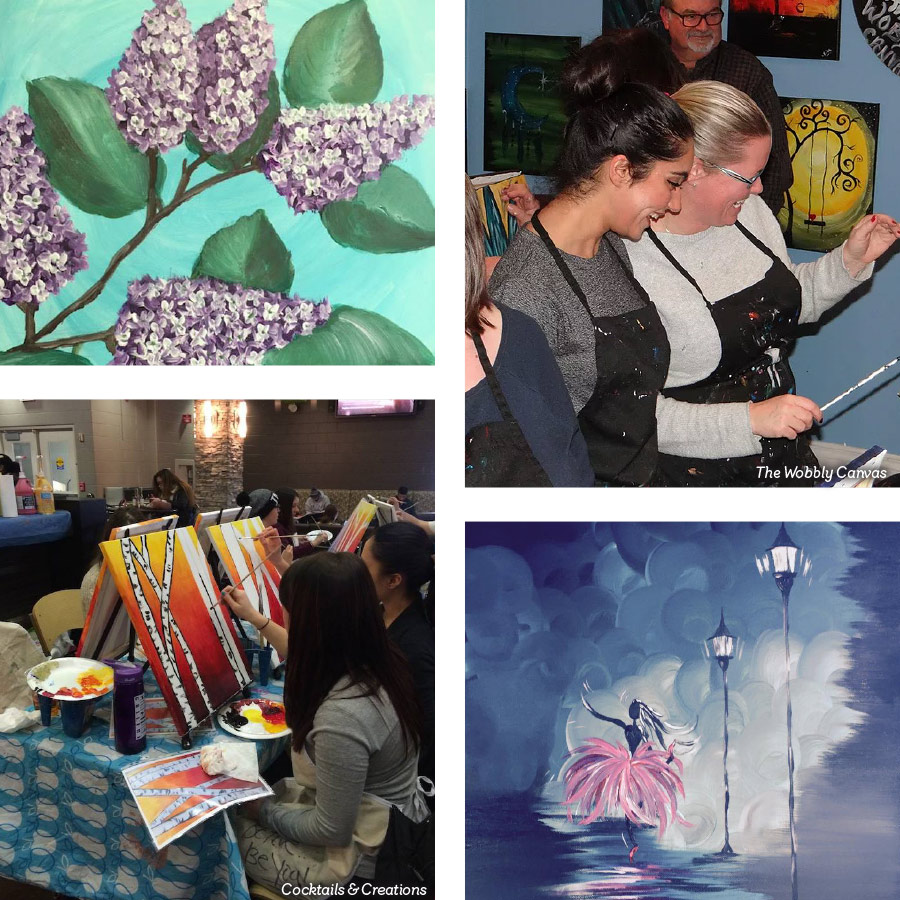 Another bonus is being able to try your hand at painting without committing to a bunch of classes. "There's a commitment involved with an art class and I think people can sometimes feel intimidated," agrees Parente. "Even when they come to our class they're intimidated at first until we explain everything step by step." A proffered glass of wine may also add a drop of mature courage. "Everyone's amazed at their results."
Make Friends, Make Art
As a refreshing way to socialize, paint nights with peers can compensate for the hold social media has over us. "It's a wonderful way to get together and a way of doing something outside of your comfort zone," Kiddey says. "It's a great way to meet new people, too. You're in a setting where everyone's doing the same thing with the same nervousness. Right away it creates a bond. I've watched so many people make friends."
In Kiddey's gallery, which holds up to 24 painters, it's OK to make a mistake. Even though her hardwood floor is covered in paint, she doesn't mind. "I don't believe that there's such a thing as a mistake in art. I want you to come in and know you can't make a mistake and you're creating something beautiful." When events are hosted in Kiddey's gallery, she insists that guests who imbibe have a
designated driver.
 Paint by Numbers
Regardless of the theme or what it is you'll be painting, each instructor will guide you step by step through the artistic process – with a break fitted in there somewhere to enjoy your glass of wine, which is included in the painting fee. "I try to do things that I like to paint and I also research what's trending on social media," explains Parente. "Sometimes I get ideas when I'm out in home décor stores because I want people to create something they'll want to hang at home."
Pick up a paintbrush, abandon your reserves, and see what develops on the canvas and how your creativity blossoms.
Article Written by Becky Dumais
Local Links
The Wobbly Canvas
thewobblycanvas.ca
Cocktails and Creations
cocktailsandcreations.ca
Paint Nite
paintnite.ca
Paint and Cocktails
paintandcocktails.com
Cocktails 'n Canvas
cocktailsncanvas.com