When Rachel Baker decided to open a small business, she chose an area where she had a lot of expertise – healthy eating.  She'd been following the Paleo diet for years and was a loyal believer, having reaped the rewards in weight loss and a higher energy level. The diet is based on the principle that people during the Paleolithic time thrived on a high protein, low carb diet of meat, nuts, vegetables and fruit.
Foods such as dairy products, grains, sugar, salt, alcohol and coffee are avoided and people with food allergies to dairy and wheat have found it beneficial. Rachel had been buying food specific to the Paleo diet from a Milton store and liked the food so much that she asked the owner about the possibility of opening another store in Burlington. The owner was receptive; however, while Rachel knew all about the diet, she knew little about running a business. She reached out to the Halton Small Business Centre who connected her with Futurpreneurs, a national, non-profit organization that provides financing, mentoring and resources to aspiring business owners who are between the ages of 18 and 39.

Since 2011, Futurpreneurs Canada has funded over 5,000 start-ups and 26 through partnerships with the Halton Small Business Centre. Stephanie Mazhari, the Centre's manager of entrepreneur services, says the financing from the program provides up to $45,000 (as a low interest loan) per business as well as other resources. But for most, it's the industry-leading entrepreneurs who provide the most value. "The mentoring piece will help sustain your business and make it successful from the get go," she says.
Baker received a $15,000 loan, which she used to set up shop in a Mountain Grove plaza in north Burlington. Her mentor was Elaine Slatter, owner of XL Consulting Group, who helped her develop a business and marketing program. Baker says she was especially helpful in providing tips for media coverage, including her idea to invite the Mayor to the grand opening in March 2015. Baker, who is 37, was pleased that Elaine invested so much of her time and energy    into their relationship. "I learned a lot and it wasn't just about getting the proper finances. It was about all those real life lessons that aren't necessarily taught in the schools," she says.
Baker's business, Primal Cravings, has been growing in leaps and bounds. She transitioned from serving meals to selling pre-packaged food in the store and online.  Sandie Kay, who ran the Milton store, closed almost two years ago and now works with Rachel as they decided the kitchen was too small and everything could be done out of Burlington. Their customer base is still growing and they have people traveling to the store from as far away as Windsor, Orangeville and Barrie. It's their menu that's attracted the large customer base, especially among those who are gluten intolerant, as they guarantee the absence of soy, dairy, grains, legumes and refined sugar.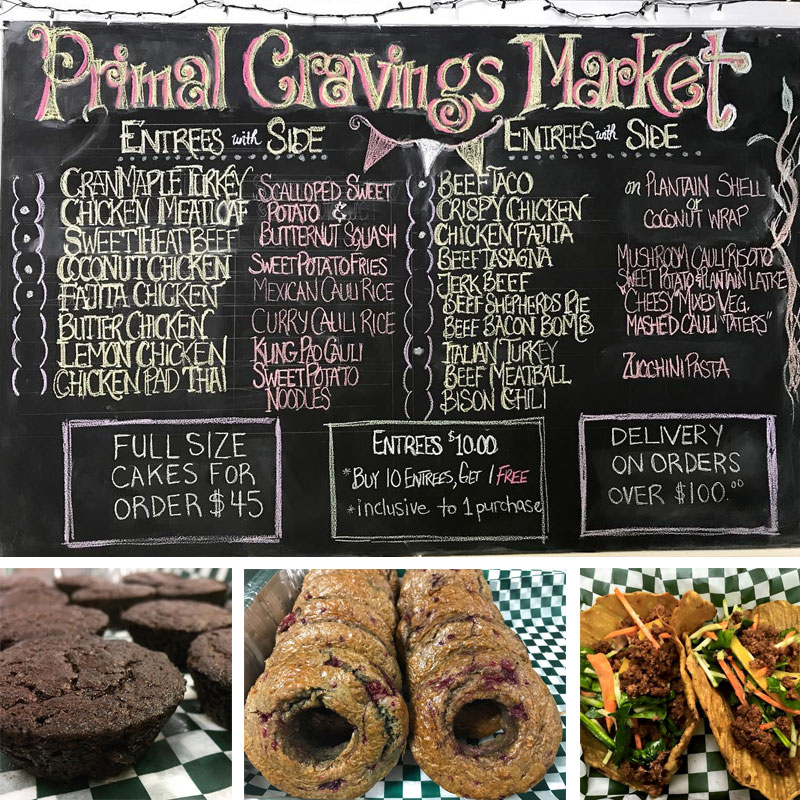 Many of their baked goods, like their chocolate cakes, are made with coconut. Their dinner menu includes beef zucchini lasagna with cauliflower mushroom risotto and coconut breaded chicken with sweet potato fries. "It's very rewarding. I'm still learning, but the Futurpreneurs really helped point me in the right direction," says Baker.
Halton also has a summer company program for youth entrepreneurs between the ages of 15 and 29 who want help setting up a small business. Participants in the program have started businesses in mobile peer-tutoring for students, selling skin care lotion, and pet sitting. Like Futurpreneur, the program provides hands-on business training and mentoring along with up to $1,500 to help with business start-up costs and up to $1,500 upon successful completion of the program.
If you or someone you know has a business idea germinating, the future looks pretty entrepreneurial.
Local Links
Halton Region
halton.ca
Futurpreneur Canada 
futurpreneur.ca
Primal Cravings Market, Burlington
#102 – 2188 Mountain Grove
primalcravingsfrozen.com
by Denise Davy