by Denise Davy
Nicole Paling snuggles two adorable kittens to her chest and smiles as she talks about the business of cat rescuing. Ben and Jerry, as she has named the kittens, are two of the 196 felines Nicole has rescued since setting up her group, Every Life Matters (ELM) two years ago.
ELM was born on impulse on a cold January night while Paling was reading Facebook and saw a post about a cat that had climbed into an old dryer outside of someone's door. "I read through all the comments and saw no one stepping up to help so I commented on the feed that I would go get him and bring him to safety," she recalls.
A few hours later, after fighting freezing cold temperatures and a stuck dryer door, Paling came home with a black and white male cat. What she didn't realize was how many more would follow. Over the past two years, whenever she's heard of an abandoned cat through social media or word of mouth, she has gone on a search and rescue through abandoned homes, woods, scrapyards…. you name it.
She recently hopped an eight-foot fence to grab five four-week-old kittens that had been abandoned. Her passion has opened her eyes to Burlington's feral cat problem and it's why she has all of the cats spayed and neutered before finding them homes. "I rely heavily on my village, and my followers who continue to encourage and support my efforts," she notes. Animal rescue groups fill an important role in the community by overseeing the care of abandoned animals. They're often run by volunteers, like Paling, who take on the medical expenses involved in healing the animals and having them spayed and neutered. According to the Canadian Federation of Humane Societies, there are at least ten million unowned cats across Canada. In 2015, 15,341 cats and 2,820 dogs were euthanized.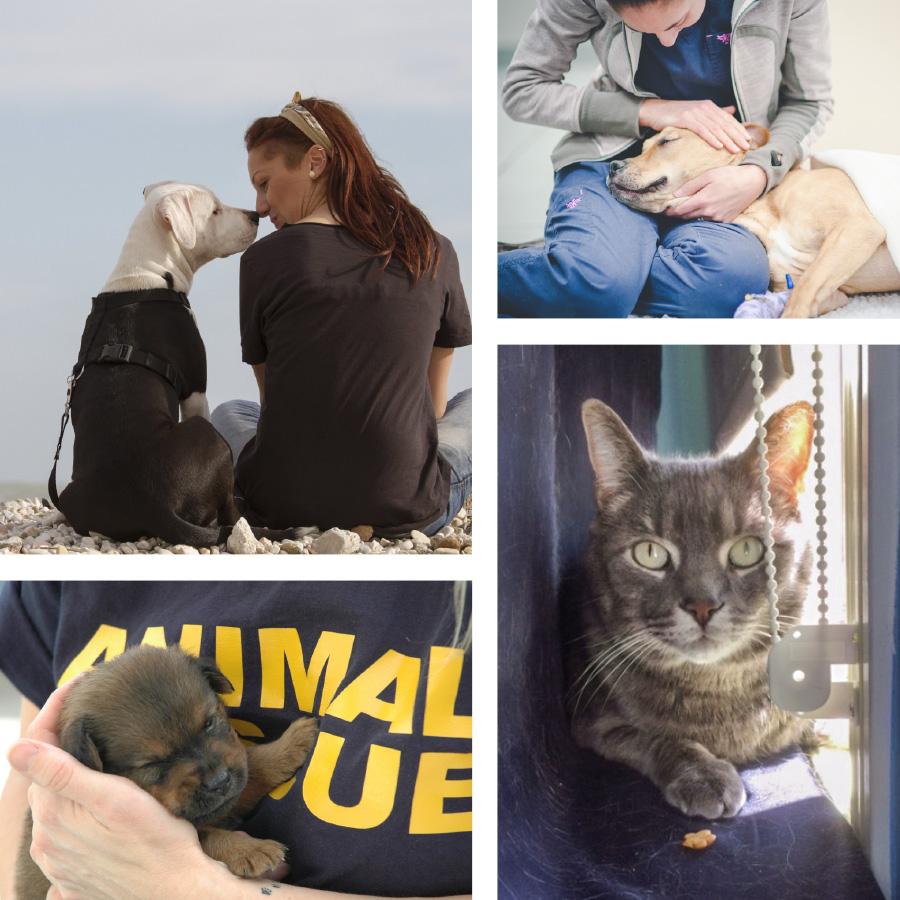 In Oakville, a large group of passionate volunteers form the backbone of The Dog Rescuers Inc. They've been rescuing and re-homing dogs since 2009, including their most "famous" rescue, a Great Pyrenees pup who was found a few months ago tied up in a bag inside a dumpster. Cupid – as they called him – was born with partial front legs and has now been outfitted with a prosthetic device that looks like mini-skis. They take in between 100 to 150 dogs a year, and facilitate more dogs getting into other rescues or humane societies.  President Joan Znidarec said they cover all of their own expenses such as gas and phone bills and raise funds to cover the dogs' medical bills through events like bake sales, art auctions and bowling parties.
In Hamilton, an abiding friendship combined with a love of animals lead to the formation of the Ladybird Animal Sanctuary back in 2011. Since then, Janine Stoll, Lisa Winn and Melissa McLelland have rescued 784 animals, including dogs, cats, rats and guinea pigs. The best friends also share a love of music and McLelland and her husband, 
Luke Doucet, form the songwriting duo known as Whitehorse. "We've all shared a passion for animal welfare and we saw a need in our community," says McLelland. Over the years, they've found 20 to 30 volunteer foster homes who they work with to rescue animals from high-kill shelters in the community. Every worker is volunteer, from the people who foster animals to those who adopt them.
They also rescue a lot of the smaller animals some shelters won't take, like rats and guinea pigs. "We've seen an incredible difference in the six years we've been a registered charity," she claims. McLelland says she and her friends felt they had no choice but to do something when they learned that high-kill shelters were bursting at the seams with unwanted pets who had been abused, abandoned and neglected. "It's been amazing to see everyone come together to help animals in need."
Local Links
Every Life Matters, Burlington
elmcatrescue.com
Ninth Life, Oakville / Mississauga
ninthlifecatrescue.org
The Dog Rescuers Inc., Oakville
thedogrescuersinc.ca
Ladybird Animal Sanctuary, Hamilton
ladybirdanimalsanctuary.com