Goat yoga. Heard of it? There isn't a pose named after these limber climbers but you can work on your Downward Dog or Mountain (goat) pose while the "goats do roam" at a few local places in Halton, Hamilton and the surrounding area. OK, they might try to scale your back or hop on your stomach.
Say 'Yes' to Goat Yoga!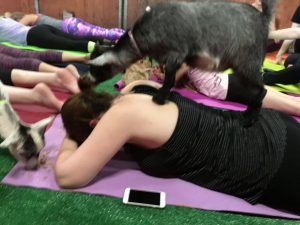 It supposedly started as a simple whim of an activity in Oregon, and has grown in popularity just as fast as goats like to eat grass. I decided I had to give it a try and found Trinity Trotters Equine/TanMar in Burlington and recruited a fellow animal lover to join me.
Most of us are aware that doing yoga is peaceful and it creates an atmosphere of openness. Putting those cute little goats into the mix takes it to another level. Animals have healing properties – just being around them increases your level of dopamine and Oxycontin. Cortisol (stress-related hormone) decreases at the same time. It's definitely a fun, unique activity, with obvious benefits. Classes are run by a fully-qualified yoga instructor.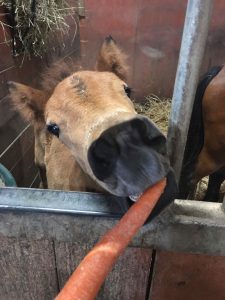 It's best to BYO yoga mat, they are available to borrow/rent onsite. You can also purchase a small bag of food for the goats, if you want to feed them a handful or two while you work out. Bonus: bring a bag of carrots or apples and you can feed the horses in the stalls afterwards and chat with the owners about their rescue program, all of which they operate out of their own pockets.
On a housekeeping note: if you don't mind a little goat poop on or around your mat, this will be the most fun you'll ever have practicing yoga. Spray solution is provided for you to clean your mat after, plus there are volunteers constantly sweeping during the class to help keep things tidy.
Check their Facebook page for event dates and times. They also hold a lot of other programs like camps, team sorting and trail rides.
Classes are $35 per person.
Other places where goat yoga is offered:
Red Barn Goat Farm, Hamilton-Niagara
by Becky Dumais