There's definite satisfaction in saying, "I made that!" Whether it's a bath bomb, a piece of pottery, a barn board clock or a pillow, there are plenty of opportunities to tap into some of your creativity during a workshop. 
If you're in the market for some made-by-you pieces as gifts or for your own home, here is a selection of local workshops to attend. Where specific time or date information isn't yet available, keep checking each location's website or social media for further details.
AGB, Burlington

The Art Gallery of Burlington welcomes creative people of all skill levels and abilities. Here's your chance to experience some studio time like a true artiste.
Sip & Paint Social
Uncork your creativity with a painting class that includes an evening of light-hearted socializing. Follow the host (an AGB studio instructor and practicing artist) as you are guided with entertaining demonstrations to recreate a selected painting. Join for a drink and a few laughs; bring a friend or meet new friends.
Friday, September 29, or November 3, 7 – 9pm
$55/per person
Friends & Couples Clay Date
Looking for something different to do with your friends or on date night? Enjoy a night of creativity and fun! You'll learn to shape an object (mug, bowl, etc.) out of clay and decorate it with coloured slips.
Friday, September 15, October 20 or November 17, 7 – 9:30pm
$45/per person
Dove + Arrow, Oakville

One of Downtown Oakville's newest retail spaces that carries a unique collection of artisan, small batch, Canadian made goods. Create your own personalized items, such as family name trays, name signs, pillows, bracelets, trendy blanket ladders and welcome signs.
Cost: $49 – $149 depending on workshop
@DoveandArrowShop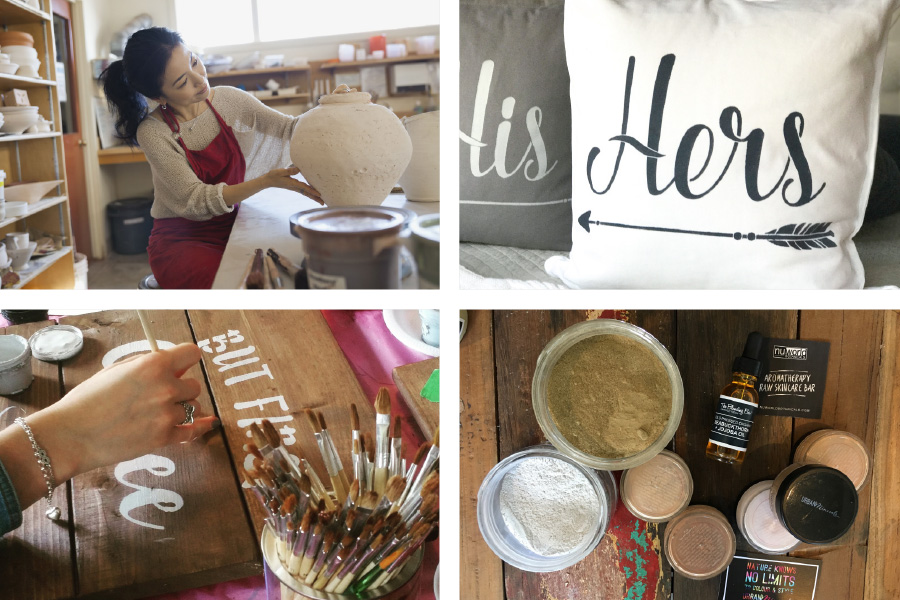 Nuworld Botanicals, Oakville

Make your own fresh, all-natural skincare products in these DIY workshops. Craft personalized skincare products including body scrubs, clay masks, face oils, body butters, lip balms and more. Workshops run three to four times per month. Private blending parties can also be arranged for groups of six to 15 people.
Fee: $30 – $50
nuworldbotanicals.com
The Millionaire's Daughter, Oakville

DIY workshops by Brenda of "Image of xprshn".  Workshops are based on the current trends in home decorating and design and customers' interests. Workshop fee includes all materials and a light snack.
Workshop Fee: $60
Footstool Make & Take: September 27
(Oakville store 427 Speers Road), 5 – 9pm
Sign up by emailing Brenda at brenbradica@gmail.com
Reverie Gardens, Oakville

Perfect for younger makers. Create an Enchanted Lantern or Outdoor Garden to attract the magic of fairies, gnomes and more. Little artists can dream up their own magical scene. Workshop includes everything needed to build an illuminated Enchanted Lantern featuring fairies, gnomes, mermaids, pirates and more.
Cost: $45 per child
@reveriegardens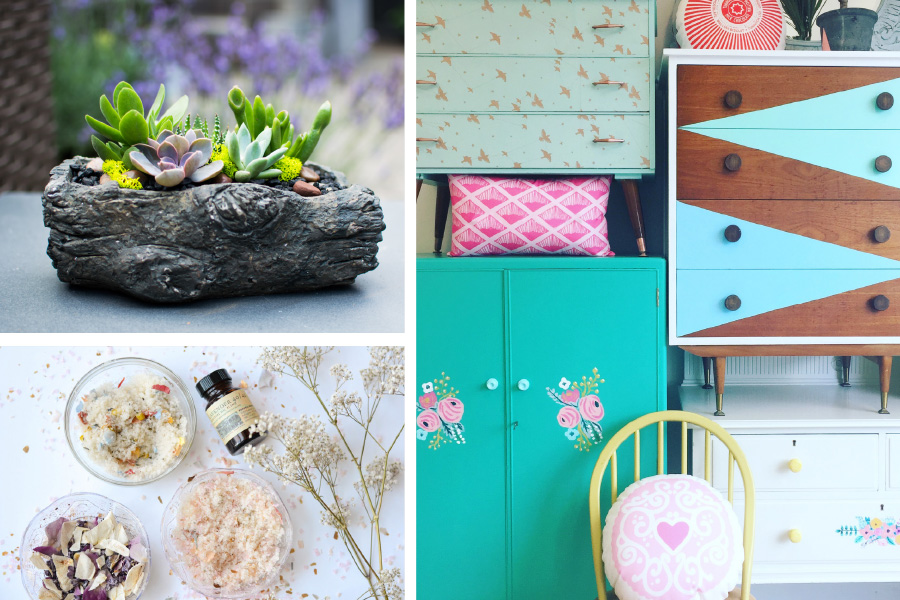 Centro Garden, Burlington

The team at Centro Garden are true pioneers of the artisanal workshop. These garden and décor experts continually offer fresh greenery display classes perfect for inside and outside the home. Try your hand at making fall planters for the porch or a perfect centerpiece for Thanksgiving.
Apple Crate Planter: September 19, 7-8pm / $100
Fall Planter Workshop: September 18 & 20, 7–8pm / $25
Succulent Bowl: September 25, 7-8pm / $50
Terrarium Workshop: September 26, 7-8pm / $80
Mini Succulent Log: September 27, 7-8pm / $55
Thanksgiving Centrepiece: October 4, 7-8pm / $60

Perfectly Natural, Burlington

All-natural bath and beauty products made with fair-trade, responsibly harvested and renewable ingredients. Some workshops – such as the Bath Bomb nights – are modeled after the popular paint and sip outings. Each person gets a glass of wine and basic instruction, and is then encouraged to use scent and colour to create their own masterpieces. Maximum four people per class.
Friday evening, Saturday evening, and Sundays are open to requests as well as one on one instruction.

Soap Making: Saturdays, 10:30am – 2:30pm / $175
Bath Bombs: Thursdays, 7:30 to 9:30pm / $50
Lotion Making: Sundays, Noon – 3pm / $150
Soy Candles: Mondays & Wednesdays, 7 – 8:30pm / $75

Pure Boutique, Burlington

Whether it's an old piece of furniture you want to refresh with new colour and a coat of paint, or you want to create décor pieces for your home, Lori and her team will show you how. These workshops give you the tools and materials you need to transform, craft and create.

Drab to Fab: September 17, October 15, November 12 – bring your own piece and paint, distress, and finish your furniture (light lunch, coffee/tea and dessert included). 11am – 3pm / $125
Farmhouse Clock: September 21, 5:30 – 7:30pm / $150
Blanket Ladders: October 5, 5:30 – 7:30pm / $150
Barnboard Market Sign: October 19, 5:30 – 7:30pm / $90
Stenciled Pillow: November 2, 5:30 – 7:30pm / $90

by Becky Dumais
Local Links
Art Gallery of Burlington
agb.life
Dove+Arrow, Oakville
@DoveandArrowShop
NuWorld Botanicals, Oakville
nuworldbotanicals.com
The Millionaire's Daughter, Oakville
themillionairesdaughter.com
Reverie Gardens, Oakville
@reveriegardens
Centro Garden, Burlington
centrogarden.com
Perfectly Natural, Burlington
perfectlynatural.ca
Pure Boutique, Burlington
pureboutique.ca