Each summer especially (and other key times of year) untold numbers of people head up to Muskoka, reveling in the ultimate Canadian cottage experience. Others trek up north with tents. This summer, we travelled to Bracebridge to stay in a tipi.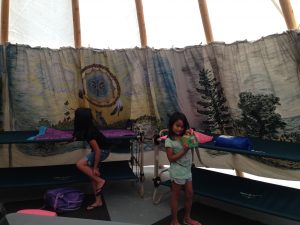 Tipi Adventures is just minutes away from Downtown Bracebridge. Owners Jochen & Elke Schlichte gave up working and living in Newmarket, Ontario several years ago after buying the 80-acre property on Beatrice Road. Staying here is in a class unto itself. It's not quite glamping and it's definitely not your traditional camping. It's quiet, peaceful, deeply intriguing and unique. During your stay you'll see Jochen booting around the property on his ATV and you'll hear him sawing wood for his next carpentry project or chopping firewood for guests to use in the campfire. He's also happy to stop and chat in between his daily chores.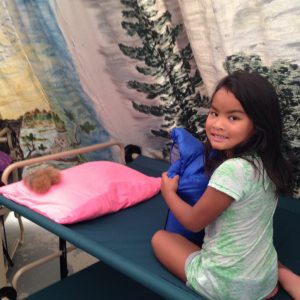 Elke will oversee your check-in and give you a brief tour and outline the rules of the kitchen, waste disposal (I sure didn't want to tempt any bears with garbage) and other housekeeping details. Although you're required to bring your own food, she makes a delicious coffee – and hot chocolate for the kids. Upon arrival and during our tour she asked if I wished coffee and also something for the girls. The next morning Jochen delivered our Thermoses of hot coffee and hot chocolate to the door of our tipi. It was so nice to start the morning by heading over to the kitchen area, sitting at the picnic tables and relaxing with our hot drinks.
Each of the three tipis is themed: spirit bear, howling wolf and buffalo. The inside and outsides were all hand painted by an artist named Maladka. The photos of the tipis are deceiving, because in fact they're huge! Even though I realized ahead of time that they accommodate up to 10 people, it's way different than picturing a 10-man tent. Beds line the outside perimeter of each tipi; in the middle is a small table perfect for board games if it's a rainy day (there are some games in the kitchen for guests to borrow). The girls didn't have to fight over who got the top bunk, since there are four sets of bunks in each one. I took the queen-sized futon, which was pleasingly comfortable. There's a fully charged lantern provided, as well as a small soft cupboard by the door with dishes, utensils, cutlery and dish racks for washing up.
In the enclosed kitchen cabin, everything's there to whip up breakfast, lunch or dinner. I kept things on the simple side (milk, cereal and fruit), but another group of guests cooked up bacon, eggs and hash browns on the gas stove. There's also cold drinking water, and fridge to store cold items, though you have to leave room for everyone. Behind the picnic and kitchen area are private outdoor showers with a change room, clean waterless toilets, hand and dish washing stations. We ate our breakfast under the covered picnic table area and there are also BBQs available to grill up something good. The kitchen is equipped with shelves, stove/oven, cupboards & a small fridge, table & chairs, drinking water dispenser.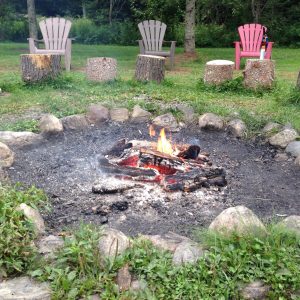 Jochen graciously set up and started the campfire for us. At one point I was the sole person sitting around the circle, since the kids were off looking for frogs and the other guests were over playing a game of badminton. It was a rare bliss sitting alone, just listening to the crackling fire.
There are 5kms of marked trails to walk or bike – and snowshoeing in the winter. There's also a soccer field/badminton court near the picnic area and when winter calls, you can skate on the pond or bring your own sleds to rush down the toboggan hill. and Offering 5km marked trails for walking, hiking, mountain biking & snowshoeing. We were staying only one night. After check in we chose to hang out at the pond with the other family also staying the night. The kids busied themselves with the other two kids, marveling at the pond that was teeming with tadpoles, frogs of various sizes, and even leeches. Nobody needed to grab the salt though! There is also a small rowboat to borrow, or you can stand along the bank and fish quietly.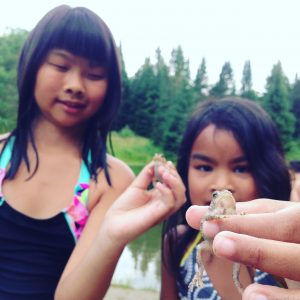 The whole property teems with wildlife; the question is whether or not you'll be lucky enough to spot big animals. There are bears and moose of course (though we didn't see any) and lots of different species of birds, butterflies and frogs. Tipi Adventures has been recognized as one of the top vacation destinations in the world by National Geographic magazine (10 Best Trips in Canada picked by National Geographic). It was also recommended Reader's Digest 2014 and MSN Travel.
I can only imagine how beautiful it would be to stay there in the fall; I bet the leaves have already begun their magical transformation. How magical it would be to spend a few wintry nights cozy inside the tipi. Next time, perhaps.