The weather is changing, and with that, comes the cooler months full of Holiday entertaining and parties. Though everyone loves a good get-together with family and friends, the Holiday season can also be a time of worry about the effort required to prepare tasty and festive meals and snacks.
What is the easiest way to take some of that worry away? Serve up some simple to prepare, delicious canapes and appetizers that every guest is sure to love. While guests are enjoying your pre-prepared hors d'oeuvres, you will have some extra time to mingle and still be confident that your hard work guarantees you serve up one of the best parties of the season!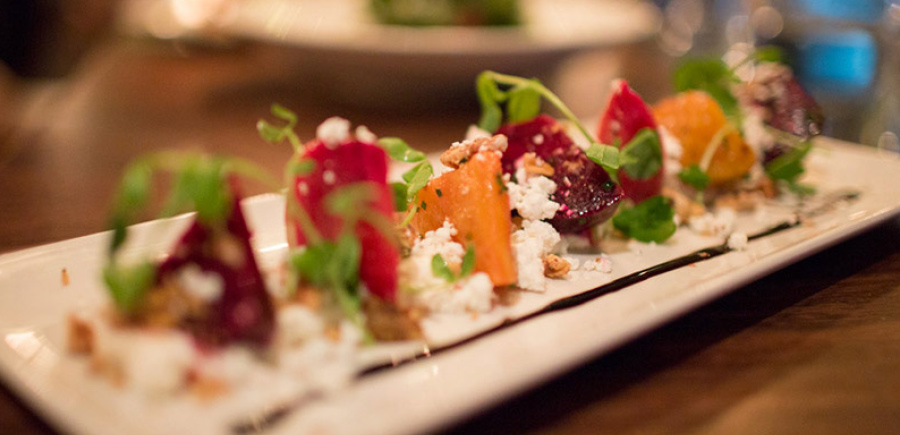 Joanna Tomal (owner of the popular Piazza Bistro in Oakville) likes to serve up a recipe that makes for a sophisticated party appetizer, a baked brie! Joanna suggests serving up a whole wheel of baked brie, complete with fresh herbs, a dollop of homemade cranberry sauce and a sprinkling of brown sugar and roasted pecans. For the extra touch, Tomal serves her baked brie on their Italian family heirloom platter with homemade rosemary olive oil and sea salt crostini. This is a surprisingly easy appetizer to prepare and your guests will love the rich and decadent flavours.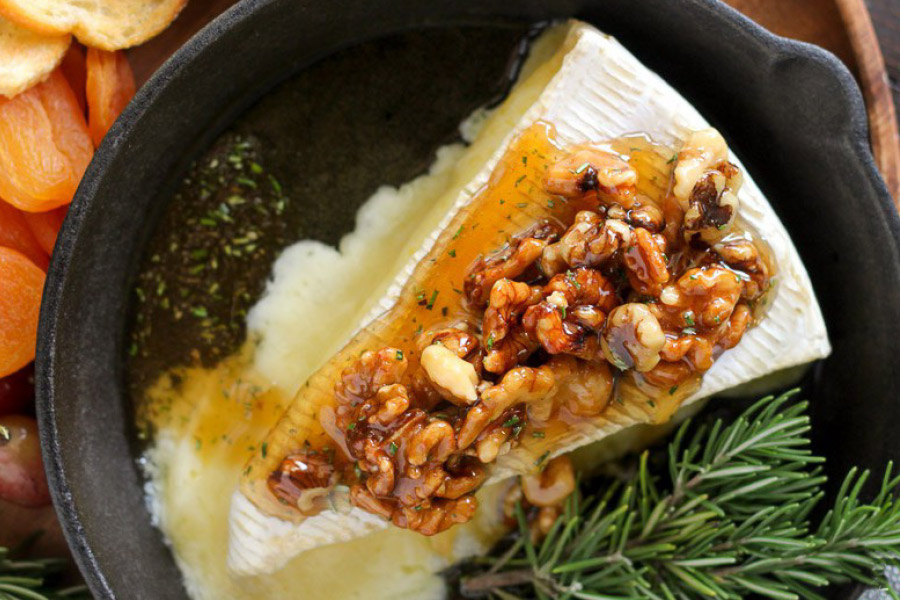 Ida Pusateri, of Pusateri's Fine Foods in Oakville and Toronto, is an expert host. She had a couple of suggestions for canapé and appetizer recipes that will take the stress out of hosting, and your guests will think you made some magic in the kitchen. 
Her first suggestion was a recipe for Fruitcake Crostini with Olive Tapenade, Golden Sultanas & Balsamic Drizzle. Festive fruitcake gets a holiday makeover in this recipe. Not a fruitcake fan? A baguette or your favourite fancy crackers will do the trick if you prefer.
Fruitcake Crostini with Olive Tapenade,
Golden Sultanas & Balsamic Drizzle

Ingredients:
Fruitcake Crostini
• 1 loaf Toque et Tablier Gâteaux aux fruits, frozen
• Olive oil, Kosher salt, Fresh ground black pepper as needed
Olive & Sultana Tapenade
• 1 Cup Golden sultanas
• ½ Cup Kalamata olives, pitted & drained
• ½ Cup Fresh parsley, chopped
• 3 Tbsp Fresh squeezed orange juice
• 2 Tbsp Orange zest
• 1 Tbsp Grapefruit zest
• 2 Tbsp Capers, rinsed
• 1 Tbsp Extra virgin olive oil
•  Fresh basil, sliced into ribbons, as needed
Cooking Instruction:
• Preheat oven to 375°F.
• Fruit Cake Crostini: Remove fruitcake from the freezer and slice thinly. Brush lightly with olive oil, season with salt and pepper, and bake until crispy, 8-10 minutes.
• Olive & Sultana Tapenade: Pulse all ingredients in a food processor until coarsely chopped.
• To Assemble: Place the crostini on a tray, spread with the tapenade and top with a small pinch of basil ribbons.
Ida's second suggestion for a perfect Holiday appetizer: Bacon Wrapped Spiced Dates with Goat's Cheese. Crisp and salty bacon, creamy and tangy goat cheese, and sweet spiced dates form a perfect partnership in this irresistible canapé.
Bacon Wrapped Spiced Dates with Goat's Cheese

Ingredients:
• ½ Cup Red wine vinegar
• ½  Cup Orange juice
• 1  Tbsp Sugar
• ¼  tsp Allspice, ground
• ¼  tsp Cloves, ground
• ¼  tsp Black peppercorns, whole
• ¼  tsp Ginger, ground
• 24 Dates, pitted
• 12  slices Thinly sliced bacon, cut in half crosswise
• 120-150 g Goat's cheese, cut into rounds, at room temperature
Cooking Instruction:
• Preheat oven to 375°F.
• Bring vinegar, orange juice, sugar and spices to a boil in a small pot. Add dates and simmer for 10-12 minutes, until soft but not mushy.
• While dates are simmering, roll goat's cheese rounds into ovals slightly smaller than the dates. Pop them in the freezer to harden.
• Cool the dates at room temperature. Slice each date down the side and gently pry open, inserting a chilled oval of goat cheese into each.
• Wrap each date with half a piece of bacon, and secure with a toothpick.
• Bake on a parchment lined baking sheet until crispy and golden, 15-20 minutes, turning halfway so bacon cooks evenly.
• Transfer to a serving tray, pierce each with a toothpick and serve warm or at room temperature.
Pusateri's final tip for hosting a great Holiday party? Use simple, delicious ingredients and prepare as much as possible in advance. Great advice, if you ask us!
by Heather Peter
Local Links
Piazza Bistro, Oakville
piazzabistro.ca
Pusateri's, Oakville
pusateris.com