In celebration of nature's bounty – and the wonderful selection of Ontario wines – we've curated three recipes you'll want to cook up this spring. Each recipe uses fresh ingredients that are in season at this time of year, and combines them with a selection of Niagara wines.
Recipes are courtesy of The Ontario Table, written by Lynn Ogryzlo – a food, wine and travel writer and international award winning author. Wine pairings are provided by Trent Mayers of Wine Journeys, Barrie.
And let's not forget Cinco de Mayo! Check out Lynn's fabulous fresh Rainbow Trout Tacos below, as well as the tasty Sopes De Chorizo Con Papa recipe here (courtesy of Nostalgia Latin Market), and the Hot & Smoky Mezcal Margaritas recipe here

Asparagus Leek Soup
INGREDIENTS
•  2 tablespoons (30ml) country fresh butter
•  1 leek, white part only, washed and chopped
•  1 bunch fresh asparagus, washed and chopped
•  2 cups (500ml) chicken broth
•  1 garlic clove
•  1/3 cup (80ml) milk or whipping cream
•  Ontario salt
METHOD
In a large soup pot, heat the butter over medium heat until foam subsides. Add the leek and sauté for 2 minutes, stirring. Add the asparagus and cook for another 1 minute. Add the chicken broth and garlic to the pot, then bring to a boil. Lower heat, then cover and simmer for 10 minutes or until the asparagus is tender. Remove from heat and allow to cool at room temperature. Puree the soup in a blender until smooth and return to the pot. Stir in the milk or cream and season well. Serve warm or cold. Serves 4 to 6. 
Chateau des Charmes Sauvignon Blanc 2017
$14.95 (LCBO)  |  ★★★★  
Look for delicate lemon and gooseberry, followed by cut grass notes paired with nice acidity.  The grassiness will stand up to the green notes in the asparagus and the acidity will cut through the rich dairy in the soup.
Flat Rock Cellars Unplugged Chardonnay 2016
$18.15 (Winery)  |  ★★★★  
It has green apple, yellow plum, and a little creamy richness that suggests some ageing on the lees.
The soup and this wine's food friendly acidity and richness will work well together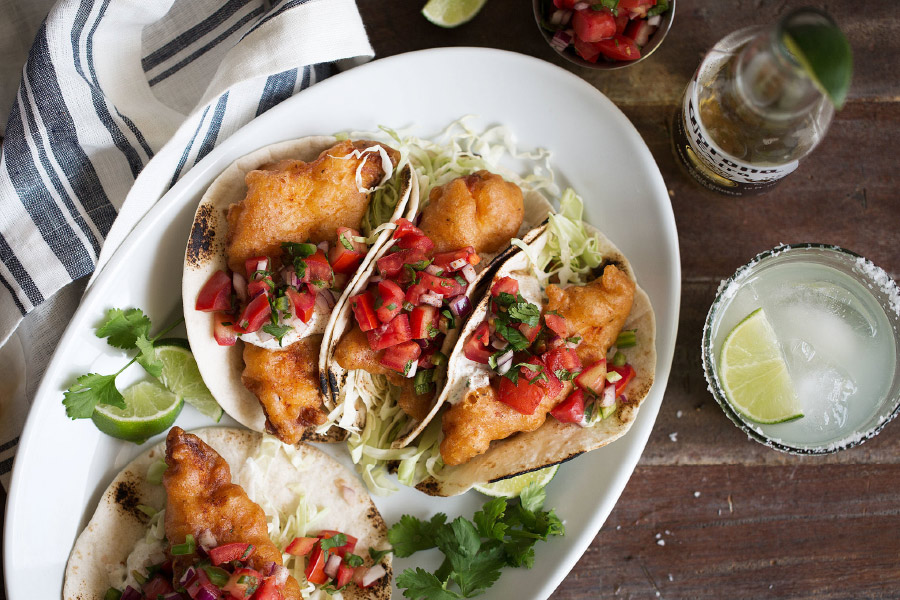 Rainbow Trout Tacos
INGREDIENTS
• ½ cup all-purpose flour
• ½ teaspoon baking powder
• ½ teaspoon salt
• ½ cup Ontario beer
• 6 tablespoons mayonnaise
• 4 tablespoons sour cream
• Ontario vegetable oil for frying
• 8 flour tortillas
• 2 Ontario rainbow trout fillets
• ¼ small white cabbage, thinly sliced
• 1 small tomato, diced
• Niagara verjus
• Fresh garden coriander
METHOD
Sift the flour, baking powder and salt into a bowl. Gradually whisk in beer to make a smooth batter. Cover and set aside for 30 minutes. Mix the mayo and sour cream and set aside.
Preheat oven to 300F (150C). Wrap the tortillas in foil and warm through in the oven.
Heat the oil in a large saucepan. Remove the skin from the fillets by running a sharp knife along the bottom of the fillet in between the skin and the flesh. Season the fillets and cut each into 1-inch wide strips. Using tongs, dunk a few pieces in the batter. One at a time, drop 4 pieces into the hot oil. Deep fry for 3 minutes until crisp and golden. Remove with a slotted spoon and drain on paper towels. Add 4 more pieces to the oil, and repeat until all pieces of fish are fried.
To assemble, spread some mayo mixture down the centre of a warmed tortilla and scatter over a little cabbage. Place the rainbow trout pieces down the centre and spoon over some diced tomatoes. Drizzle with a little verjus. Top with coriander, roll up and serve. Repeat for each of the tacos.
Fishing season for rainbow trout in Ontario starts on the last Saturday in April.  May is prime season for catching your own tasty trout!
Hidden Bench Estate Pinot Noir 2014
$31.95 (Vintages + Winery)  |  ★★★★ 
This red showed integrated oak, dark cherries, cranberries, spice, and pleasant earthiness.  Pinot makes a nice match with rich fish like trout and its nature will play well with the taco spice, as well as stand up to the beer in the recipe.  If you can't find the 2014, look for the 2015.

13th Street Cuvée Rosé Brut NV
$27.95 (Vintages)  |  ★★★★ ½
Medium bodied, it has hints of strawberries, charming minerality and acidity, fine mousse, and is made using the traditional method (méthode hampenoise). The crispness of this sparkler will pair well with the fatty fried trout, yogurt, and sour cream.
Henry of Pelham Cabernet Icewine 2015
$39.95 (Vintages)  |  ★★★★ ½
Deliciously juicy, this icewine is a show stopper. It oozes strawberry, rhubarb, hints of spice, and a rich sweetness, yet remains balanced. The flavours in this wine will mesh perfectly with the strawberries in this dessert.
Cave Spring Cellars Indian Summer Riesling 2016
$24.95 (Vintages + Winery)  |  ★★★★ ½
A sweet late harvest wine that delivers limes, lemons, apricots, and peaches, with a honeyed sweetness and lovely acidity.  The fruit profile here will complement the berries nicely.  Please note that the LCBO Vintages stocks the 2013 and 2014 vintage of this wine.
Ratings are out of a possible 5 stars.

If you have any questions or ideas regarding the wine pairings, please contact Trent at itrent.mayers@gmail.com. Or you can check his Facebook page @itrentmayers for details. 
by Lynn Ogryzlo & Trent Mayers